It's been a while since I dropped in on the wonderfully wild, wonkier side of SF's underground experimental electronic scene. So when French modular synthesizer artist Franck Martin invited me to check out one of his live monthly Resident Electronic Music showcases—every fourth Thursday, 8pm-10:30pm, at Noisebridge in the Mission—I jumped like a cat near a cucumber.
There's nothing better than discovering a thriving community of enthusiasts right under one's nose, especially one geeking out on yummy tubes and wires and bewildering gewgaws of all sorts. At Noisebridge I found a very cool group of people enjoying some artisanal synthesizer performances. (It truly reminded of the heyday of outlaw hackerism, which Noisebridge helped foster at its old location.) I came a bit late to the event but managed to take in a pounding set by Dylan909, backed with ingenious flashing colored lights from wired, glowing glass bottles in milk crates—aka the Flaschen Taschen.
Martin himself is a prolific music-maker, originally turned on to synthesized expression through his love of Jean Michel Jarre. You can subscribe to hear his latest output on his Bandcamp page, his Youtube channel documents his extensive productions, and he even wrote a concise history of experimental electronic music in San Francisco. He has a new album coming out August 25, the date of the next Resident installment, called How Dare You!, a processed recording of a live show he did at Gray Area last year, on its quadraphonic surround sound system.

The title How Dare You! is taken from the text of the famous Greta Thunberg speech at the United Nations, and the whole album uses snippets of the speech, read by Martin's wife, Jasmine Ali. It's an intensely moody sonic journey, Martin's powerful personal and artistic statement against climate inaction and disaster, that fits in with his work overall which often addresses social issues.
I spoke with Martin about the new album, his experience of its themes, and the story of Resident itself.
48 HILLS Tell me a little bit about how the Resident night came into existence, and how you got involved.
FRANCK MARTIN When I moved to the USA, I started to get involved in modular synthesizer music. There were a few events like Binary Society, and The Church of the Super Serge. I heard about this new event Resident Electronic Monthly and I attended. I think I was at its first edition in late 2015. It was organized by Jeremy Black at the Laundry in the Mission.
I met Jeremy; he learned I was beginning on modular and he pushed me to sign up. It was my first public performance outside of streaming, and it lasted about 5-10 minutes. I started to perform more, and stream the show. Then Jeremy had to move to Berlin. A few of us regulars thought it is important to keep this event running, so we took over. It was with EzPuzzle, Jason Worden, and Miggle Ka.
Then the pandemic happened, and I took it virtual. When I saw the pandemic abating, I started to rebuild a team with TanukiSpiderCat. We looked for a few places and she found Noisebridge. It was the 3rd time we did it at Noisebridge when you came. I think we have the right schedule now, and Jah's Tin is joining the team. (You can find one of my first video "summaries" of Resident in June 2018 here.)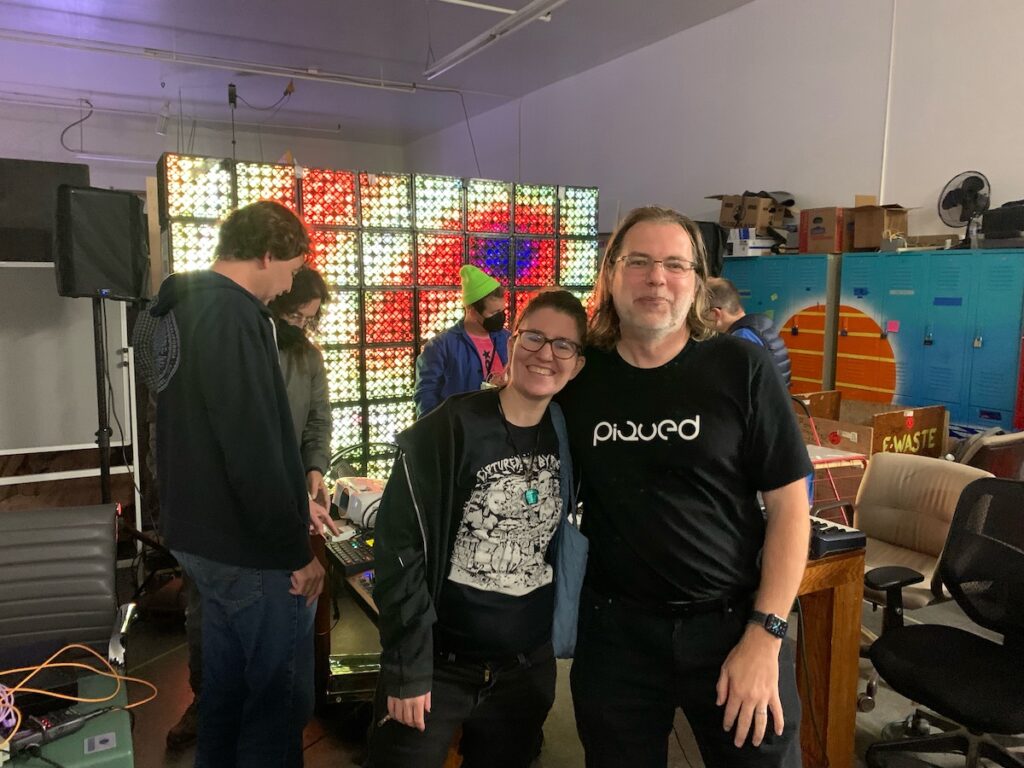 48H Can anyone perform? How do you choose the performers?
FM We are looking for any electronic music, on any instrument, any genre. The space is suitable for music you can listen to that's different from, say, a bar, where you need some energetic music louder than people talking. What we ask from people is to certify that this is their music and not someone else's, and that they will perform it live. Based on this, we feature the first six audio performers that sign up, via a form on Noisebridge and bayimproviser site.
We also welcome visualizes and video artists, to perform visuals while others are playing music, as well as photographers who are willing to share their pictures with the artists. It helps build a portfolio for them (most of my pictures were done like this).
48H I'm excited about the release of How Dare You! The subject matter is incredibly relevant. Can you tell me how the album came about? I know it was recorded at Gray Area last year …
FM I like to start a patch (the way I connect audio modules on my modular synthesizer) and try things out in many ways before I record. I have a friend from Fiji that worked on climate change at the UN Environmental Program in Paris. I found the speech that Greta Thunberg gave at the UN inspiring, and I had used audio samples in a way that I slice some portions to create a music rhythm. So it was a good base for developing a track.
My friend knew the team that works with Greta. I tried to get the speech cleared for sampling but that was difficult. I strive to own all the music I make or have the permissions, even for samples. Clearing did not work in the time I had, I'm not famous enough, I guess, or rather I did not get lucky. So I thought I would do my own text, with the same energy. I asked my wife to read it. I feel more comfortable with someone else voice.
I may just be a French melancholic; I have done somber pieces around the environment. Check Dark Dance for instance. I performed it in public at muHausen, a private event, and I saw it worked well. I saw I could improve it for the show at the Gray Area.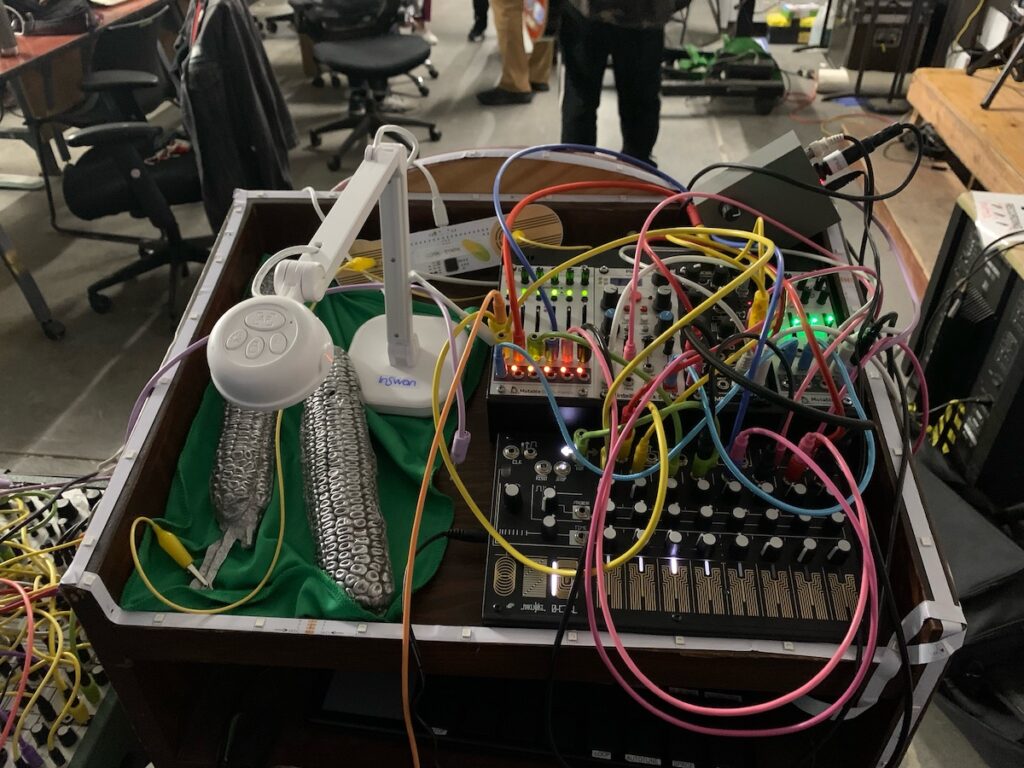 48H How do the themes relate to you personally? Are there incidents that you've witnessed that inspired you while composing?
FM I also lived in Fiji for 20 years. You are close to environmental concerns there. I like the forest and the ocean, and I see its destruction. In California, there are the big fires all year long now, but I also see that the coastline is polluted and no one seems to care. There are a few groups that sample the swimming water and some places are not good, but you still see surfers there—this is California, we have the means to improve things. I tried to pour these emotions in my music. There is a lot of improvisation in modular synthesizer, choices you make on the fly, so some of them are technical but many should come from the soul. Be in the moment, is my philosophy when I compose.
48H The release is available in Dolby Atmos as well as binaural—can you tell me how that process works, recording in Dolby Atmos?
FM My modular synthesizer is quadraphonic, so I need 4 speakers. I performed like this at the Gray Area, which is known for its quadraphonic concerts with composers like Suzanne Ciani and Morton Subotnick. My trouble was how to release my show to the public. It was good news that Apple decided to adopt the Dolby Atmos format, and that my distributor, Distrokid, would allow you to submit audio files in that format.
I use Logic Pro, and set up the four quadraphonic tracks as objects, each one in the corner of the virtual Dolby room. From there you can export it as a Dolby master to be released on Apple Music, Amazon Music, or Tidal, or you can export it as a 5.1 or a Dolby Binaural. It is easy once you have a Dolby Atmos Master, it is just a question of rendering.
The binaural files are used on Bandcamp. (Binaural is just a virtualization of the spatial sound, like if you had a microphone in each of your ears recording the performance I did live.) I tend to build a new album there for my supporters. I make many changes along the way and when ready, I release publicly. I also often release on Surround Music One for the people that want to own the music files (Atmos, 5.1, binaural). My previous album Passages was released that way too.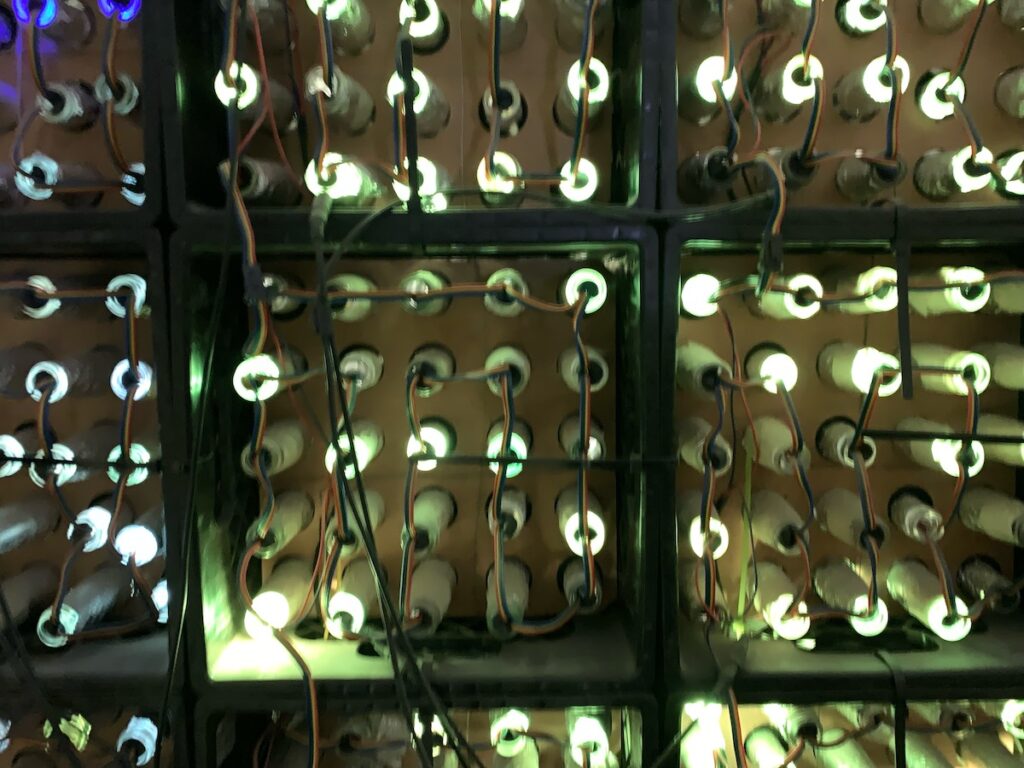 48H Are there any events planned around the album release?
There are no specific event planned. I will be at Noisebridge organizing Resident Electronic Monthly the day of the release. I will talk about it. That being said, I'm working on the release of the Modular California Vibes feature-length movie and doing a mini-concert during Synthplex in Burbank in late October. I have also a few projects in San Francisco early next year.
RESIDENT ELECTRONIC SHOWCASE Thu/25, 8pm-10:3-pm, Noisebridge, SF. More info here.