The seeds of Julie Ha and Eugene Yi's documentary Free Chol Soo Lee were planted at Lee's 2014 funeral.
Wrongfully convicted for a 1973 murder in San Francisco's Chinatown, and sentenced at 21 to life in prison, the Korean émigré's case sparked a social justice movement. Now, as he was being laid to rest, many of the people involved in his eventual retrial and exoneration were there to pay their respects. Ha was in attendance to write an obituary for Korean American magazine—and also out of concern for her mentor, journalist K.W. Lee, who had dedicated himself to Lee's cause.
She was moved by what she heard.
"This feeling and emotion in that space just felt like it was beyond grief, and beyond people mourning for someone they cared about and lost," says Ha during a recent Zoom call with 48hills. "[Former San Francisco Public Defender] Jeff Adachi said, 'In the end, he did more for us than we did for him,' which I found so striking in light of the fact that I knew this movement was six years long. That kind of depth of compassion and humanity and dedication to a stranger is incredible … What Jeff meant by that was that so many of them, the young Asian American activists who would show up, they went on to dedicate their careers to social justice.
"Then at one point, K.W. Lee stood, and he was angry and he said, 'Why is this story still underground after all these years?'" Ha continued. "It was something not even taught in Asian American studies at universities and colleges."
Nine months later, plans to make a documentary about Chol Soo Lee were solidified over a conversation that Ha had with Yi, who, like Ha, is a journalist—but where her experience lay in the written realm, he had also worked as a film editor. The two worked together at a magazine named KoreAm Journal, which was in the process of folding.
Ha had not been able to stop thinking about Lee since the funeral, and the time seemed right to partner with Yi on a film about his life.
"It just felt like the story beckoned me," Ha says. "We couldn't allow it to stay buried in history. It was almost our generational responsibility to make sure the story is known, and to tell it anew."
Among the people Ha and Yi tapped for the documentary was K.W. Lee, who also helped to open avenues to other activists involved with Chol Soo Lee's case, and gave the filmmakers access to his large personal archive of documents connected to the case.
"If he hadn't spent six months of his own time investigating this case, and digging for the truth, maybe Chol Soo Lee would have languished in prison or been killed in prison," Ha says.
"I maybe set out to make this film to comfort [K.W. Lee]," she adds. "Because he was in such pain over the loss of Chol Soo Lee, and lamenting that people don't know about the story, and [saying] that it could be such a consequential story and history to know today."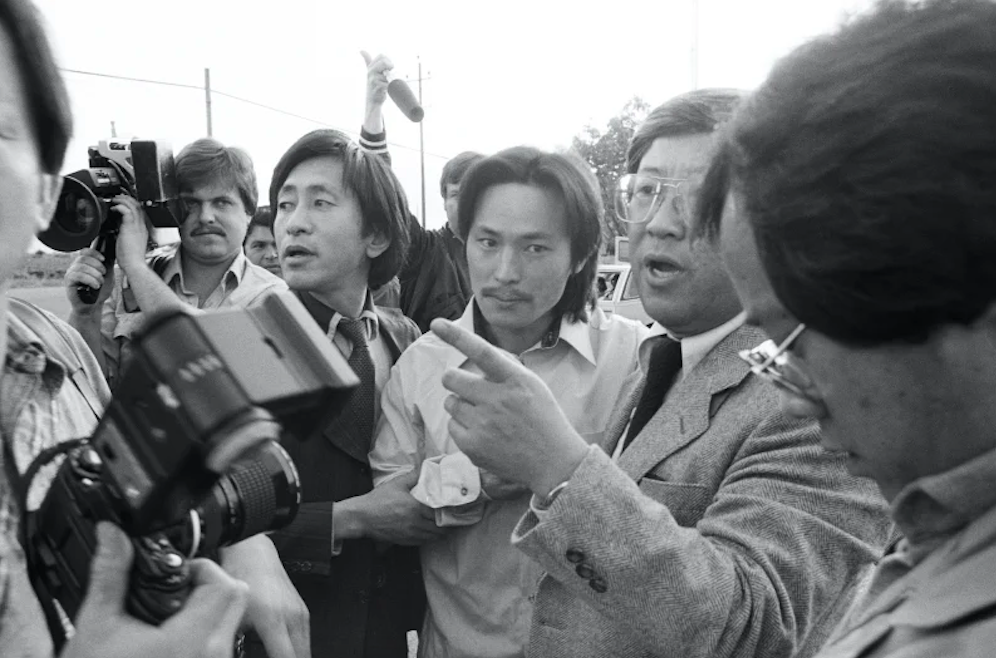 Another important personality who emerges in Free Chol Soo Lee is someone who wasn't even born when Lee was sent to prison, Sebastian Yoon.
Su Kim, one of the documentary's producers, attended an event for the Ken Burns documentary College Behind Bars, which is about prisoners earning their degrees while incarcerated. Yoon, one of the film's subjects, represented the film at the event, and Kim was moved by his honesty.
Ha and Yi were looking for someone to voice Chol Soo Lee as the narrator of the film, and when they watched College Behind Bars at Kim's suggestion, they knew they'd found their voice.
"After [Yoon] saw the rough cut of the film, he said Chol Soo Lee's story just touched him so deeply," says Ha. "It resonated, and he could connect it with his own experience. He collaborated with us on the script. Sebastian really helped us flesh out the pain and the trauma and the internal suffering that Chol Soo Lee endured while in prison.
"He helped us understand that it wasn't just prison violence that Chol Soo Lee confronted, but it was also the loneliness, the depression, and isolation," she says.
Ha and Yi still had interviews ahead of them when the world ground to a halt during the COVID lockdown of 2020. With a pandemic raging around them, the partners decided to stop the interviews. The people they planned to talk to skewed older, and neither Ha nor Yi felt comfortable taking risks with their subjects' health.
That decision changed the nature of Free Chol Soo Lee, shifting it from being a film that might have leaned more heavily into interviews to one more dependent on archival materials.
Happily, K.W. Lee hadn't been the only person generous with personal archives, so the filmmakers had a wealth of material at their disposal.
"This is a real-life example of a community recognizing the worth, the value, the merit of this story," Yi says. "It doesn't become archival material until some makes that decision to archive it. That means space in your attic, space in your closet, the physical space of taking on that responsibility. It's such an honor to build on everything they've collected over the years."
Since the film's release, Ha and Yi have heard from college professors and lawyers who are eager to teach the lessons about social justice, racism, and incarceration found in Free Chol Soo Lee. The story that K.W. Lee feared might be lost to history looks to have a long life ahead.
"A big part of why we made this film is that we felt like this is a missing chapter—not just of Asian American history but really, American history," Ha says. "This was a landmark movement, and not just for Asian Americans. This is an essential American story to learn."
FREE CHOL SOO LEE opens Fri/19 at the Roxie Theater, SF. Q&A after the 7pm showing with filmmakers Julie Ha and Eugene Yi moderated by Nate Tan, co-director at Asian Prisoner Support Committee. More info and tickets here.