This is Good Taste, your weekly dip into the Bay Area food world. Today, we present our most anticipated opening of the year: 'oṭṭoy, the new and historic iteration of Cafe Ohlone by mak-'amham in partnership with Phoebe A. Hearst Museum of Anthropology at UC Berkeley.
'Oṭṭoy means 'to mend' or 'repair' in Chochenyo, the language spoken by the Ohlone people, the original community in the East Bay who want you to know that they still exist and haven't gone anywhere. It's a fitting name for the latest version of mak-'amham's Cafe Ohlone, which held its first public meal service in the courtyard of the Phoebe A. Hearst Museum of Anthropology at UC Berkeley on Sept. 1.
Founded in 1868, the university now acknowledges that the campus and the museum sit on Ohlone land and that the institution was involved in the tribe losing federal recognition in 1927 as well as removing buried ancestors, only some of which have been returned. Almost 100 years later, 'oṭṭoy is a collaboration that represents the healing that's still in progress. More than a restaurant, it's an educational hub and gathering place to share the original identity and values of Bay Area people.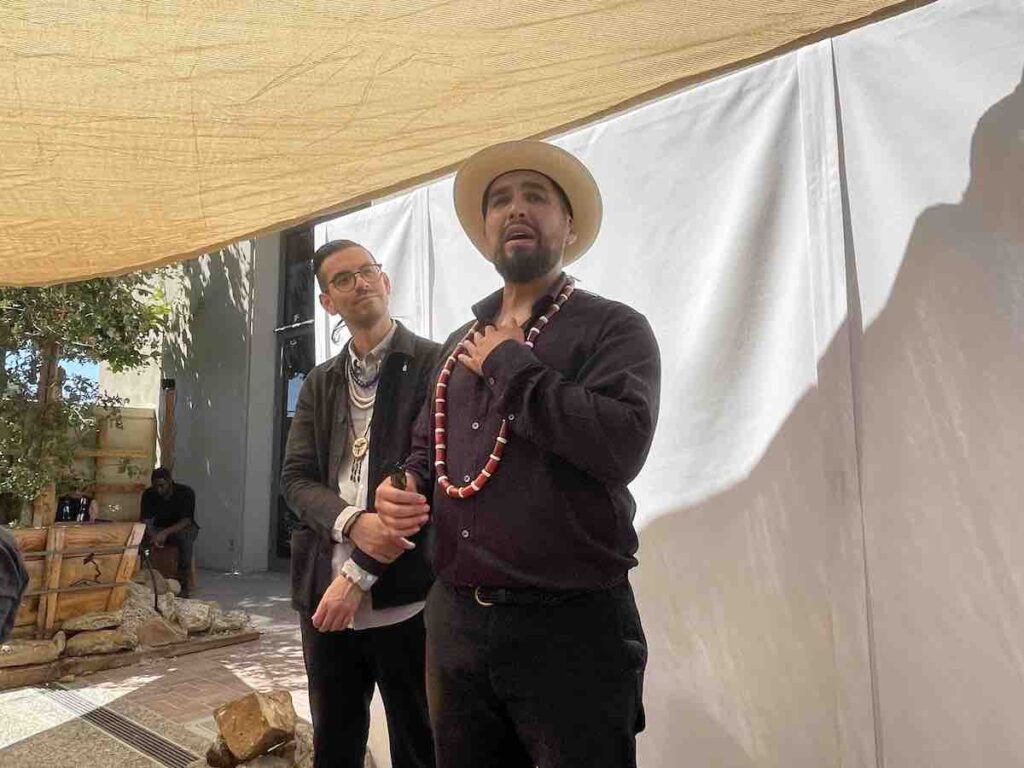 "An 'oṭṭoy — to repair — is something that is weighing very heavy in our hearts," Vincent Medina, who founded mak-'amham with his partner Louis Trevino, said during a preview event in late April. "To see repair happen between these relations, relations that have long been difficult and painful for our Ohlone community. When we think about the history here at UC Berkeley, about the damage that's happened for 150-plus years. How the university had a direct hand in the loss of our tribe's federal recognition and removed our ancestors from their cemeteries. And while we acknowledge that things are not fully fixed yet, being able to be here in this space will be a constant reminder that the Ohlone people are alive, our community is here, that we've never left our home, and we never will."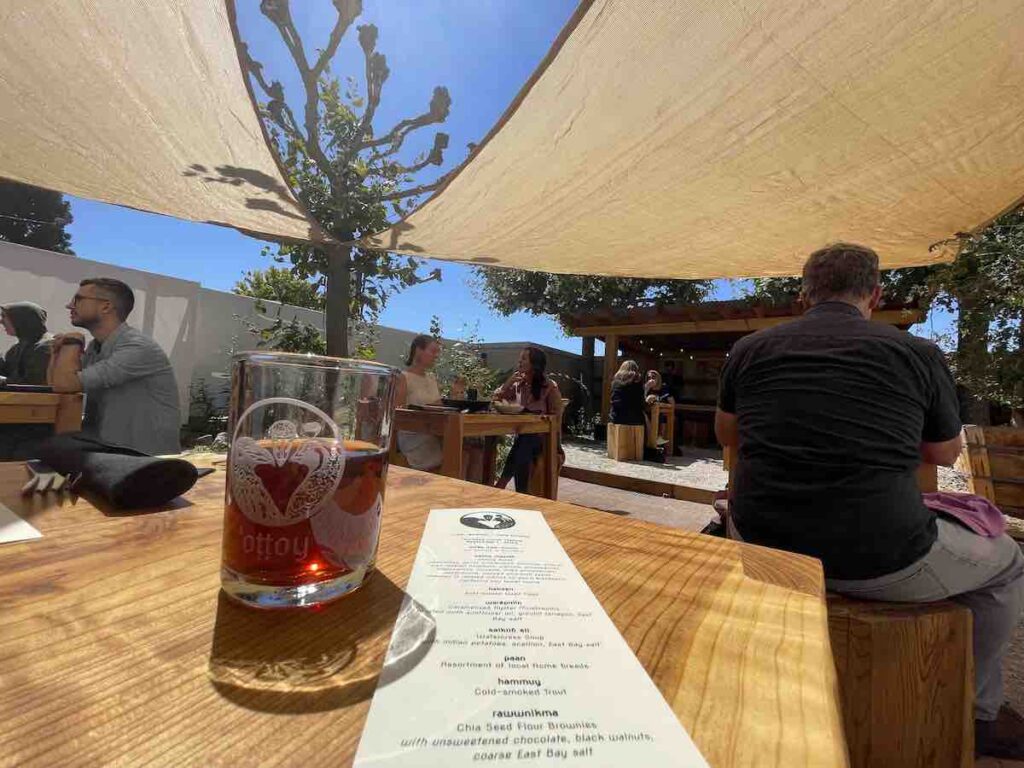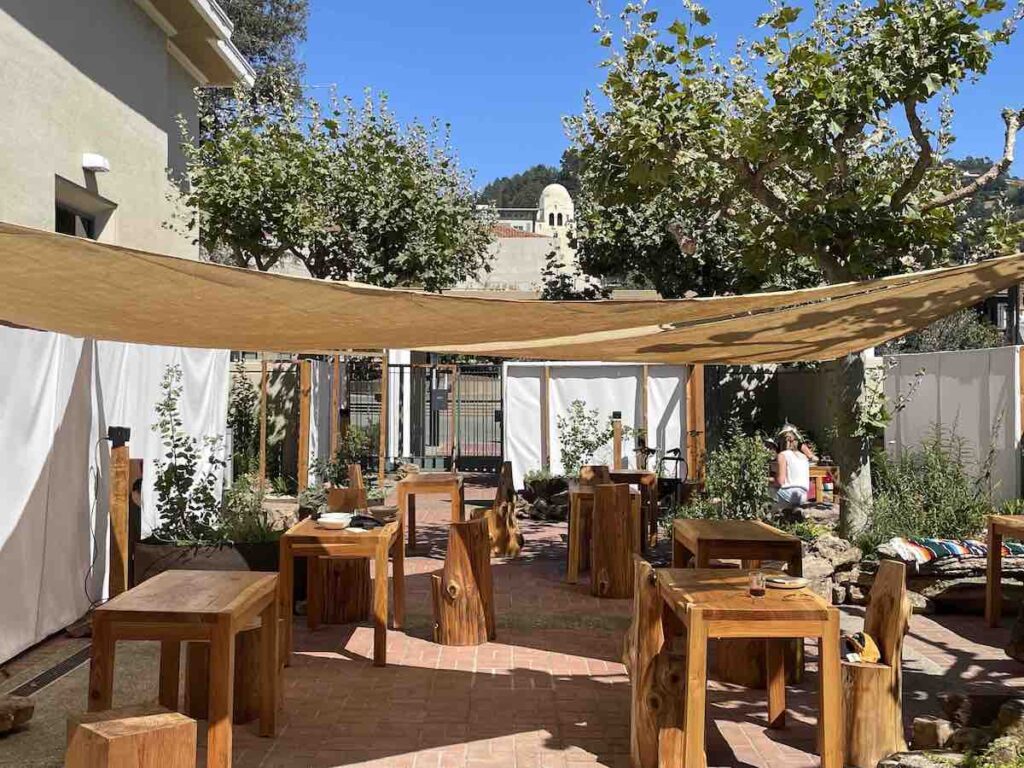 Just over four months later, it's wonderful to see how much the native trees and medicinal plants have grown, the latter showcased with a shellmound and dry creek. The beautiful redwood seats and tables are custom-made, but one of the most special parts of the decor is actually audible. Meyer Sound speakers are cleverly concealed in trees and among plants, so diners can hear specially recorded voices of both elders and youth in their community as well as a new Chochenyo version of Rosie and the Originals' "Angel Baby," a favorite English song of their elders from the '60s.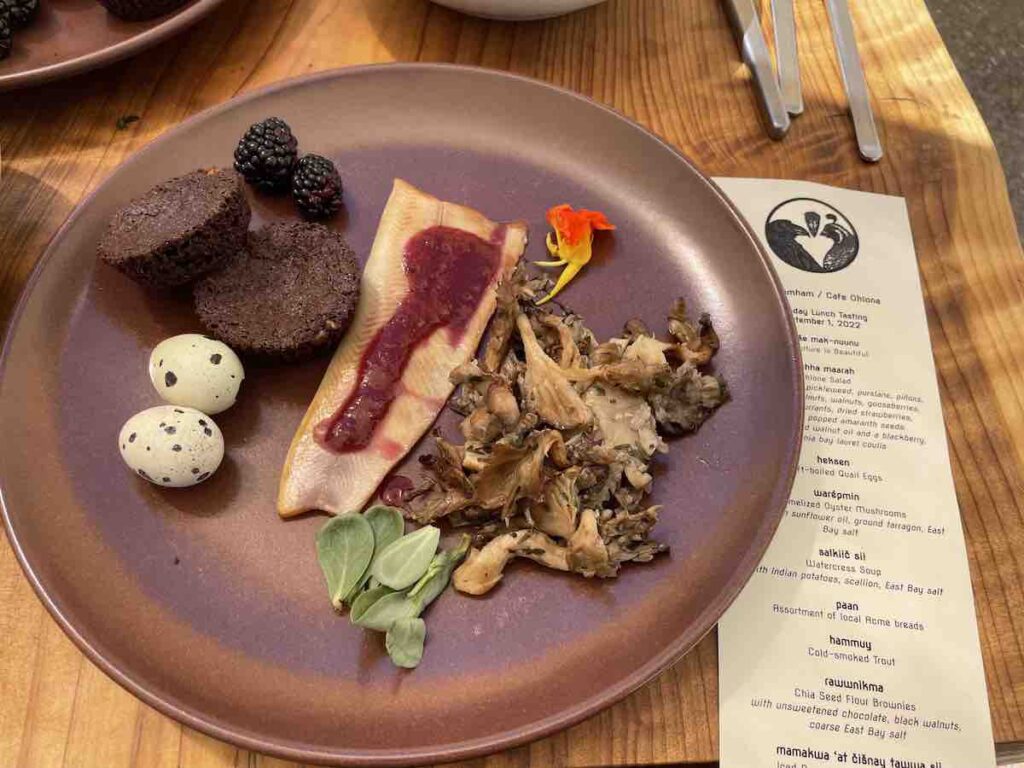 The first public lunch was a multi-course offering, beginning with iced rose hip and elderflower tea and a bowl of Acme Bread slices.
"You may ask why there's Acme Bread on the Ohlone table," Medina said, "and the answer is that Ohlone people want Acme Bread on the table!" He explained that the concept of the food is to honor traditional foods while acknowledging the more modern tastes of the community, like the chocolate that goes into Trevino's lush chia seed flour brownies with black walnuts and coarse East Bay salt.
The Ohlone salad from previous iterations of Cafe Ohlone — namely, the services held at the now-shuttered University Park Books and the monthly pandemic meal boxes — returns here in supersized form, with fresh blackberries, dried strawberries, walnuts, gooseberries, a variety of greens dressed in walnut oil, and a coulis made of blackberries and California bay laurel. Next came a gorgeous vegan watercress soup with Indian potatoes, scallions and East Bay salt, and a plate with several dishes: soft-boiled quail eggs, caramelized oyster mushrooms, cold-smoked trout with blackberry-Bay laurel coulis, and the chia seed flour brownies.
Guests are encouraged to take more bread or ask for seconds of anything — they want to ensure that everyone leaves satisfied and aware of the still-thriving life of the Ohlone community in the East Bay. 'Oṭṭoy's next service is lunch on Thurs., Sept. 8 ($44). Also available in the coming weeks is tawwa-sii Wednesday ($33), a weekly tea hour with small bites. Eventually, there will be weekly dinners called mur ($165); and sunwii Sunday ($110), a multicourse brunch service.
Read more food stories at Tamara's site California Eating.