Under the Stars is a quasi-weekly column that presents new music releases, upcoming shows, opinions, and a number of other adjacent items. We keep moving with the changes, thinking outside the margins. Less talk, more music.
ANTELOPER, TOUR BEATS VOL 1 (INTERNATIONAL ANTHEM)
One of the few items that are still available for purchase following the untimely passing of untimely passing of jaimie branch last month.
From a review that ran here in July of 2020:
Free jazz trumpeter Jaimie Branch, and drummer Jason Nazary—longtime friends and collaborators—recorded during 2018 in a shipping container-turned-studio in Brooklyn. They pushed steadfast, brazenly into woozy latitudes of electronics that shake, vaporize, and blare. Tour Beats Vol 1, the beastly project by the duo who record collectively as Anteloper, is a four-song EP that reminds EDM producers "remember what you did before the money showed up."
It was May 2018, a year or so before her screeching Fly or Die II: bird dogs of paradise record, a dark and timely salacious call out of President Orange 45 and his fascist, racist and xenophobic policies—one that would become a critically acclaimed record on all the lists you follow. Branch took up a month-long residency at Pioneer Works, an arts center down the street from her home in Red Hook, Brooklyn. At her behest, Nazary brought by his acoustic drums, electronic triggers, modular FX unit, synths, sequencers, and a myriad of processors. Branch engineered the sessions and matched the rig Olympics by dragging her trumpet, synths, delay/looper pedal, auxiliary percussion, and a Roland TR08 drum machine. Documented explorations ensued.
There is such spirit at work with this project: Branch and Nazary are not concerned with where the endpoint of experimentation lands. Forget just for one second, what the drop is, or even if things are supposed to make sense. "Bubble Under," the first track in, a bounce dirge four-minute creation with alternating snares, jumps off-map into swampy rhythmic topography. Benefiting from smudgy frequencies and robot-like atmospherics, Branch leads, colors, and enhances psychedelic tellurium energy, by pogo-ing that horn between live and echoed passages until it converts into a ghost-like entity by songs end.
You can get Tour Beats Vol. 1 here.
DUE SOUTH CONCERT WITH THAO AND RUBY IBARRA, SEPTEMBER 17 AT JERRY GARCIA AMPHITHEATER
Noise Pop has you covered once again for those Saturdays in the fall when you aren't quite ready to go inside for College Football. Thao, a veteran artist, songwriter, touring musician, and producer, and Ruby Ibarra, a rapper and local spoken word artist known for her sharp lyricism and rhythmic flows, will perform at Jerry Garcia Ampitheater in McClaren Park as part of the Due South Concert Series. The performance, which runs from 2pm to 6pm, will take place during Karl The Fog's long lunch break, so the weather should be pleasant.
This event is free and open to the public, but you can reserve the best seats in the park and RSVP for a chance to win here. The SF Bicycle Coalition will provide free bike valet for those commuting via two wheels and no motor. All proceeds benefit the SF Parks Alliance and its efforts to create, sustain, and advocate for parks and public spaces throughout San Francisco. More info here.
MAIN SOURCE, BREAKING ATOMS (MR BONGO)
"You treat me like a burnt piece of bacon," Large Professor says over Donald Byrd's funk-flow groove "Think Twice" from 1975's LP Stepping Into Tomorrow. Over an evergreen stretch of a beat, the producer, emcee, and historian riffs on a relationship on the rocks, framing the difficulty of repeating a circle of disappointment.
That's from Breaking Atoms, Main Source's 1992 debut album, which is still the blueprint for golden age perfection.
For me, this is classic New York hip-hop that spoke to the times, resonated with rap heads, dancers, and DJs, and altered older jazz cats that this new music would keep them around for a while longer. Sporting four singles, always treating a sample correctly, and….. the introduction of rapper Nasty Nas? Yes, Nas' introduction is located here. Hip-hop fundamentals remain eternal with this album. Come and get the reissue here.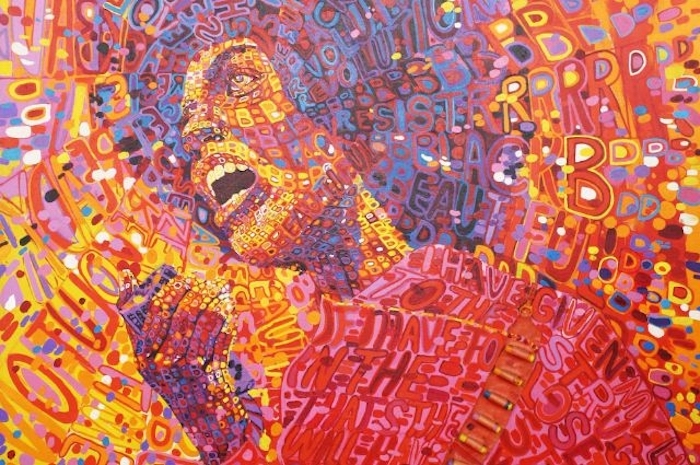 "ANGELA DAVIS: SEIZE THE TIME," OCTOBER 7, 2022—JUNE 11, 2023 AT OAKLAND MUSEUM OF CALIFORNIA
Following the "Hella Feminist" exhibition, the Oakland Museum of California doubles down on timely, oh so timely, exhibits that remain connected at the hip to current political microaggressions. Using the Angela Davis Archive, OMCA not only holds up a mirror to the memory and preservation of radical Black history, but it also portrays Davis as part of a larger narrative that is still unfolding today. (Of course, she's inspired musical tributes, as well.)
Not to get too deep, but there is a clear link between President Joe Biden's election and the group of African-American women who not only saved the country from a fascist return to the White House, but are now governing alongside the President in his cabinet because they are the best qualified.
A fact that was deeply lacking in a previously Orange regime. For more info, go here.
JACK MCDUFF, LIVE AT PARNELLS (SOUL BANK MUSIC)
In terms of fame and the impact he made with the king of keyboard instruments —the Hammond B-3 Organ—jazz organist 'Brother' Jack McDuff (born Eugene McDuffy, September 17, 1926—January 23, 2001) was second only to the infamous Jimmy Smith.
When I was growing up it was on Sunday nights while listening to terrestrial radio, jazz shows would come on and I'd tune my boom box, moving that damn antenna left and right, hoping to hear these historic jams from a bygone era. And you could bet that Jack McDuff would either start or end these cassette taping sessions with something incredible, heartfelt, uptempo, and just plain special. He had a style between old-school readings and the upcoming funk of the 1970s and 1980s.
His playing was always velvet, with his feet pumping those iconic bass lines.
Live At Parnells is a collection of 15 tracks from a week-long residency at Seattle's jazz club central in June 1982. It's a recording with that old school feel and never rushes through the numbers, with McDuff and his quartet performing jazz that includes blues, funk, soul, and fusion.
Thank you, Soul Bank Music, for bringing this moment back into the world. You can order it here.