When Australian punk group Amyl and the Sniffers play Halloween Meltdown this Saturday, the band's guitarist, Dec Martens, won't show up underdressed.
"It's kind of interesting playing a Halloween show," says Martens about the two-day festival at Oakland's Mosswood Park. "Halloween isn't that big in Australia, so I'm a bit nervous. I do have an emergency outfit but I want to make sure we do Halloween right. It seems like you guys take it so seriously out there. I don't want to let anyone down."
He adds that he might even follow Danish heavy metal icon King Diamond's lead and throw on some makeup.
"I really like his corpse paint, so I want to try that out," he says. "I want to try it out for a normal show, actually. So maybe Halloween is the perfect opportunity to debut it." 
With a sound that's as explosive of a rush as their band name, Amyl and the Sniffers broke out Down Under with two punchy EPs—2016's Giddy Up and 2017's Big Attraction—before coming to attention Stateside with their 2019 self-titled LP and 2020's lockdown album Comfort To Me, which climbed the US charts and made many 2021 "Best Of" lists.
The incendiary live shows that Martens, vocalist Amy Taylor, bassist Gus Romer, and drummer Bryce Wilson put on are no less potent.
They're all fired up to play this year's Halloween Meltdown (taking place on Sat/8 and Sun/9), also featuring The Spits, Shannon & The Clams, Lydia Lunch Retrovirus, Josie Cotton, and more. As always, John Waters will return to host.
In addition to almost 20 acts in two days, the spooktacular event will also feature a costume contest with a $500 cash prize and a haunted house designed and hosted by East Bay musician and horror artist Rob Fletcher.
In advance of the festival, I spoke to Martens about his affinity for freaks, the band's queer fanbase, and why for him, as an outsider, every day can feel like Halloween.
48 HILLS What is it like for you to come to perform in the Bay Area and specifically at an event like Halloween Meltdown?
DECLAN MEHRTENS It's cool. Last time we played San Francisco, we did two nights at the Great American Music Hall. Those were my two favorite nights we did on the last tour. And we just toured with Green Day in Europe. They were talking a lot about the Bay Area as well. So I have a great interest in that area because it just seems like a lot of nice things happen out there. I'm looking forward to it.
48 HILLS Are there other bands on the lineup that you're excited to see?
DECLAN MEHRTENS Yeah. Shannon & the Clams. We played with them years ago in Madrid, and I don't think I've seen them play since 2018. The Spits as well. I've never seen them, so it'll be exciting to see how they play. John Waters, of course.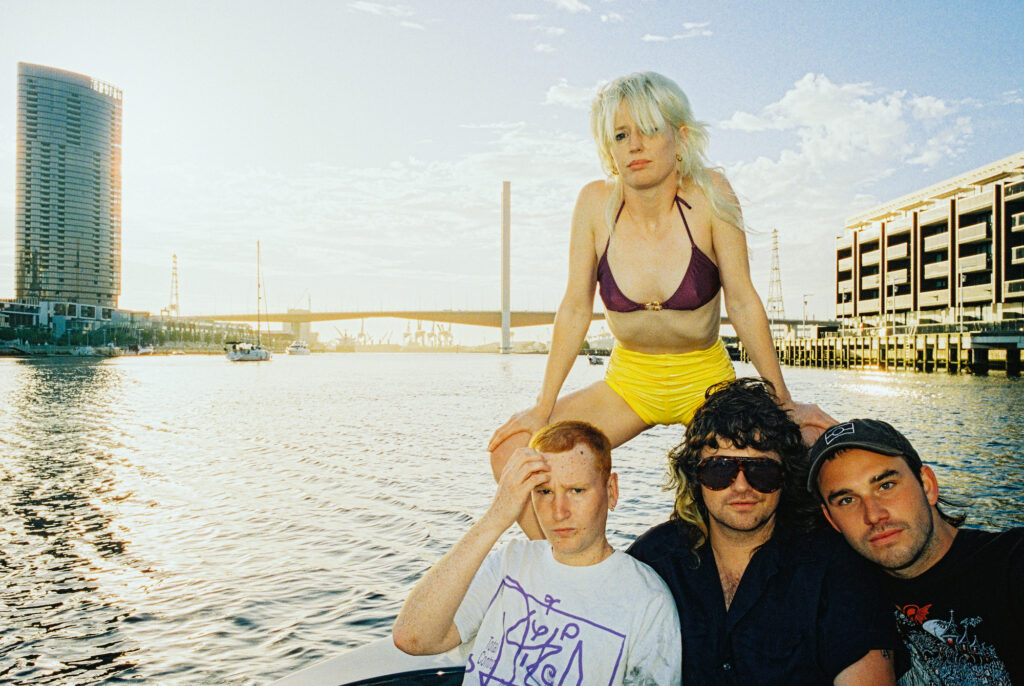 48 HILLS Do you have an affinity for Waters' movies?
DECLAN MEHRTENS I think Amy, especially, has a great affinity with his style and approach to creating. I feel like what John tries to portray subtly, Amy sort of screams.
48 HILLS I think your band and Waters' commonality is that you both elevate the people society has ostracized. His nickname is the "Pope of Trash" and obviously your music prizes outsiders and iconoclasts.
DECLAN MEHRTENS Yeah, absolutely. In the early days, when we first started out and we were all living together in a shitty share house and broke as hell, we came from this anti-hipster movement where people were trying to wear outfits that made them look cool. We started out wearing things that were laughably trash and embraced that. When we were doing that, we didn't feel so much inhibition and could express ourselves more honestly.
48 HILLS And certainly a song like "Freaks to the Front," off your latest album, definitely makes me think of Waters' appreciation of misfits.
DECLAN MEHRTENS Yeah, and I can really relate to that as well because none of us are from Melbourne. Melbourne is like a New York cultural hub that really embraces misfits. Then in the music scene, we ended up being misfits ourselves again. So I think that we can really identify with that misfit attitude.
48 HILLS I loved the name of your band from the minute that I heard it. I get that you chose it because your music is quick and potent like poppers but I'm curious: Were there any other names you were considering?
DECLAN MEHRTENS It happened very quickly. It was in the hallway of our house because we were all housemates when we started the band, and we recorded the first EP in our house. That night we came up with the band name. I first suggested something and the something because it is a good formula for a band name. Amy's childhood dog was called Rolly and when you roll your own cigarettes in Australia, we call them rollies.
Then Amy's last name is Taylor. So if you get a pack of cigarettes, the ones that are already made are called tailors like tailor-made. So my first suggestion was, "What about Rolly and the Tailors?" That kickstarted it.
Then me and Bryce, our drummer, we were clubbing a lot at the time. We used to go to a nightclub in Melbourne that's still open called Revolver Upstairs or Revs. So we were doing a lot of amyl and we introduced Amy to Amyl at that time. Then I think someone said something like "What about The Amyl Sniffers?" And then Amy goes, "Amyl and the Sniffers" because her name is Amy. It was literally within 120 seconds of just spitballing ideas in a hallway at our house.
48 HILLS How would you describe the band's evolution between your first and second album?
DECLAN MEHRTENS I think from the first album to the second album, it's very black and white. That first album was all written so that we could play the sets that we were getting asked to play and the tours that we were getting asked to do. So we needed music to just fill out a set in the live sense of, "How are we going to perform this? How are we going to play for 45 minutes?"
Then the second album, we were able to think more about what we wanted to create because we had the pandemic. There were no shows so it was a much more contemplative, sort of creative process where we were able to workshop songs a lot more and not workshop them in front of people. We workshopped them to each other. The biggest contrast is those songs have been performed live 100 times before they were recorded. The second album had never been played in front of people until after the pandemic.
48 HILLS Your band has such a huge queer fan base. Why do you think that is?
DECLAN MEHRTENS I guess as Amy feels a lot of societal oppression and judgment as a woman, the queer community feels that way as well. I think Amy is different from a lot of other women where she's beautiful, but not in the way that society would conventionally say what beauty is.
She finds her own beauty and is unique. I think that's probably very identifiable for queer people because so much of what society deems is beautiful or normal or whatever, it just doesn't allow for how queer people are, what their culture is, and who they want to be. So I think Amy, with that sense of uniqueness and doing it her own way, can inspire.
48 HILLS You consistently put on such a vigorous show. Where do you draw that level of energy from?
DECLAN MEHRTENS The music is so high energy in itself. Like you would just feel like an idiot if you were just standing playing what we play. Well, sometimes I have to go, "Shit, Declan, you better start moving because you kind of look like an idiot just standing there right now." So I think it comes hand in hand. The music gives towards the energy, and the energy goes back into the music and fills the room. It's great to feed off the audience as well. My favorite thing in the world is to perform. So I'm having fun and that's where the energy comes from as well.
I also think it comes from the fact that we still have the rage within us that was there at the beginning, of being those misfits. It hasn't gone away. I don't want to call it frustration because frustration sounds a bit negative, but I think that's what it is. I'm not queer and I'm not a woman so I don't have this anywhere near to anyone else. But when I go to things that I enjoy, like I really like sports because I grew up watching sports—or even the airport—I'm like, "The people here don't understand me. I don't fit in with these people. I look so different from you."
I want to fit in and I don't. But I'm also glad I don't fit in. It's like there's an internal struggle. I think everyone who's ever been ostracized by society wishes they could be normal. But I think if you have been given the opportunity to not be normal, you will always take it because it's great being who we are. So that internal conflict is very easy to bring out on stage.
Halloween Meltdown Sat/8-Sun/9, 12 pm, Mosswood Park, Oakland. $59–$179. Tickets and more info here.