Alex G is at some kind of peak. Already the subject of rabid devotion in his teens for his early, self-released Bandcamp material, the Philly singer-songwriter is now nearing 30, and his budget has grown with his talents. Last month's God Save The Animals might not be his best album, but it's good enough that it'll probably always have a contingent of fans arguing that it is. It's part of a fearsome streak, and whether it's early or late in that streak has yet to be seen. But to see Alex G live is to see a young and relevant performer in the full flower of his skill, surrounded by the fans who love him best. 
His full name is Alex Giannascoli. He looks a little like Dave Grohl with his lank black hair and goatee—in presence, however, he reminded me more of Kurt Cobain, who came off as a goofy and mild-mannered kid as surprised as anybody else by the wealth of talent inside his head. He's a normal enough guy that he doesn't really need to affect normalcy, at least not by singing about masturbating and watching TV as the most tiresome slacker-rock bands tend to. Here's a scrawny kid from Pennsylvania with an ill-fitting white shirt and one of the most impressive bodies of songwriting in contemporary indie rock. It's that simple.
Maybe the sense of Alex G being "one of us" is part of the reason for the devotion of his fanbase. I've never been to a show where the audience screamed so passionately for the performer—and I mean screaming, the kind usually reserved for pop stars, accompanied by "I love you" and requests for obscure fan-favorites. (Someone tried to sell his middle-school ID on Ebay once.) Many of the fans at his Fillmore gig on October 19 looked no older than 16, and I was startled by their physical smallness compared to my Herculean 5'10" frame. Did I really look like that when I went to the Fillmore more than a decade ago to see the indie-rock bigwigs of the day, like Girls and Destroyer?
Aside from Giannascoli's ample use of vocal processing, his music is not terrifically inventive and relies largely on the beauty of the chords and the ramshackle charm of the arrangements. His predilection for tinny piano sounds evokes the childhood sessions with a cheap Yamaha keyboard that no doubt led to his early masterpieces Race and Trick. What his music has is a vibe, always important in the legal-weed era: a sort of golden-hour melancholia, the sound of an endless summer that's about to end. I wish I'd had his music in high school, when the summers felt just like that.
He's also got such a deep catalog that fans screamed for nearly every song in a setlist that was by no means representative. My friend Ted Davis at Paste argues that "Forever" is both Alex's best song and the quintessential Philly indie-rock song, no small statement given that city's position at the core of underground American rock for the last decade. I would argue for "Sarah," the song that made me a convert. My buddy Mike, who I went to the show with, argues for "Sportstar." I expected all three jams-of-choice to be honored, but "Sportstar" was the only one on the menu for the evening.
"We're gonna play two more songs and then do an encore," said the singer-songwriter after another fan-favorite, "Gretel" from 2019's beloved House Of Sugar. It was such a simple and funny bit of banter I couldn't believe I hadn't heard it yet, and Giannascoli said it totally po-faced, as if he'd forgotten that an encore wasn't something you were supposed to announce. If his main set was where he and his band allowed that slow, balmy Alex G feeling to settle over the crowd, the "encore"—eight songs in all—was where he flexed his chops as an entertainer.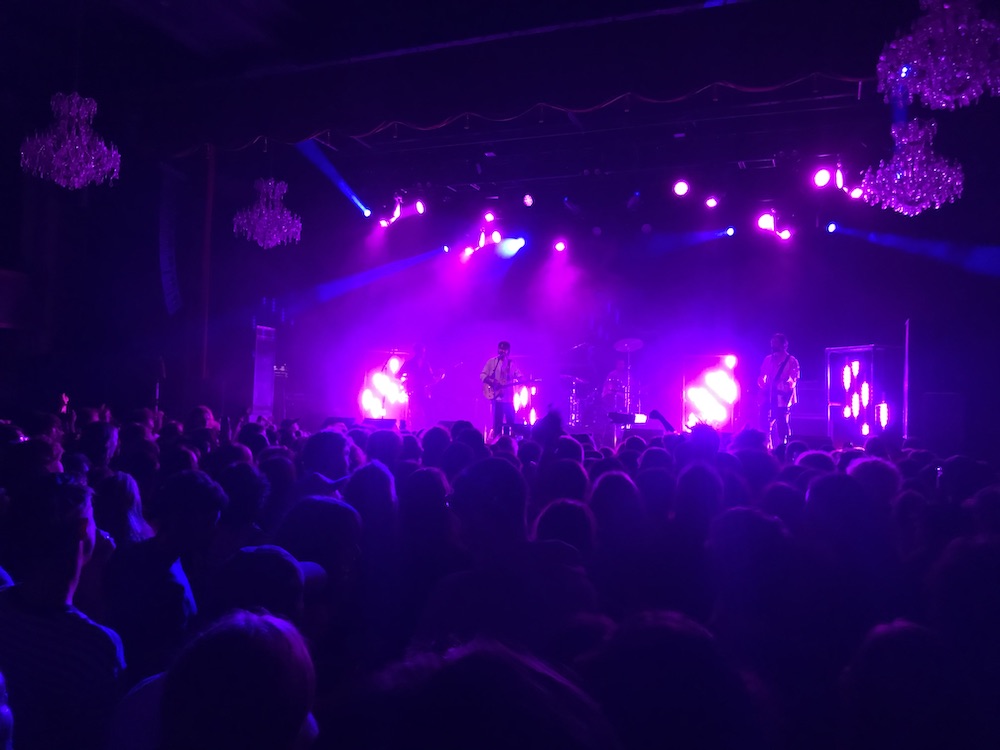 Alex G is famed on the web for covering Tom Cochrane's "Life Is A Highway" at shows, perhaps best-known to people under 30 for its appearance in Pixar's Cars as performed by Rascal Flatts. He didn't do it this time, but fans were treated to renditions of Blink-182's "What's My Age Again?" and, to close things out, a song by a "great San Francisco band." Would he sanctify the hallowed space and honor the performers who came before him by playing a Grateful Dead song, like Real Estate did back in 2014? Nope: It was "Semi-Charmed Life" by Third Eye Blind. 
Jokey '90s and '00s covers are all the rage these days. It's a common trick on the DIY circuit; if no one will remember your own songs, they'll at least remember "Ms. Jackson." Just last week I saw Icelandic Eurovision runner-up Daði Freyr and even he did "All Star" by Smash Mouth. People like things they recognize, which is why several of the biggest hits on the Billboard chart right now are basically just remixes of older and easily recognizable songs. I initially resisted this trend, but I've come to realize it's something I just have to live with, like pseudoscience on the Discovery Channel.
Besides, it's not like Alex G doesn't have a few dozen songs of his own that get the crowd just as wild. Maybe in 20 years, if bands need to give the crowd a boost, they'll pull out "Sportstar."