Under the Stars is a quasi-weekly column that presents new music releases, upcoming shows, opinions, and a number of other adjacent items. We keep moving with the changes, thinking outside the margins just realizing…Every music scribe you like, hate, or just troll for sport is about to unleash the Kraken real soon, friendo. Year End picks and opinions time is ready to disrupt, like Elon Musk pestering a DJ to play some shitty music at a gig.
"I'll buy the club if ya don't."
So pry yourself away from the TV, detach your senses from hearing Fleetwood Mac hawk electric vehicles to Gen-Z (RIP Christine McVie) and let's dive into this week's music picks before the year-end blizzard of best music lists hits…
MOSSWOOD MELTDOWN RETURNS WITH BIG PUNK QUEER/FEMME ENERGY
Here are two names form the past that can still get a wide swath of hearts beating hard: Feminist pop heroes Le Tigre (playing their first Bay Area gig in 15 years) and local rabble-rousing legends Gravy Train!!! Those queer-centric heroes still have plenty of anarchy in them (despite associations with turn-of-the-century "electroclash"), so they're a go to headline the latest edition Mosswood Meltdown, just announced this minute for July 1 and 2. They'll be joined by Tina & the Total Babes, the Rondelles, and Quintron & Miss Pussycat plus more to be announced. John Waters returns for hilarious hosting duties. Tickets go on sale Fri/9 at 9am here.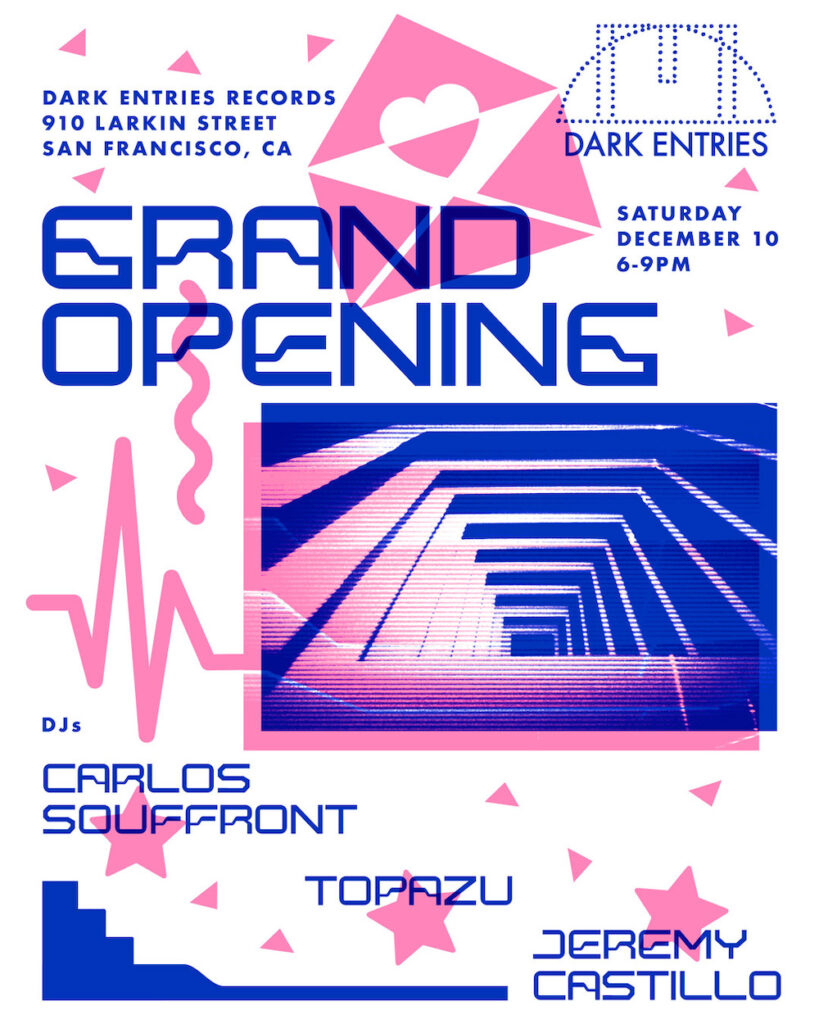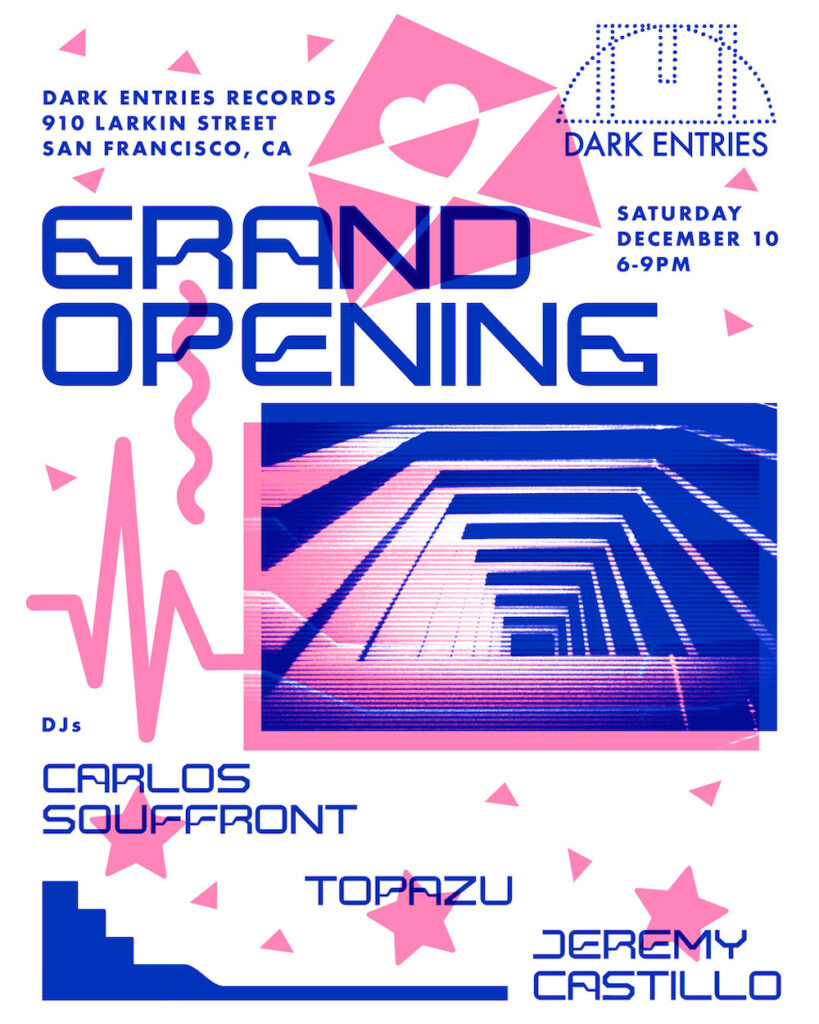 DARK ENTRIES OPENING A STORE
Dark Entries, founded in 2009 in San Francisco, is known for releasing and preserving obscure Italo disco, synth pop, boogie, house, and other dark synthesizer-curated music. Recent EP release Malebox EP by the late disco legend Patrick Cowley is a prime example of the label's commitment to quality music others tend to miss. It's a label fueled by inspired nerd core energy from the snout to the tooter.
Don't believe me? The imprint is named after the first 7″ single by the UK goth band Bauhaus. George Horn, a chief engineer in the fine art of mastering records, known for his three-decade run at Fantasy Studios, accumulating over 50 years of experience in the field, remastered each Dark Entries release to maintain the integrity of sound and production up until his passing at the age of 87 last year.
They don't play.
So, if you work as a DJ in San Francisco and you don't have at least one Dark Entries Record in your bag, you might want to hit the reset button and reevaluate your priorities.
After 13 years of existence, they're opening a physical record store at 910 Larkin Street in San Francisco on December 10, with DJs Carlos Souffront, Topazu, and Jeremy Castillo spinning from 6-9 pm at the launch party.
Swing by with cash; it'll be going to a good cause.
FRED P OUT ALL NIGHT (SHALL NOT FADE)
In a recent profile piece in DJ Mag, Queens-born, Berlin-based House music producer Fred Peterkin aka Fred P revealed that during the pandemic, he only saw four people while holed up in his apartment in Germany for an entire year. When the borders opened up, he returned to New York and jetted to a cabin upstate to reconnect with nature.
"I found myself out in the woods, and found a form of peace of mind in the silence," he said. "It gave me a chance to come back to myself on a real level because I was out there. Then I started to hear the music again, and it had a profound effect on me. It was an opportunity to recreate a relationship first with myself, and then with how I write music, and put it all together and maybe redefine the relationship."
The fruits of that reconnection can be found on the absolutely moving EP Out All Night, where his recollections of club life help to fuel this return to Peterkin arrangements at their optimum. Pick it up here.
DIJAHSB, "KHADIJAH," LIVING SIMPLE EP
On their new track "KHADIJAH", DIJAHSB is a modern master at presenting vibe, flow, and tone. It's mellow hip-hop chi, steeped in lived-in moments, that actually packs hit-the-rewind-button type punch. Named to the 2021 Shortlist of the Polaris Prize (the coveted award for songwriters in Canada), this Toronto emcee specializes in lo-fi production that frames their wordsmith acumen to sting when needed but still folds within the fabric of a track. Using narratives that low-key speak to the realities of LGBTQ+ everyday goals, it's human universal, that mos def bites when needed, but mostly rolls along like a classic r&b hook.
Pre-order Living Simple here.
BLUES LAWYER "CHANCE ENCOUNTERS" ALL IN GOOD TIME (DARK ENTRIES)
Have you ever kept missing a band play? Frustrating, right? That's my deal with Blues Lawyer, the Oakland-based four-member outfit with the cool joker name which has a new album coming out soon on Dark Entries (see above). Rob Miller, the band's primary songwriter, told the East Bay Express in June that their name came about from working at the Starving Musician Guitar Store in Berkeley.
"We had an inside joke to refer to the kind of clientele who bought expensive guitars to show off in their man caves. Weekend warrior guys. We called them Blues Lawyers. They'd buy a vintage Gibson Les Paul for $5,000. No working musician is going to spend that much on a guitar. My car didn't even cost that much. When I started the band with Elyse, it was going to be a throwaway side project that would exist for a few shows, between the things we were doing in other bands. If I knew we were going to become a real band and make three records, I would have used something else, but here we are."
Always mentioned in conversations with bookers, writers, or band members from various local outfits as "you gotta see them" or "you just missed them." I'm listening to their new single "Chance Encounters" on repeat for about 20 minutes now, in hopes of getting a dial on some kind of proximity to their resilience.
This, dare I say, pop-friendly tune gives the impression a monumental shift in 2023 is about to occur by way of that fourth record.
"I'm all about a change of scenery," lyrics pointing to relationships and or restaurants, sung in full three-person harmonies against punk arrangements. Previous ironical slants from earlier releases are transposed into killer pop hooks and swirling refrains, indicating the ship be moving into deeper waters.
We can catch them opening for Kelly Stoltz at Bottom of The Hill on January 20. Grab those tickets here.
OSEES AT UC THEATER, DECEMBER 9
We write about Jon Dwyer and his band, Osees, (who keep changing their name) as much as Rolling Stone Magazine had The Beatles on their cover. For those keeping track, that's 30 times.
Dwyer and his musical organizations are arguably as important to San Francisco rock and roll as John, Paul, George, and Ringo were to Jann Weiner hawking copies.
Dwyer has been getting and keeping punk weird for over two decades and a nickel. Interesting, edgy, proggy, and inventive. He's messed with the medium (from acoustic to electro), disrupted the remuneration of his band members (everyone gets paid equally), and still sells out all of his Bay Area engagements.
Josh Rotter did an excellent interview with him in September for us at 48hills which you need to read.
For three sold-out nights at The Chapel in September, Osees brought out mostly 400 sweaty, grizzled, unshaven, stinky AF white dudes amidst the power grid in California at dangerously high levels.
The extreme heat was causing the ceiling of the venue to perspire. Intermittent drops of condensation kept missing my very tasty Moscow Mule.
It was freaking hot. A non-James Brown type of funk was in the air.
But when Dwyer and his insanely talented band blasted into selections from their recent release A Foul Form, Dwyer's tribute to hardcore bands he grew up to-Bad Brains, Stooges, Black Flag-shit was on and popping and the room was happily in a state of dishevelment, it was like clockwork.
And that's what you can expect when they take the stage at the UC Theater on December 9.
Get tickets here.