Even after all the time he's spent working on and promoting his Oscar-tipped drama Elvis, Baz Luhrmann remains fascinated by Elvis Presley ephemera. In this case, it's a photo taken years ago at a McDonald's in Tupelo, Mississippi, Presley's hometown. Photos of Presley line the walls of the fast food establishment but the centerpiece of the picture is Elvis portrayed with guitar in hand, mouth open in song, and feet splayed wide apart, etched on one of the restaurant's glass partitions.
"That's amazing. Is it actually glass? It looks beveled," he says. "I spent a lot of time in Tupelo, coming and going from Memphis for two years. I never saw that McDonald's. That's brilliant."
For a man who has been on a punishing promotional tour as Elvis continues to collect accolades and prizes eight months after its debut at the Cannes Film Festival, Luhrmann remains energetic and upbeat. He left Australia 12 days before, traveling to Japan, Poland, Washington DC (where he visited the White House), France, England, New York, Los Angeles, and now the Bay Area. It is a whirlwind two-day stop before he flies back to Japan, pausing only long enough for screenings at Skywalker Ranch, where years before he mixed the sound on Romeo + Juliet—and then the California Film Institute's Smith Rafael Film Center, an engagement that delights him, since he credits the CFI's Mill Valley Film Festival with launching his 1992 first feature, Strictly Ballroom.
And he remains eager to talk about Elvis and its inspirations, Presley and his manager, Colonel Tom Parker, even after all this time. It might seem counterintuitive that an Australian should take on a story as deeply American as Presley's but the King of Rock 'n' Roll has been part of Luhrmann's life since he was a small boy growing up in tiny Herons Creek in New South Wales where his father ran a cinema that played Elvis Presley movies at Sunday matinees. Later, when Luhrmann took up ballroom dancing and before he discovered David Bowie and Elton John, he would dance to Presley songs. He also sees a minor parallel between his life and Presley's, smalltown boys who scaled far past their origins.
The similarity ends there since Presley changed musical history, and in so doing achieved the kind of overwhelming, isolating stardom that might feel more like a curse than success. Dead at 42—and 'looking like 60,' as Luhrmann notes—he was a modern-day Icarus who flew too close to the sun and fell catastrophically back to earth. The magnitude of Presley's tragedy appealed to Luhrmann, who admits to taking a cue from Shakespeare in using a historical figure to explore larger ideas.
He was also attracted to the relationship at the heart of the film, the symbiotic, destructive codependency between Presley and Parker, the Dutch showman (born Andreas Cornelis van Kuijk) with a curiously American name and a mysterious past.
"I wanted to explore this kind of Americana, the birth of something new and the artist, and counterpoint it with the big salesman, the 'snow' man doing the big snow job," says Luhrmann.
"Here's the thing: There's no orchestrating here, it really happened," he adds. "They were actually both very damaged kids, Elvis and the Colonel. They were both running away. They both invented personas. What we really don't know is what darkness the Colonel was running from. These two lonely men happened to be in a place and time with gifts that made them soar at a level no one could possibly have predicted, and then they crash ignominiously down, both ending relatively penniless.
"Elvis thought he would be forgotten. I mean, when he says, 'I'm almost 40 and no one will ever remember me; I've never done anything important,' he really said those words."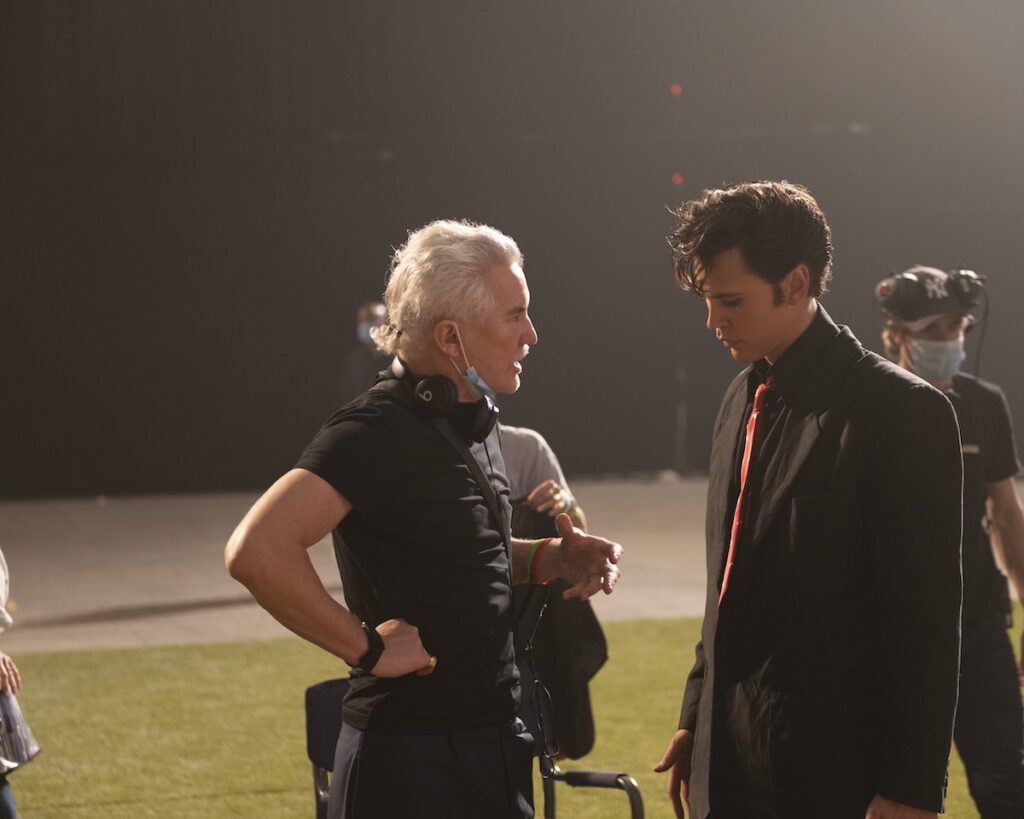 One rule that Luhrmann set out for himself when planning Elvis was that there had to be a historical reference for everything in the film. He compressed time but he insists there is not a lot of artistic license taken. For example, Elvis really was in the middle of making what would become known as his 1968 comeback special when Robert F. Kennedy was assassinated, and the song "If I Can Dream" was written by Walter Earl Brown in a single night to replace the remarks Presley planned to make about the murders of Kennedy and Martin Luther King Jr. at the close of the show.
"I didn't (have to invent) because God did a very good job in the story," Luhrmann says. "When I'm saying 'God,' the factual realities are that out there. I mean, Elvis dies at 42. How did he have so much life in such a short time? He's a country bumpkin. The Colonel didn't care about music, but he sees what Elvis does to an audience and Elvis ends up as the most famous person on the planet."
There is a built-in irony to Luhrmann's Elvis with Austin Butler's charismatic, immersive performance as the singer at the center with Tom Hanks as the ex-carny Colonel both a help and a hindrance to his phenomenal client, the stars and all of film's elements combining to make a critical and commercial winner. Presley wanted to be a movie star and he was after a fashion, but with notable exceptions like Michael Curtiz's crime drama King Creole and George Sidney's Viva Las Vegas where he had a livewire costar in Ann-Margret, the films were often terrible, uninspired and formulaic. Parker always laid the blame for the movies' mediocrity on his client, insisting he didn't interfere. Luhrmann doesn't believe him.
"You gotta ask yourself why the movies are always either about gambling or Hawaii, where the Colonel ran away to and trained in the Army and loved, or animals, or carnivals—all of the Colonel's favorite subjects."
Luhrmann sums up the relationship between star and manager by paraphrasing "Suspicious Minds," Presley's final number one single, "They're caught in a trap and they can't get out."
The filmmaker feels fortunate to have found Butler, whom he describes as a "kind of miracle." The actor who starred in The Carrie Diaries on television and played Charles Manson's murderous acolyte Tex Watson in Quentin Tarantino's Once Upon a Time in Hollywood, found certain parallels between himself and Presley and threw himself into the character. He even made a recording of "Unchained Melody" before meeting with Luhrmann, not realizing the song was in the script. Butler never stopped researching the role and never stopped being in character.
"I had to calm him down once. I said, 'Look, you're gonna break.' He was going too far," says Luhrmann, adding, "Even though we were working with people who had made costumes for Elvis, we were still having to find the ones that blended with Austin. 'Austin Elvis' is what we called it because I didn't want an impersonation. That's not revealing an intimate human being. Austin had to find a way of having all the technical aspects down but also let himself reveal humanity.
"Does Austin do the moves? Yes, amazingly," he adds. "It was an out-of-body experience to film him in concert. He did three numbers in a row and it was just crazy. Half my crew couldn't work because they were stunned by what he was doing. But the miracle that is Austin Butler is in the private moments. Elvis was so lonely, just lonely. The more that addiction to the audience grew, the more lonely he became because he needed more of it. The more that you have mass love, the bigger the hole in your heart, which was there from childhood, gets."
Elvis is available to watch on HBO Max and Hulu, for rent on many major streaming platforms, and for purchase on DVD, Blu-ray, and 4K discs.