Carrie Lederer brings the macrocosmic natural world up close and personal, inviting us to step into the magic with her. The artist's work is a reflection of the world around her, a bridge to life's less-noticed layers. Her mission is to ignite deeper interaction with the natural world and global community through art.
"The implied message of my work is to see the environment—from the darkest recesses of the soil to the cosmos that are beyond our grasp—as part of a greater whole that we are all a part of," Lederer told 48hills.
But for Lederer, nature is more than what is seen: it's vibration, pitch, and tone. She wants to convey these invisible sensations in both her flat surface work and three-dimensional sculpture.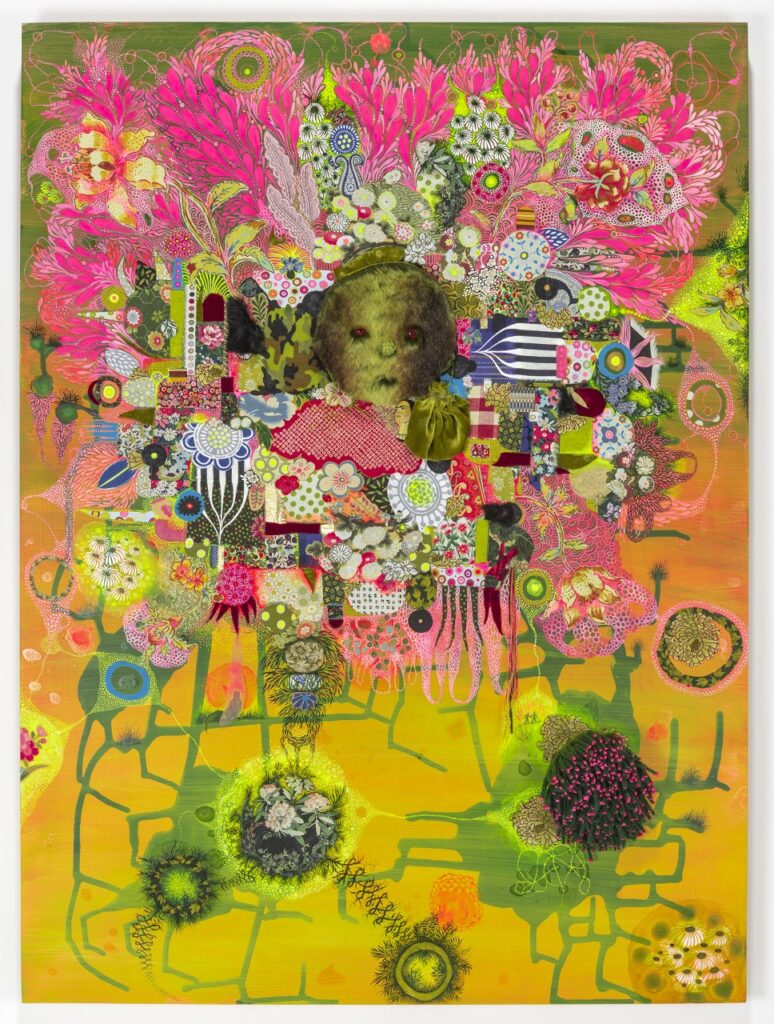 Lederer channels the techniques of artists past and present in order to share these feelings and sensations of the natural world. Within her coterie of influence are Henri Rousseau and Charles Burchfield, both explorers of visual motifs in nature. Similar to those creatives, Lederer uses calligraphic lines to define lush green foliage and patterns of insect sounds. She employs clustered brush marks and curlicues to depict the stretch of roots beneath the soil and the din of nature. Lederer takes a page from Lee Bontecou, who uses dark, otherworldly images to urge viewers in imagining what cannot be seen, and Méret Oppenheim, who "talks about surreal lands and says it all in a single teacup," Lederer said.
If she could, Lederer would throw a big party and invite a room full of "badass, brilliant, mind-blowing women artists." Her guestlist would run the gamut from Alice Neel and Louise Bourgeois to Eva Hesse, Frida Kahlo, and (Anna) "Grandma" Moses.
The artist was raised in Detroit and graduated with a BFA in sculpture and a BA in art education from Michigan State University. After college, Lederer took a month-long journey across the US and landed in San Francisco intent on launching her art career.
Currently residing in the Upper Laurel-Redwood Heights neighborhood of Oakland, Lederer lives on land that was formerly fruit orchards, an area where modest homes sit on generous lots. When she and her husband bought their home 25 years ago, one of the first things they did was build a 1,000-square-foot art studio.
Her art process is inspired by up-close encounters with nature that start each day on the 50-foot journey from her house, through the family garden, to her studio. From a large deck facing out to the Bay, Lederer receives a constant stream of information on light, land, weather, and more. Often, she will pick up a fragment of nature and bring it to the studio for inspiration, or to add to her table of curiosities that also serves as a three-dimensional artist statement of sorts.
"I am continually captured by nature's sheer exuberance—a spectacle of complexity—beautiful, simple, and haphazard," she said.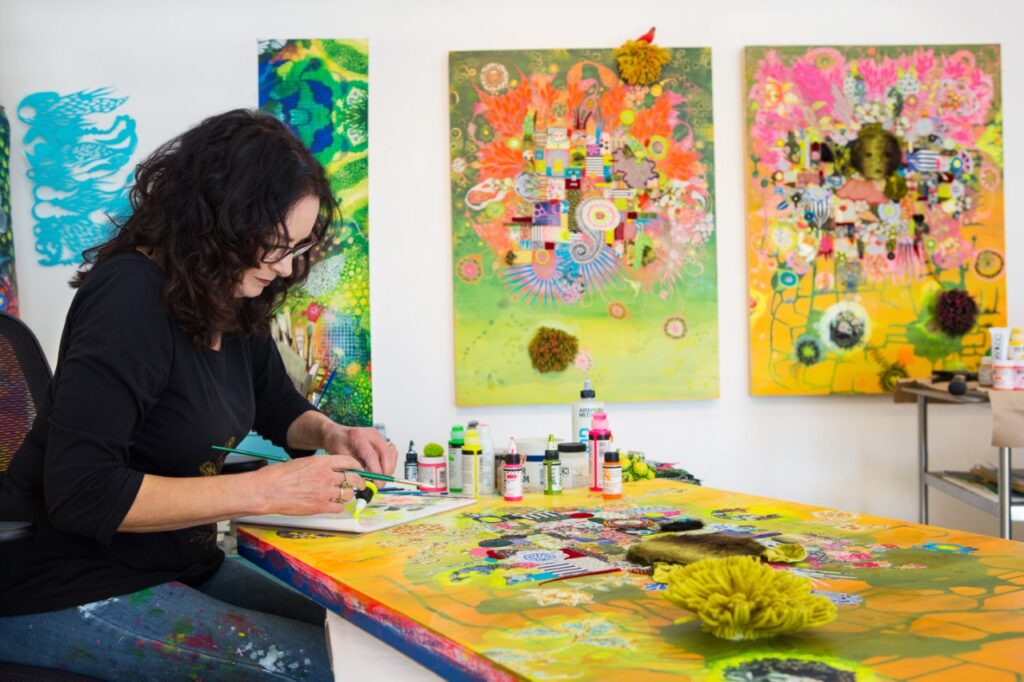 From 1993 to 2020, Lederer served as curator for Bedford Gallery in Walnut Creek, where she introduced the community to a global roster of artists; established a public art program; developed a national traveling exhibition program; and launched hundreds of careers. All the while, she kept her own studio practice alive.
"I never let go of the end of the rope," she said.
Retiring from her curatorial position shortly after the onset of the pandemic, she is now solely focused on her own artwork, a transition to which she says she has been inching closer since completing a 2011 commission from Turtle Bay Museum in Redding. For that piece, she created a room-sized installation with a three-dimensional tapestry of natural and handmade objects that immersed viewers in a surreal, meandering landscape.
Though she primarily works on wood panel or 300-pound watercolor paper, her goal is to draw the viewer to enter "full-blown worlds." In 2019, Lederer was a Facebook artist-in-residence and created "The Land of Magic Awaits," a 10-by-40-foot mural for a new Fremont campus.
"This residency was a sea change for me in terms of scope and size," Lederer said. "Viewers are encouraged to interact with the work and 'find the fox' and other natural elements that are hiding in plain sight."
In 2021, the City of Palo Alto commissioned her to participate in their public art mural program. Lederer's "Lost in My Abstract Garden," located at a commuter train station, depicts imagery that is lush and dense, and that leads viewers to find something different each time they look. That same year, Elevate Art Menlo Park commissioned a Lederer mural titled "Under the Wide Sky We Gather" for the Menlo Church Teen Center.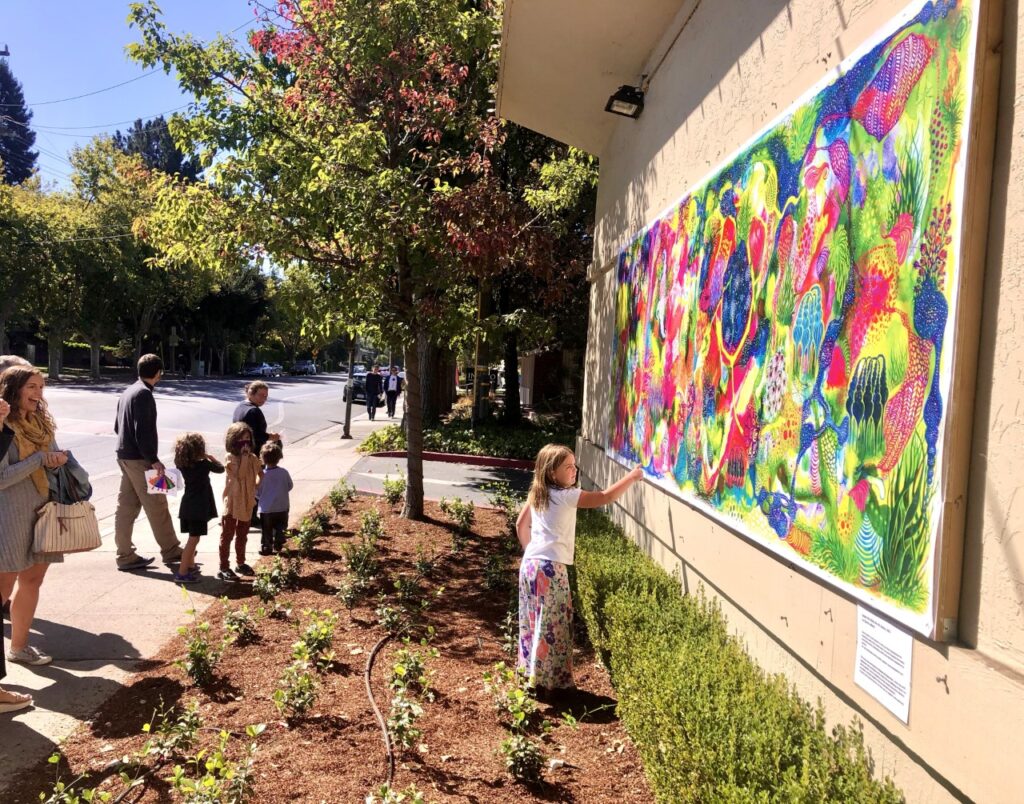 "The cacophony of imagery conveys the magical connectedness that is the essence of nature," she said of that piece.
In the fall of 2022, Lederer won a commission with the City of Sunnyvale to create a nine-by-11-foot tapestry for its new City Hall development, which will be unveiled in 2023. She is now busy activating the piece's surface with metallic threads, pompom-like tufts of yarn, and washes of neon and iridescent paint. The mural, titled "Sunnyside of My Abstracted Garden," will take visitors on a textured visual adventure, while adding warmth to the space.
Lederer's visual interpretations are influenced by this moment in time and history, with images that are at once orderly yet in disarray, realistic yet abstract.
"I'm grateful for a calming balance found in the triangle of home, studio, and community," she said. "But when the pendulum swings, I have tremendous angst around maddening politics, a frightening global pandemic, and environmental challenges. I think we all share a collective, hesitant, and apprehensive anticipation of what each day will deliver."
Despite all this, life offers moments of joy. As an example, Lederer references the lockdown—seemingly a lifetime ago, yet ever-palpable— saying the enforced solitude gave us a quiet opportunity to observe, to notice the richness of land and landscape.
"Many people started appreciating nature, as the outdoors was the only 'safe' place," she said. "Some of those habits we forged during the pandemic are still with us."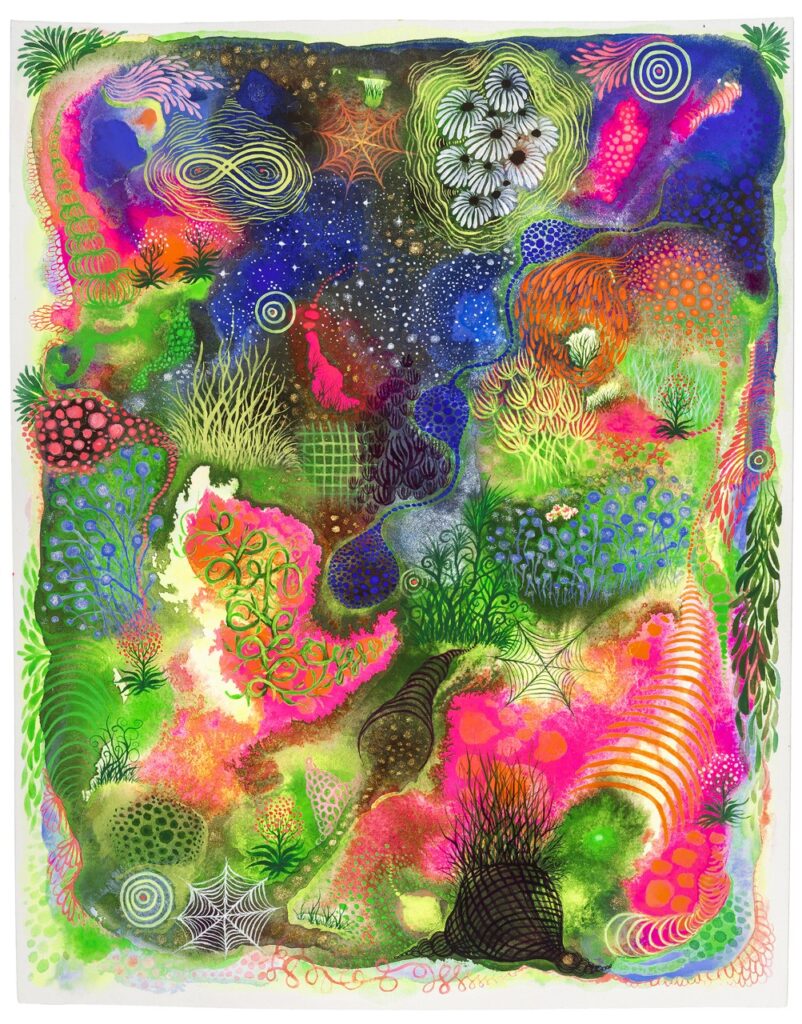 This much she knows to be true: Nature, as it must, plunges forward. Lederer notes that the petals of her vivid pink zinnias faithfully continue to unfold, weeds still take the garden hostage, and yellow finches still arrive at the feeder. Robust volunteer Mexican sunflowers abound, her Italian peppers amuse and charm. She admits she is embraced by her by "raggedy backyard oasis—a reluctant tranquility," as she worries for our world.
Lederer's recent shows include solo exhibits at Fourth Wall Gallery in Oakland and FARM Projects in the outer Cape Cod town of Wellfleet. Imagery Winery will feature a work by Lederer on the label of its 2023 rosé, and she created a purple perfume nicotiana design for New York's Hudson Valley Seed Co. Lederer is represented by Pastine Projects in San Francisco. Though she relishes opportunities for large public art projects, Lederer craves quiet time spent in her studio, absent of creative deadlines.
"It's imperative to carve out time to experiment, develop new imagery, test new media, welcome failure, and just play!" Lederer said.
The art of Lederer is a dialed-in focus on the wonder of nature: the quiet and the chaos, the micro and the macro. It is here where we see an endless fascination for "nature's mycorrhizal networks," the threadlike connectors that form the plant-to-plant exchange that make life possible. This subject provides infinite possibilities and challenges.
She's aware that the natural world connects us all, no matter where we live or who we are. Lederer strives to expose people of all ages to immersive, interactive art that honors the natural world in all its beauty and fragility.
And to all creatives (she's of the mind that we all fall into the category)—she urges us to be awake and to engage with our world, adding this bit of advice:
"Embrace your weirdness and disobey your fears!"
For more information, visit Carrie Lederer's website at carrielederer.com and on Instagram.