When she first came across Gordon Dahlquist's Tea Party more than 10 years ago, Erin Merritt wanted to direct the play. Its plot follows an act of domestic terrorism by the left that sets off violent political rhetoric on the right. But politics weren't what drew her to Tea Party, Merritt says—rather, it was the play's unexpected, thrilling, and funny moments.
Merritt has been making theater for more than three decades, a career that includes the founding of all-female Shakespeare company Woman's Will in 1998. Nowadays, Merritt has limited speaking abilities due to ALS, a terminal motor neuron disease. But with the support of her theater community, she is finally directing the play she feels so strongly about, and will stage Tea Party at the Strand Theater Thu/2–March 19.
In an interview for which she supplied written answers both ahead of time and in a Zoom chat, Merritt explains what drew her to this play, how she has always persevered within the limitations of theater, and how she works to create more opportunities for women in Bay Area theater.
48HILLS How did you first come across this play?
ERIN MERRITT I first encountered Tea Party at the 2012 Bay Area Playwrights Festival in a highly competitive development process (five or six scripts chosen out of about 600 submitted). I was on the creative team for a different play, but the event begins with a retreat at which the playwrights read their plays aloud, and the entire cohort discusses them. This script just really knocked my socks off—aside from being spectacularly smart and gripping, the action went somewhere I never would have guessed in a million years, while feeling more true than anything I would have expected.
After more than 35 years in this business, I am never surprised, so that combination of truth and surprise was compelling. That it appeared in a script by a playwright I had met in college was a particular joy. Gordon was a few years ahead of me in school, so we hadn't worked together, but I knew his sensibilities, which are very similar to my own, so it was fun to get to know him properly after all those years.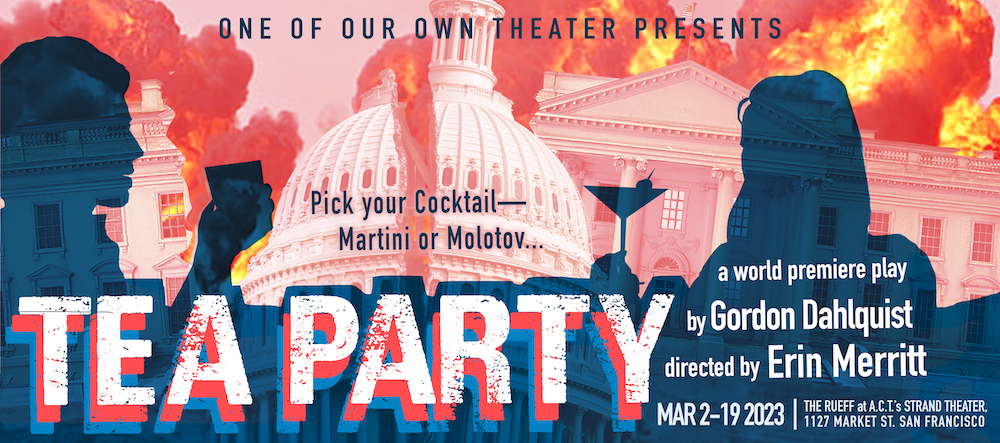 48HILLS Politics can be so tricky in theatre. What motivated you to take this on?
ERIN MERRITT Often when you hear a play is political, you want to run screaming because you know it will be preachy and humorless. But I think [political themes are] packed with humor, because it's about human idiosyncrasy, and how we act when we want something badly whether it's sensible or not. Human behavior is endlessly entertaining, and politics is full of extreme human behavior, and all the best satires are in some way about power upended. Look at the popularity of shows like West Wing, Veep, and the Ukrainian sitcom Servant of the People starring [the country's current president] Volodymyr Zelenskyy.
Tea Party is, like those shows, a vehicle to speak intelligently—and entertainingly—about issues that are worrying us all. Tea Party is not left versus right. It's about the tinder box of emotions underlying everything we do in America, and how anyone could be the spark that starts a war. We are all responsible for keeping a civil society.
I wanted to do the play the second I heard it in 2012. By 2013—10 years, two Presidents, and five national elections ago—I started looking for a producer. In 2013 people said, "This play is too far-fetched." In 2016, "It's just… too real." In 2021,"We're past all that now." And we aren't. It just keeps getting more relevant, yet the relevance is only part of it. I love the momentum of the play, the huge stakes are thrilling, the pace is edge-of-your-seat, and the rhythm is amazing with its balance of witty dialogue and profound silences.
48HILLS You say your credo is when something is tremendously difficult, it does not mean giving up. It means asking, "If we can't do it the traditional way, how can we do it?" What does that mean for directing this play?
ERIN MERRITT Any time you work in theater you are coping with limitations. It's not film, so it won't look "real," you're choosing what to highlight, and you have a tight budget. So as a director and producer, I am always challenging my designers not to buy the expensive, realistic item, but to think what's cheaper—not just because of budget, but because it requires imagination and we are in the business of imagination. Usually that cheaper choice is actually way more compelling.
When life challenges come along, like the pandemic or a debilitating illness, my approach is the same.
In 2020 everyone said we can't do live shows because it's not safe. I said, how can we do live shows in a way that is safe? Because Zoom plays are not good enough—it's the live human experience that we crave, and in fact needed even more when we were locked away. So I set performers up on street corners, everyone performing solo or with people in their quarantine pod so they were safe. The audience watched from their cars, and distant locations allowed us to give a city history driving tour as part of the experience.
So now with ALS, I thought, "How can I direct with no literal voice?" I can still type, and I can make the speech function speak my typed words aloud because my brain still works!
Actually, my assistant director [Alicia M. P. Nelson] has gotten so good at reading my mind that I don't use the speech function. Often I type shorthand, and she is my voice, which is nicer because her voice is human and nuanced.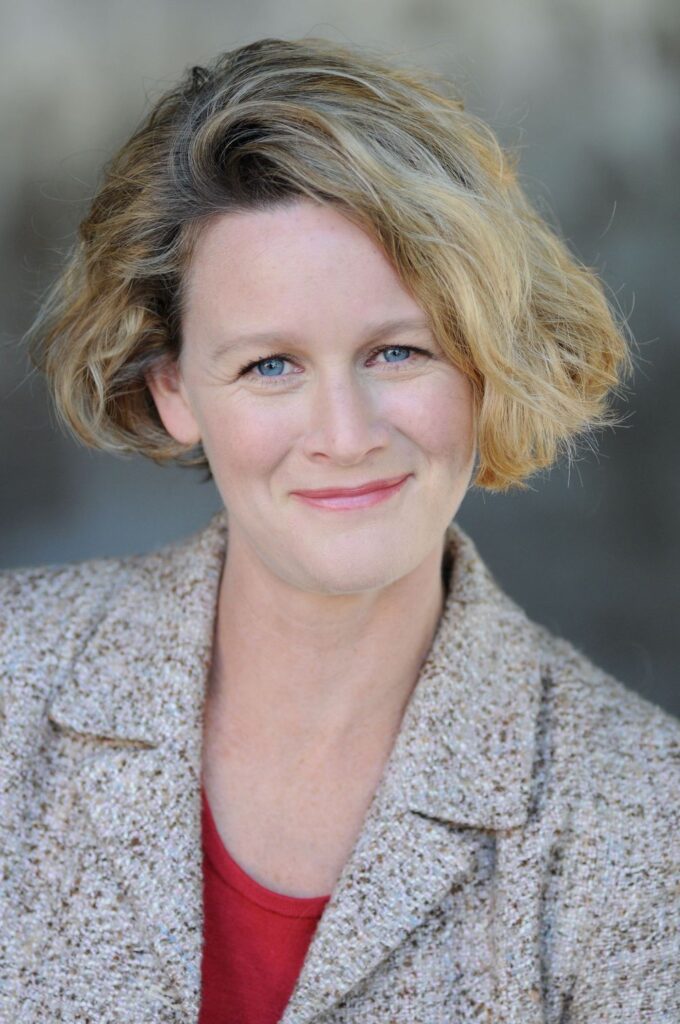 48HILLS You founded Woman's Will in 1998. What led you to do that? How is its impact still felt?
ERIN MERRITT There's a whole audition cycle for summer Shakespeare companies each year. In my 20s, I was auditioning for a different one every weekend for a couple months each year. I realized there was a structural problem: Because Shakespeare was writing for all-male companies, he wrote most of his roles for men, yet there are more women auditioning for those roles. This extreme imbalance led directors (more than 90 percent of whom were men) to focus on finding enough men and casting the women's roles as an afterthought, with the same handful of women who "got along with" the men.
This dynamic was harmful to the other women's careers and psyches, since they inevitably blamed themselves for not being good enough, instead of realizing the actual problem was a lack of access. These women's talent and time were being wasted, especially if they didn't look like central casting's idea of "the most beautiful woman in the kingdom," or were interested in more muscular roles. Many of us were highly trained stage fighters, yet we never got the chance to pick up a sword.
Instead of complaining, I gathered a few friends and started an all-female Shakespeare company that fundamentally changed the way the Bay Area theater scene cast shows and programmed seasons. Woman's Will gave numerous women actors, directors, and designers their first major credits, helping them launch their now prominent careers. This includes Carla Pantoja, who has had a wonderful career as an actor and fight choreographer, and was just announced as SF Shakespeare's new artistic director.
In response, local companies dramatically increased both their programming of plays by and about women and their hiring of women, including in roles traditionally played by men. We also ran a small event each year that paired women playwrights with women directors, helping building relationships to get more woman-written plays to stage. In the '90s, it was genuinely unusual to see any female playwrights in a company's season; now a woman (Lauren Gunderson) is regularly the country' most-produced living playwright.
48HILLS You've been involved with theater for a long time. What initially drew you to it? What made you stay with it?
ERIN MERRITT At age four, my mother took me to see a one-man performance of the fairy tale The Fisherman and the Fish, during which I realized that playing make-believe was actually a job one could do as an adult. I really don't see how anyone could know that and choose something else. I've stayed with it because it is a calling and the thing I am best at doing. It is the way I think.
48HILLS What has been most satisfying about directing Tea Party?
ERIN MERRITT It's a huge relief to finally get to fully produce this play that has been tugging at me for a decade. I've done three readings of it—and most of the actors have worked on one or two of those readings—so there's this collective energy in the room that's unusual. It's not me as a director selling my vision to actors, but a group of actors who've already gotten excited by that vision and feel empowered and excited to help me make it come to life.
I have worked with all the designers and office staff before as well, so it truly feels like a big collection of friends. We share a mutual trust and camaraderie which makes even the hardest work fun, and a shorthand of knowing how the others work best. Especially after two years of little theater, the whole process feels like, well, a lovely party. But the most satisfying part is yet to come—theater isn't theater until we're sharing it with an audience.
TEA PARTY runs Thu/2-March 19. ACT's Strand Theater, SF. Tickets and more information here.