The Board of Supes Rules Committee postponed action on ending remote comment today after close to 100 people made strong arguments against the policy—through remote comment.
Sup. Rafael Mandelman wants the board to stop accepting comments by telephone, a return to the days when people who want to weigh in on an issue before the board would have to come in person to City Hall.
He told me that the remote comments have made meetings exceedingly long, and that it's not the best way of communicating to district supervisors.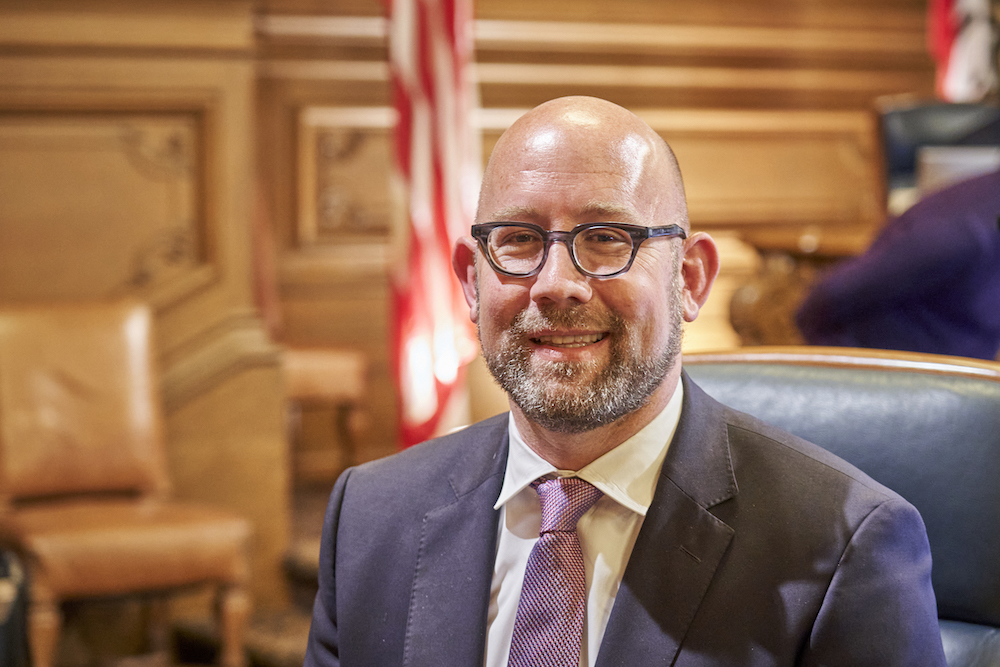 But Debbie Lerman, director of the Human Services Network, spoke by phone to tell the committee that "public comment is not just for you. It's for the listening audience." And, she noted, in-person comment is exclusionary: People who have mobility issues, or work during the day, or have family or caregiver responsibilities, can't always trek to City Hall for meetings that happen during the work day.
Jeantelle Laberinto, who works for People Power Media, said that the debate is really about marginalized voices being heard. She noted that more than 100 organizations have signed a letter opposing the end to remote comments.
The letter notes:
We are a coalition of disabled people, seniors, poor and working-class people, parents, teachers, child care providers, Black, Indigenous, people of color, and other people who want to ensure that our communities have a voice in local decision-making. We write to urge you to OPPOSE the ordinance introduced by Supervisor Mandelman to end remote public comment.

Historically, our communities have been missing from the table for government decision-making, due to issues with access, child care, work, racism, and more. During the COVID pandemic, with requirements to shelter in place, the world learned to communicate effectively via the internet and phone. Lack of internet access and digital technologies continues to exclude many people, but video conferencing has allowed many to participate in Board of Supervisors hearings, commission meetings, and other public events — some for the first time. All city agencies learned how to hold virtual meetings and allow people to listen and share input remotely. As a result, countless seniors, people with disabilities, parents, and others have been able to share their experiences, insights, and knowledge on issues that affect our lives: affordable housing and land use, health care, technology, and much more.

It is vital that the City and County of San Francisco commit to continuing a telephone and video option for all public meetings, complete with ASL, captioning, and interpretation. Many working people can't take time off from day jobs, when most meetings are held, but can call in and speak for a couple of minutes when their turn comes. Many disabled and immunocompromised people and their family members and caregivers cannot risk coming in person and getting COVID, or transportation and other barriers prevent in-person attendance. Parents, educators, and caregivers for young children cannot take a break to come to a meeting but can call in while with children. Continuing to offer a remote participation option for public meetings will only serve to elevate the diverse voices of our community and create stronger and better decision-making. Dedicated city staff have proven that remote meetings are possible, and we are grateful.
If nothing else, Mandelman has managed to bring a strange collection of groups together: In a remarkable moment, pretty much the entire progressive movement joined with the Yimbys, who also spoke out against the idea.
Sup. Matt Dorsey, who chairs the Rules Committee, asked to continue the measure because—and this raises another entire issue—he didn't want the supes to be the only agency in town that limits remote comment.
"This motion only reflects Board of Supervisors rules," he said. "There is a public interest in harmonizing this with other bodies."
In other words: the supes don't want to be the first to cut off remote comment, if the commission controlled by the mayor are still allowing it.
So over the next week or two, the supes and the Mayor's Office and a bunch of other commissions (there are, I believe, 104 local bodies that meet under the Brown Act) are going to discuss this and try to come to a consensus.
I don't know what that looks like.
Under the Americans With Disabilities Act, the supes and other agencies have to allow people who have disabilities to comment by phone, since the pandemic-era rules have made it clear that this accommodation is simple and possible.
Could the city decide that anyone can call in—but only the first, say, ten or 20 callers get to speak? Is that fair?
And why is this an problem anyway? The supes and the commissioners took on their jobs by choice (as Dorsey told me, "I get public comment when I go shopping") and if they don't like long meetings, they can do something else.
Dorsey noted that there's a labor issue: When meetings go long, and late into the night, some city staff members have to stay and support the elected and appointed officials, and not all of them get overtime. "We should reach out to the bargaining units," he said.
Fair enough—but there must be a way to have city workers take shifts, as they do in so many other areas, without shutting down public comment.
At any rate, this all has to be resolved by Feb. 28, when the state laws addressing Covid expire. And we will all have a chance to comment again when it comes back to Rules.