Multimedia artist Silvia Poloto's work is an invitation to feel. In an unspoken language, she relates stories for viewers to connect with, and feel inspired to complete.
"My work is poetic and intuitive. It comes from a mysterious place inside me. It is about being present here and now," Poloto told 48hills.
Poloto was not exposed to a creative life when she was growing up in Brazil. She says the closest thing to art in her childhood home was a portrait of the Virgin Mary her maternal grandmother purchased at the local farmers market.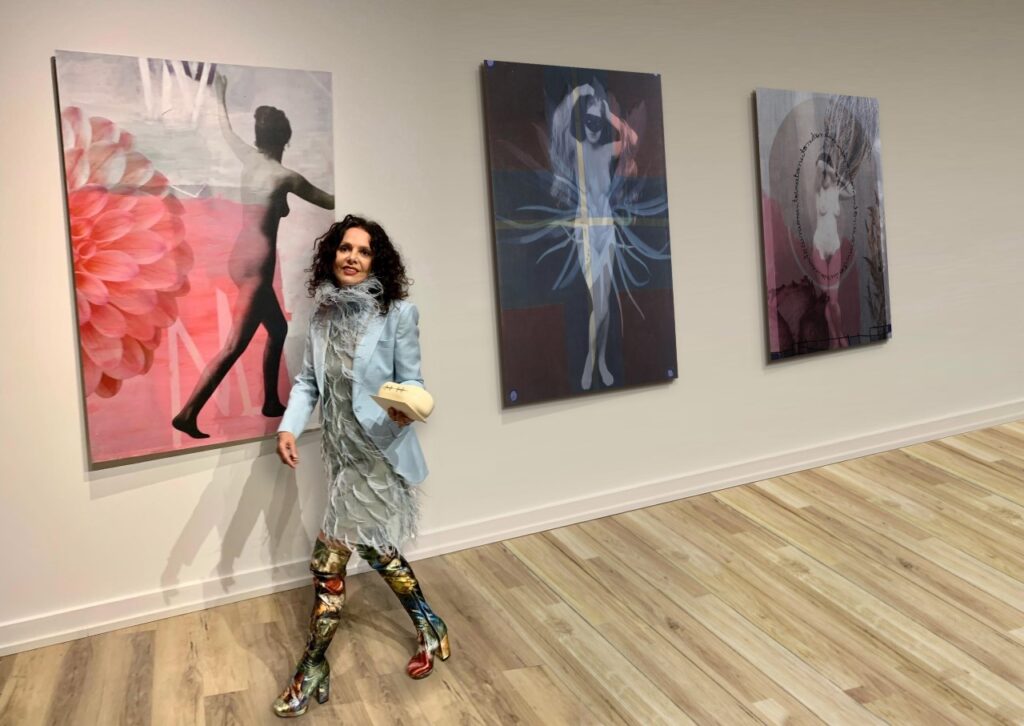 As a child, Poloto always imagined herself as a boy. From her perspective, boys had freedom. While she was praised for her looks, her brother was praised for his intellect. Trying to escape her feminine fate, she followed in his footsteps and got an electrical engineering degree from the University of Sao Paulo, Brazil in 1986.
After five years of school, and a couple of years working as an engineer, Poloto pursued an MBA from Fundação Getulio Vargas in Sao Paulo. During that time, she came across a class in advertising. It was to be her first encounter with a creative outlet.
She got married and soon after in 1992, her husband's work brought them to San Francisco. They moved into a tiny apartment in Cole Valley, and later relocated to a large loft on Shotwell Street in the Mission District to accommodate her work.
"The plan was to stay one year, learn English, return to Brazil, and open my own advertising agency. But as soon as we arrived, I realized everything I had [previously] done was for the wrong reasons," Poloto said.
Being far away from expectations and familiarity made her see who she really was—and who she was not. She felt compelled to work with metal, and took a local class.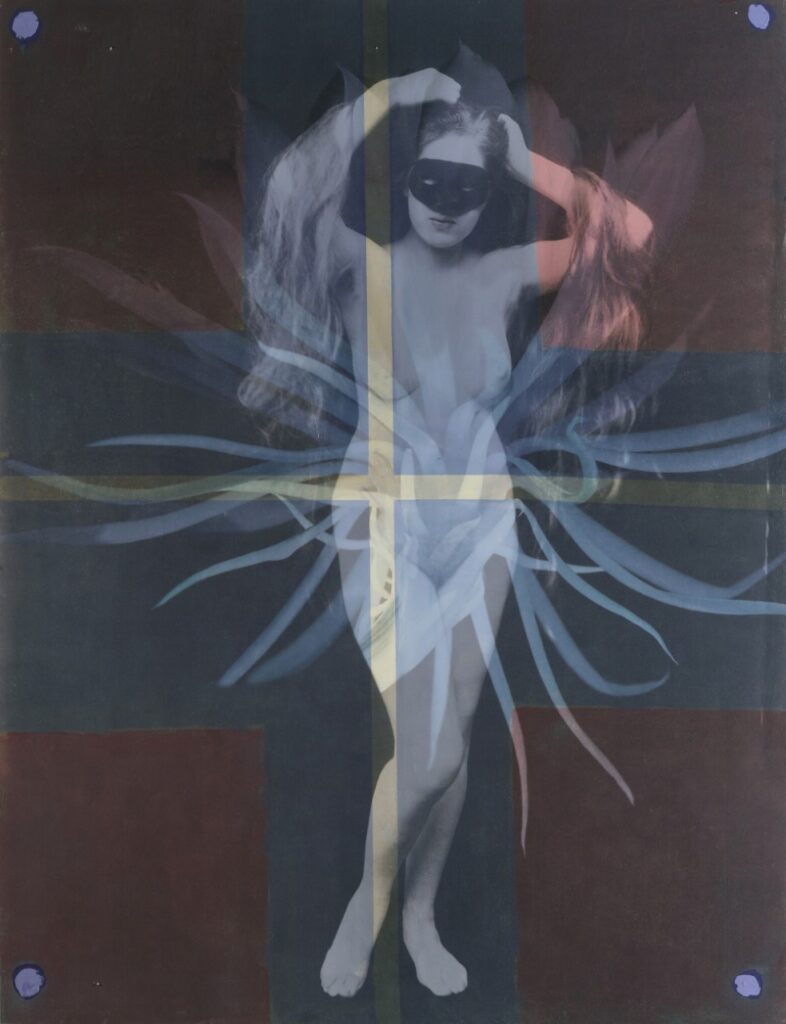 "Making my first welded steel sculpture felt like a spiritual experience. I felt I had not made that piece, but that it had been made through me," she said.
Climbing into this new creative skin, Poloto experienced an inner enthusiasm on a frequency she had never felt before. Coincidences started taking place and doors opened.
"I think it is incredible how a new world opens up to you when you start following the path you are supposed to be on," she said. "You go from wanting to do it to living it."
Her art is not about the knowledge she has collected in life, but the visceral experience of being. When Poloto describes her work, using the words "bold, brave, and beautiful," she is also describing her life.
"My art is a container to pour myself into. Making art is a survival strategy," she said.
In 2007, life took a turn for Poloto when her husband was diagnosed with a brain tumor. He died on Valentine's Day in 2009, when their son was eight years old. Two years later, her landlord announced he was selling the building. Unable to qualify for a loan as an artist and single mother, Poloto found a warehouse in disrepair in the India Basin neighborhood of Hunters Point-Bayview. That is when her MBA came in handy. "Because of its particular zoning, I was able to put together a business plan and get a three-year commercial loan," she said.
The contract was inked on Valentine's Day, three years to the day after her husband's passing, and Poloto felt as if he had somehow orchestrated the outcome.
But though it felt like a miracle find, it was not an easy road for the artist, in charge of the entire remodel, from financials to construction planning, and some of the physical labor involved with the welding.
"During that year, I ran out of money a couple of times and would have to tell my three workers to stop for a while until I sold the next painting," she said.
Poloto says she feels connected to her neighborhood community, where her home now stands, and enjoys being on the waterfront—that she wouldn't choose to live anywhere else in the city. In 2013, she was offered a space at the Hunters Point Shipyard—the largest artist community in the United States with nearly 300 artists—just down the block from her home.
That space is modest and very cold in winter, but it provides the perfect setting to leave works in-flux, and spend the day with her rescue dog Chico. Within its walls are now housed a career during which she has worked in wood, stone, and cement; made paintings in acrylic and oils; done photography; and utilized fiberglass, resin, and wax. She gives herself permission to experiment with as many materials, subjects, and approaches as possible.
"I used to say inspiration is discipline, but now I believe it is a compulsion," she said.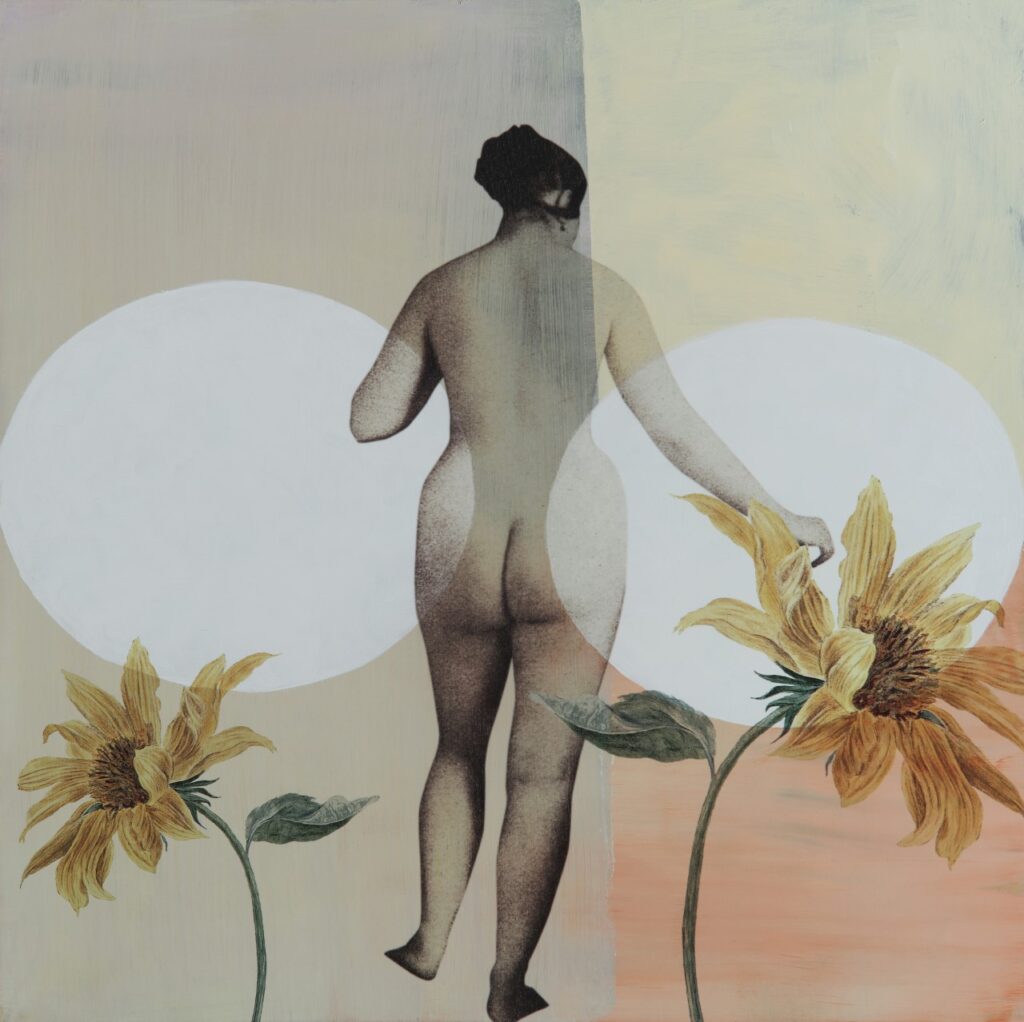 As a painter, she started out with abstract works. In the spring of 2022, after attending a 10-day silent meditation retreat, she became inspired to create a new body of figurative work. Her first series, titled "Sirens, Saints, and Sinners" was exhibited at 555 California Street (the former Bank of America building.)
"During the retreat, I had visions of places and people I had never seen or experienced. Curious, I began to research where they may have originated. I picked up Joseph Campbell's book, Hero with a Thousand Faces and was fascinated with his explanation of archetypes and the collective unconscious as an inherited database. This universal consciousness passes through times and cultures, allowing us to evoke the quality of an archetype we do not know we possess," she said. From these insights, the new series emerged.
Her work depends on internal/external circumstances, inspired by a theme. While building out her living space, she created a minimal body of abstract collages called the "Wabi-Sabi Series," inspired by the beauty of imperfection and incompletion.
"While my abstract work expresses a huge part of me, I never felt I could make a political statement with it. While working on 'Sirens, Saints, and Sinners', we got the news of the reversal of Roe v. Wade and I immediately worked on a piece where the female figure stands tall and powerful but holds her uterus in her hand as a purse, as if the uterus doesn't belong in the figure's body anymore," she said.
The image of the figure was built by collaging text from the book "Abuse of Discretion: The inside Story of Roe v. Wade" by Clarke Forsythe. This piece will go to auction next year and 100 percent of the proceeds will go to Planned Parenthood.
Another recent figurative series, "Myths and Goddesses" combines photography and painting in an exploration of the power of the feminine. Poloto is delving into the instinctual, fierce aspects of the female nature, guided by her own intuitive impulse.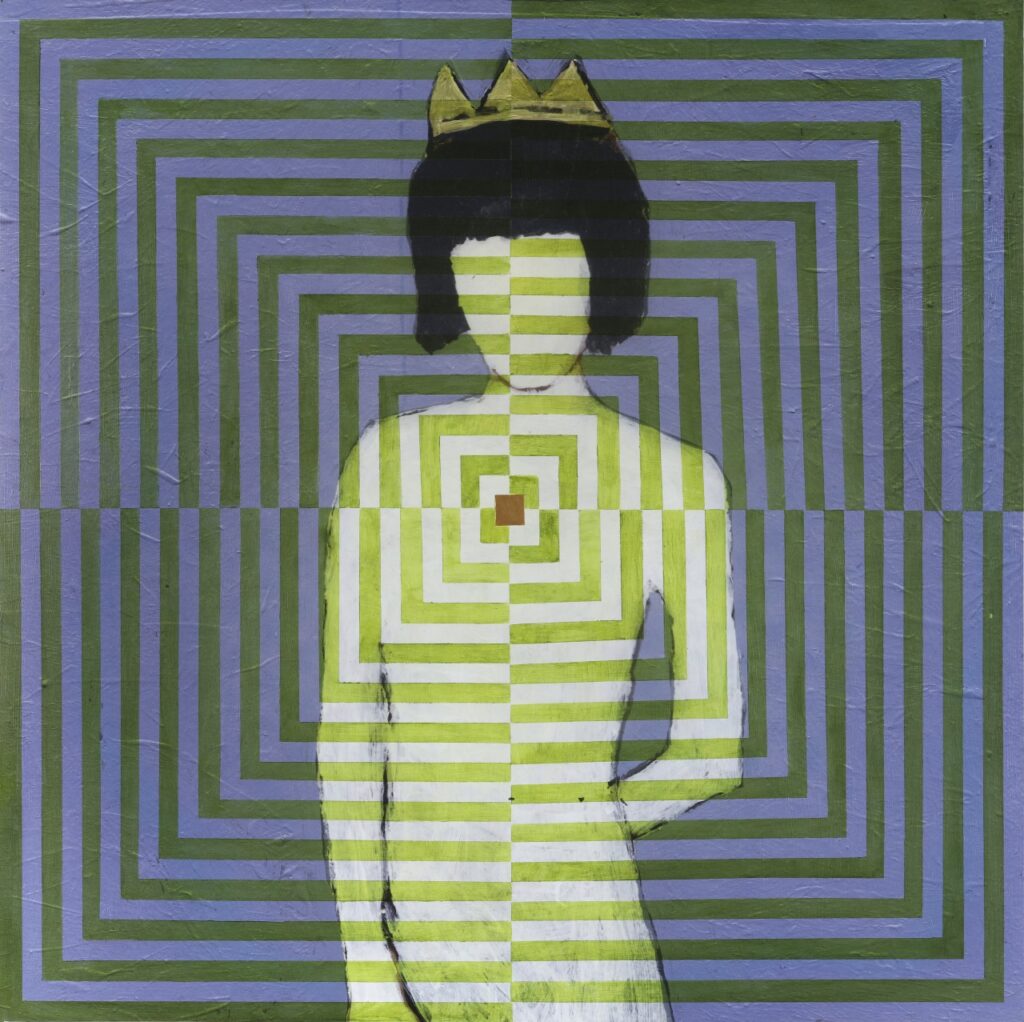 "Intuition leads to deeper truths inaccessible to logic," she said.
Poloto's work has been acquired by more than 80 institutional and corporate collections around the US and by hundreds of private international collectors. She has exhibited in the US, Europe, China, the United Arab Emirates, Qatar, Azerbaijan, and Jordan. Locally, she has shown work at the San Francisco Museum of Modern Art Artists Gallery, Yerba Buena Center for the Arts, the Museo Italo Americano at Fort Mason, Triton Museum of Art in Santa Clara, and the de Young Museum, where she was artist-in-residence in 2001.
Included in the group show, "Material Matters" at Seager Gray Gallery in Mill Valley in March, Poloto's abstract works have also been represented by Slate Contemporary in Oakland as she seeks further representation for her figurative works. She will participate in Shipyard Open Studios on April 29 to 30.
Silvia Poloto's personal inquiry into "the hero's journey" develops as her work and life evolve. But, unlike classic heroes, her goal is not to save the world but to save herself. She is at work on a new series called, "Beauty and the Inner Beast."
"I believe if we heal as individuals, we can begin to heal the world. A vital person can energize, strengthen, and heal those around them. We believe we seek meaning in life, but what we actually seek is an experience of being alive. The world, to heal, needs people who feel alive," she said.
For more information on Siliva Poloto's work, visit her website at poloto.com and on Instagram.