The Board of Supes will vote Tuesday on a plan to add $25 million to the police budget for more overtime—but a report released today raises questions about the existing budget.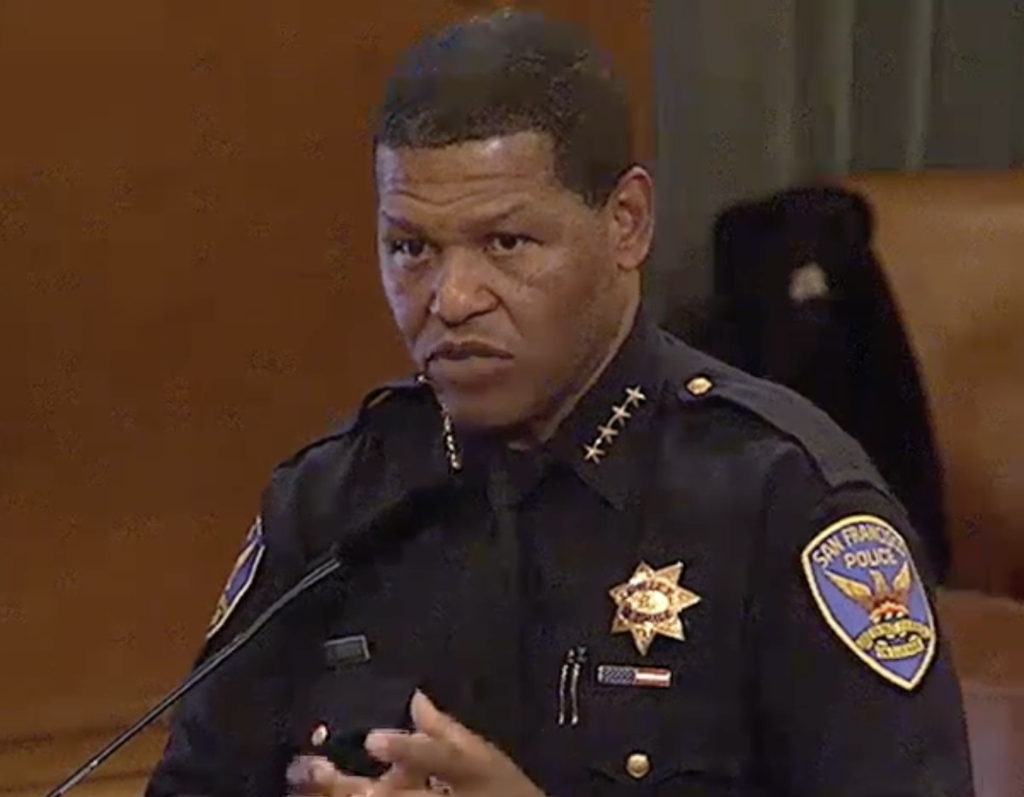 The Budget and Legislative Analyst report, which you can read here, points out that between 2019 and 2022, the demands on the cops have decreased pretty dramatically:
Between calendar years 2019 and 2022, 911 calls have decreased from 354,528 to 277,192 (by 21.6 percent), self-initiated patrol activities decreased from 338,669 to 150,094 (by 55.7 percent), total violent crimes decreased from 6,151 to 5,274 (decreased by 14.3 percent), property crimes decreased from 51,700 to 47,987 (by 7.2 percent), and arrests decreased from 3,217 to 2,289 (by 28.8 percent). During that period, the City created the Street Crisis Response Team (December 2020) and the Street Wellness Response Team (January 2022) to divert approximately 30,000 mental health calls from Police to a civilian response, though those teams are not responding to all of those incoming calls. At the same time, according to the Department, staffing shortages have resulted in 911 response times exceeding targets.
At the same time, the number of cops on the street has decreased by 17.78 percent.
Let's look at that again: The number of cops on the street has decreased by about 18 percent. The number of arrests decreased by almost 29 percent.
With 21 percent fewer calls, 911 response time has gone up.
All while crime, despite the over-hyped media coverage, has actually declined.
Some of this is no surprise: When Chesa Boudin was elected district attorney in 2019, a lot of cops essentially stopped working. They hated Boudin (for daring to indict killer cops), and wanted to make him look bad, and the news media all went along.
But nothing has changed much under the new DA, who is getting a total pass from the news media.
The department has fundamentally failed in recruiting; Police Academy classes are almost empty. That's a national trend: Fewer and fewer people want to be cops.
Instead, there's a lot of overtime:
The number of General Fund overtime hours has more than tripled since 2019, from 213,571 hours in FY 2018-19 to 713,062 projected hours in FY 2022-23. Of the 499,491- hour increase, 483,208 hours are for the "Extended Work Week," which includes backfill staffing and special events. To offset the Department's staffing shortage, SFPD is projecting to use 190,729 hours of officer overtime to backfill vacant positions and absences in FY 2022-23, a 132.6 percent increase compared to the 82,002 overtime backfill hours for the entirety of FY 2021-22.
And the department doesn't keep to its budget:
In FY 2021-22, SFPD's original General Fund operating budget was approximately $562.5cmillion. The budget was later increased to $591.2 million by transferring Federal Emergency Management Agency funding to pay for COVID sick leave and carrying over unspent non-personnel funding from the prior fiscal year. Actual expenditures totaled $586.26 million, or $23.8 million more than originally budgeted.
The BLA report also showed an increase in sworn officers who aren't on the streets.
Among its recommendations:
1. Request the Police Department report back on the cost effectiveness of the Safe Shopper, Tourism, Gun Violence Reduction, and Tenderloin Safety overtime programs.

2. Request a report on the Police Department's internal controls related to overtime and the extent to which they conform to best practices.

3. Request the Police Chief and Director of Human Resources to assess what is driving the increase in staff out on leave and modified duty and report back to the Board of Supervisors on administrative actions each is taking to return sworn staff to full-duty and any legislative actions that may assist with those efforts.
A lot of sworn staff who are on "modified duty" are cops who are under investigation for serious offenses and are not allowed to interact with the public—although the public is still paying their full salaries and benefits.
Sup. Dean Preston, who requested the report, said that he's now going to call for a full audit of the department:
Today's BLA report is an eye-opener: SFPD has exponentially increased overtime hours, failed to seek timely approval for massive cost overruns, and spent tens of millions of dollars with little to no apparent oversight, transparency, or strategy. It's high time for an audit of SFPD's overtime practices, decisions, and expenditures.
Meanwhile, the supes will vote on giving the cops even more money, much of it to protect high-end retail in Union Square.