Under the Stars is a quasi-weekly column that presents new music releases, upcoming shows, opinions, and a number of other adjacent items. We keep moving with the changes, thinking outside the margins. Let's get to it!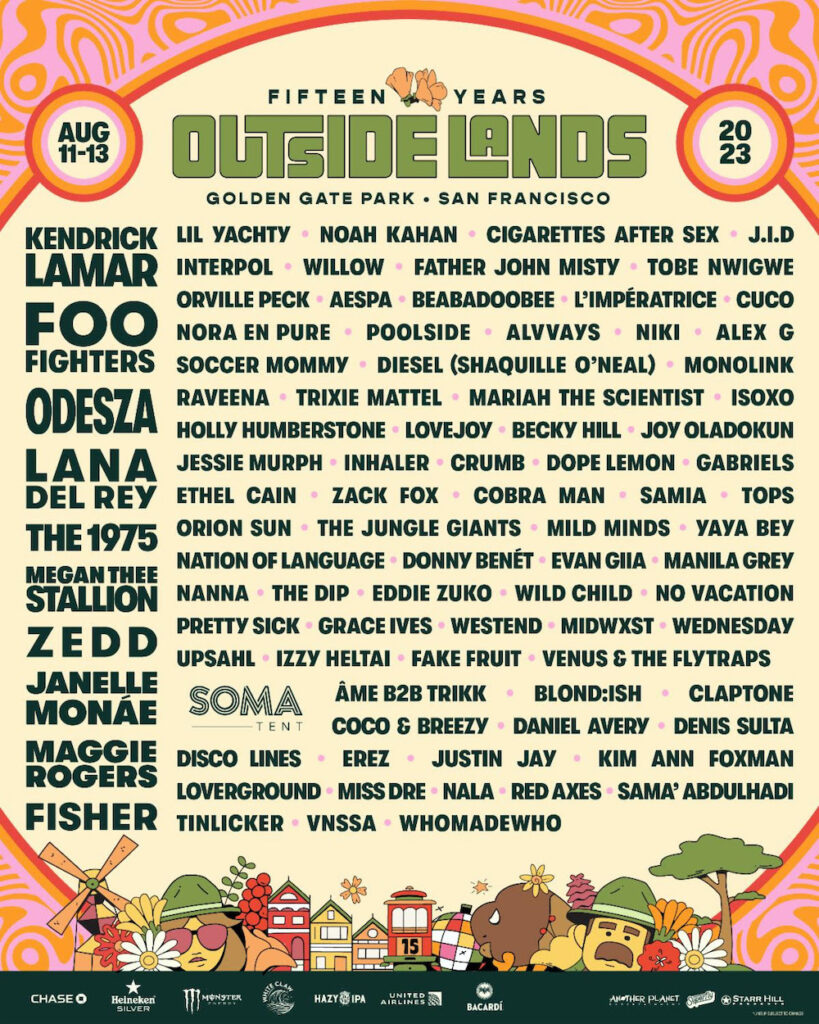 OUTSIDE LANDS ANNOUNCES 2023 LINEUP
For their Golden Gate Park August 11 to 13 this year, Outside Lands festival organizers have assembled a pretty stellar 15th anniversary lineup. (Isn't it strange that Noise Pop just celebrated its 30th anniversary? Life comes at you in stealth mode.)
It's giving you a five-month lead time to get pumped. Start your healthy hustle, get in your steps, reduce that oh-so-tasty burrito bowl habit, and increase your smoothie consumption, Son.
Kendrick Lamar, Megan Thee Stallion, Zedd, Janelle Monáe, Lana Del Rey, The 1975, Maggie Rogers, and the ever-pesky Foo Fighters round out the heavyweight top-billing list of names. But you already know how 48hills gets down. We are overjoyed to see festival organizers show hometown love to Fake Fruit, No Vacation (both bands just played sold-out venues during Noise Pop last month), Poolside, and one of our fave artists, Orion Sun.
The three-day tickets went on sale last week, so we'll see you deep in the park! Get ticket info here.
TELEMAKUS AT BLACK CAT, APRIL 5
All right, Betty. Back in the fall of 2021, we wrote about Telemakus, a Bay Area pianist and producer whose upcoming album The New Heritage was about to make those moves.
The young artist grew up in Sunnyvale, where he maintained a consistent routine of diving through stacks of jazz CDs from the library. After begging his parents for the sacred trip, he made the pilgrimage to the Monterey Jazz Festival. Flash forward to 2022, and music scribe and Kendrick Lamar biographer Marcus J Moore is mentioning Telemakus on the New York Times Popcast.
The praise is beyond deserved; what this artist creates is simply gospel. Telemakus, who describes his arrangements as "off-kilter and unique," plays piano, Rhodes, Wurlitzer, synths, synth bass, and clarinet, and shines in drum production and programming.
Prepare to witness the future unfold on Eddy Street.
Get your tickets here for this one-night-only event.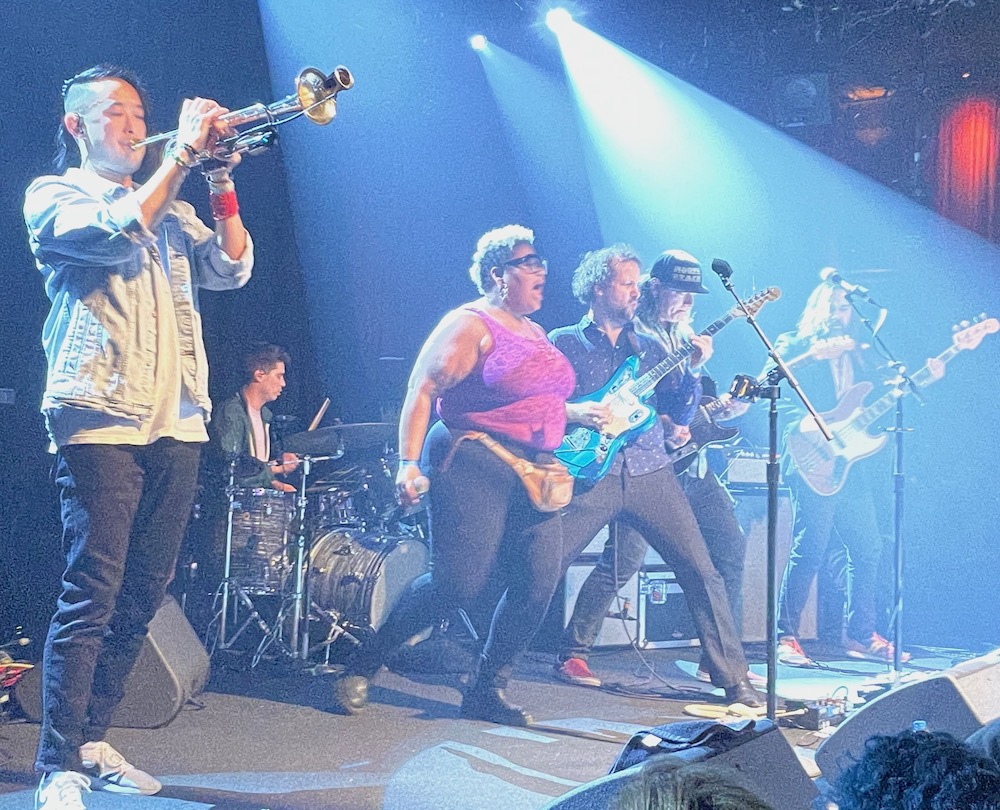 CON BRIO AT THE INDEPENDENT, SAT/18
I finally got it about halfway through Con Brio's funked-up cover of Dolly Parton's catchy earworm "Jolene"—a track that everyone can hum along to.
Looking around the nearly sold-out crowd, digging on the cold basslines, mouth-guitar squawk box action, and of course, vocalist (with fannypack in the front as always) Sarah Clarke's sheeny reading of otherwise heartbreaking lyrics, I realized: this is a band by and for the people.
Con Brio can roll out rock, disco, soul, even new wave, and reel it back in with everyone in the audience doing their own version of shaking that thang. The young/old crowd, from the floor to the balcony, was channeling a Saturday night party vibe, during the band's deep crate set. No puffy-jacketed techies in the house. Hipsters? Took the evening off.
The other San Francisco came out to hear good music, and not because of a recommendation from a playlist or influencer.
Nope. This crowd had a personal connection to what was being relayed from that stage. Consisting of Black professionals and numerous salt and pepper grey-haired couples looking to rekindle something, both groups, or rather the whole crowd, was in the trance of divine movement alongside those White Claw-drankin' youngsters, letting loose to "Heart of a Dancefloor."
What a cool sight.
Buy tickets here.
CHIME SCHOOL WITH THE REDS, PINKS, AND PURPLES IN SUPPORT OF LA'S WAYNE FALER AT MAKEOUT ROOM, MARCH 31
When this San Francisco project, led by Andy Pastalaniec, played Noise Pop last year, it was their second gig. Ever. As previously reported here, Pastalaniec made the capacity crowd swoon to treacly dream-pop melodies while sporting an expertly coiffed hairdo and a spiffy Rickenbacker guitar.
One year later, the group kicked off Noise Pop 30 with an intimate 40-minute set at Rickshaw Stop, where selections from their self-titled debut album sounded more finely tuned. After a year of playing them out, the melodies are built out a bit more, and their fuzz, still very much abuzz, gets more prominence in the mix. It's become a fierce, boisterous set.
After a couple of selections, their guitarist had to leave the stage for a song to repair a busted string. It only took five minutes to rectify that, but Pastalaniec, as put together and coy as that spiffy Rickenbacker he plays (in my notes, I accidentally called him Spiffy Rickenbacker), assured the audience with a little tongue-in-cheek whimsy.
"See, we're not bothered by that," he told the cozy crowd while the string was being repaired. "Because we're a team of professionals."
Once the guitarist returned, the band, again a four-top, blasted through a different, extra-loaded version of "Fixing Motorcycles," with bulldoze refrains and prismatic richness.
Fierce, Jack.
They have a new seven-inch single "Coming To Your Town" that will be released in April, with the band's lovely Brighter/Field Mice-esque take of Buzzcocks' "Love You More" on the flip side. Previously, that track was only available on the Oakland Weekender Buzzcocks covers cassette. Now it's on vinyl, waiting for you to snatch it up!
Chime School will be hitting the road with local band Blues Lawyer for a five-date Pacific Northwest tour as well. They seem to be onto something big and with a rumored new album in the works, the future looks, well … spiffy.
They play with Reds, Pinks, and Purples on Friday, March 31 at Makeout Room in support of LA's Wayne Faler.
More info here.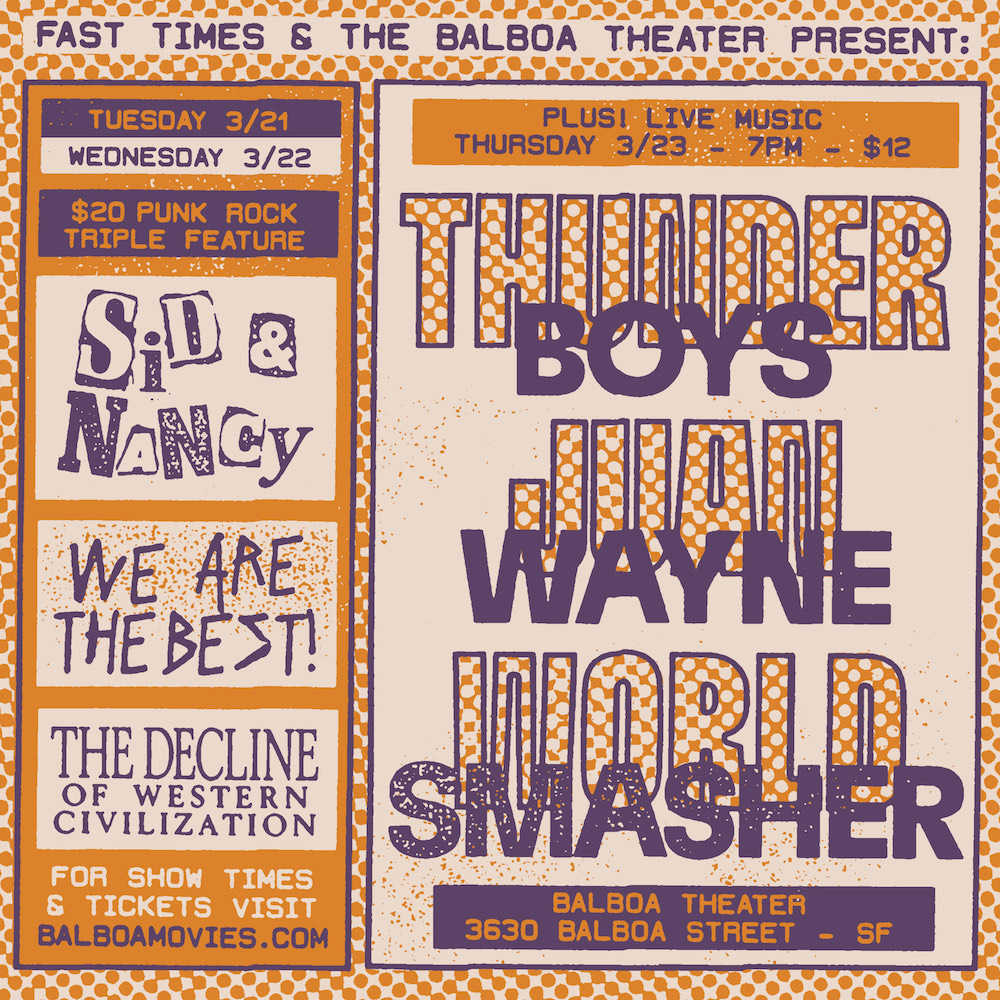 FAST TIMES PRESENTS! AT BALBOA THEATRE, MARCH 21-22
When you see a Fast Times Presents! flyer at Balboa Theatre, Makeout Room, or even The Roxie, you can expect something fun and roustabout. Ashley Graham and musician Andrew St. James, who make up the Fast Times Presents! promotions team, are patched—some would say hardwired—into the nerve center of Bay Area up-and-coming bands. What was started by St James in 2018 at Amnesia has morphed into a centerpiece platform that gives a proper introduction to the city's live music ethos.
So get ready for more radness this March with a three-day rock and roll theater screen friendo event. On March 21 and 22, Fast Times Presents! and Balboa Theater will showcase a two-day, $20, triple bill of punk rock cinematic glory, including the films Sid and Nancy, We Are The Best, and The Decline of Western Civilization.
That's cherry.
Then, on Thursday, March 23, there will be a triple bill of live music with Thunder Boys, Juan Wayne, and World Smasher.
That's all there is to it. Get your tickets here.