The closing of Wells Fargo's national headquarters by protesters in San Francisco on Monday, April 24was finely executed, and deserves praise both as a public act of dissent and as political theatre.
Everyone talks about the weather, but here a group of people did something about it—they took steps to stop the increase in floods, wildfires, and droughts so often seen in California.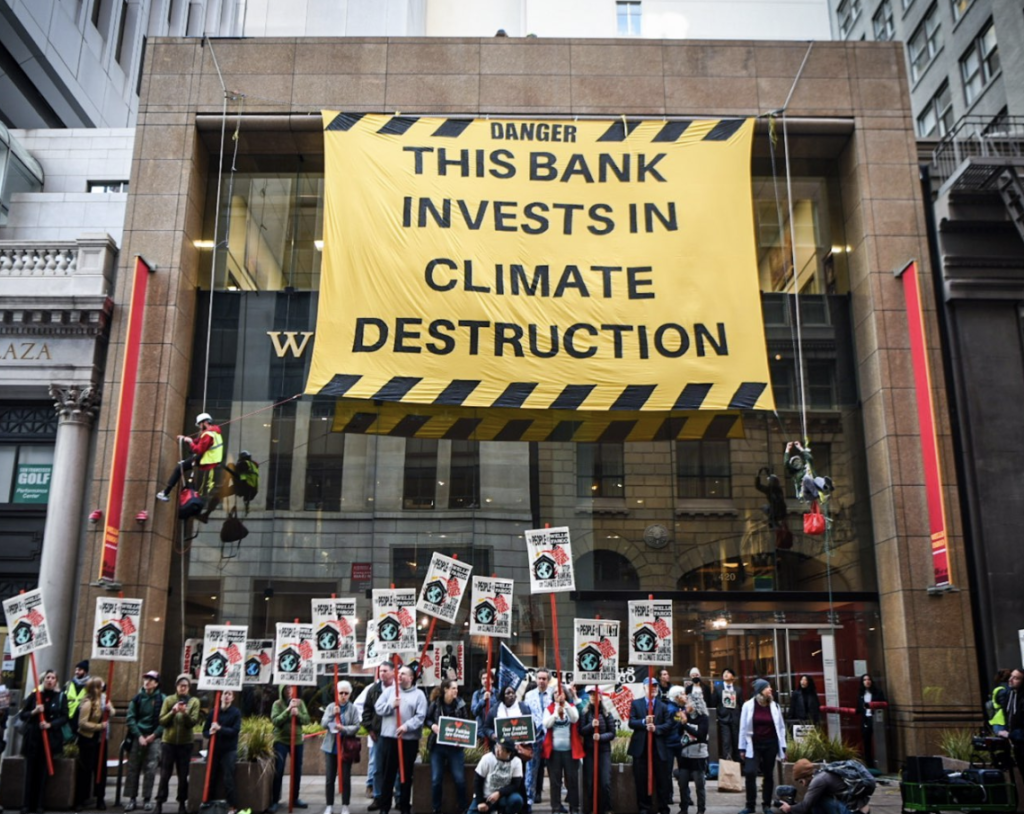 I stood with the protesters outside the building on Montgomery Street, and cheered the climate justice action on, so this can't be called an impartial report. But I think the bank closure deserves special attention. The bank wasn't closed because of insolvency; no Silicon Valley scandal here. This temporary closure, so effectively managed by those who planned it, suggests that the climate justice movement is now capable of effective nonviolent action to reduce fossil fuel use in San Francisco and other cities.
Because no one was arrested, the protest outside Wells Fargo received less press coverage than the one in New York, where there were arrests on the same day.
But one reason for closing Wells Fargo was to let its bankers and shareholders know of the growing opposition to their investments, which enable oil, coal, and gas companies to produce and sell fossil fuel, in financial transactions that exacerbate climate change, foster extreme weather, and in many ways constitute an objectionable use of capital.
The bank closure on Montgomery Street took place a day before an annual Wells Fargo shareholders meeting. Whether shareholders will change their bank's policies, and end its investment in carbon-emitting projects, remains to be seen.
But the hundred or so protesters who sat and stood outside entrances to the national headquarters, and compelled the building's closure, represent a small number of those who might return again, with a larger following, as the bank's position becomes more widely known, and more widely opposed.
A smart banker would cut their losses, redirect funds toward clean energy sources, mass transit, affordable housing. A banker might well lose their shirt in fossil fuel- related investments, as solar energy and wind power prove more efficient, safer, and cheaper than gas in coming years. They ought to listen to the protesters and the climate scientists.
The protest outside Well Fargo was not only a harbinger of increasingly effective and focused protests against fossil fuels. Its theatricality also was notable, and necessary if a wider public is going to be reached by photographs and accompanying stories that social media will spread. Those carrying cameras at the protest sent out images of the crowd outside the bank, and pictures of colorful banners demanding: BANKS: STOP FUNDING CLIMATE CHAOS. Some of the banners are small works of art, with their flame-colored orange background and bold lettering designed by Bay Area artist David Solnit and his associates. (Someday museums are going to display these banners in an exhibit titled: "The Art of Climate Justice," but for now they are seen mainly outside banks and at local rallies.)
A few rousing songs were sung by the crowd, a few speeches delivered by frontline activists. A small theatre troupe performed a skit about bankers gambling for profits on fossil fuel and pipeline investments. But the best "theatre" of the day was that of the quiet, determined protesters who sat in front of the building's entrances, prepared to be arrested for their civil disobedience; they were taking risks of their own to stop the bank from funding risky, destructive programs of climate disturbance.
Regrettably, financially irresponsible activity currently receives more attention in the media than does a peaceful protest against irresponsible investment in fossil fuel, however artfully staged the protest. Stories about Silicon Valley Bank's losses are still surfacing, weeks after that story began. Stories about oil company losses of public subsidy, or new superfunds for solar energy production, have yet to surface.
I'd prefer to read a headline announcing: "Wells Fargo Decides to Disinvest in Fossil Fuel Projects and Go Solar. Bank of America and Chase to Follow Suit." But it may take a few more protests, and more extreme weather, before that becomes breaking news.
Joel Schechter is Emeritus Professor of Theatre and Dance at San Francisco State University.