Live performance has had to evolve during this nowhere-near-over pandemic. The past three and a half years have seen the proliferation (though still not enough) of livestreaming, an appreciation of outdoor performance, and, of course, a greater need to update a venue's safety policies and HVAC system. But many have abandoned vaccine-status checks for audiences, leading to greater appreciation for those still enforcing masking amongst staff and audience members.
Still, the opening night of W. Fran Astorga's Exhaustion Arroyo: Dancin' Tree in the Ravine (world premiere through May 21 at EXIT on Taylor, SF) may be the only time I can recall the performers wearing masks throughout the entire show.
The show had multiple COVID-related delays, including opening night being pushed back a week. It wasn't revealed which staff or cast member was infected, but Cutting Ball—for which COVID disruptions are nothing new—chose to push on rather than scrap an entire production. One at least hopes that the infected person/s didn't have to perform that night, and that all the cast have continued to test negative. (Again, the specifics haven't been released publicly.)
Naturally, you might be wondering how well incessant masking is incorporated into the show proper? Really well, actually. So much so that part of me wishes more contemporary shows would integrate onstage masking (other than the occasional SF Ballet dancer forgetting to discard hers before popping onstage). Just as masked athletes have been shown to function normally, so too did the cast of Exhaustion Arroyo perfectly emote and enunciate the entirety of Astorga's script through their bright KN95s. The only misunderstood dialogue was that heard by people not fluent in Spanish, which switches off with the English dialogue throughout the show.
In fact, the one and only time a mask intentionally comes off in the play (some of them slip through normal actions) is when a "Karen" character (Natalia Delgado) intentionally pulls hers down to kvetch at the fast food workers who haven't magically made her order appear out of thin air.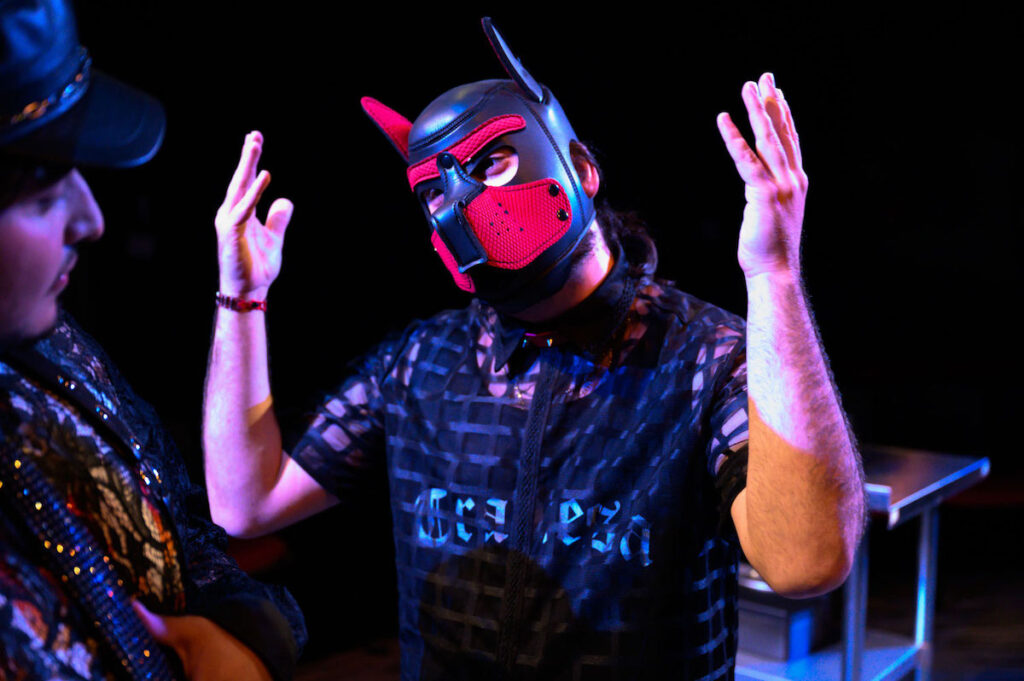 By this point, you're probably wondering what the show's story and characters are. There isn't a proper plot so much as a series time-hopping scenes involving a Latina named Taki (Edna Mira Raia) who works such a shit job at Dante's Pizza—where the lack of AC makes the place, well, an inferno—that when a robber holds up the joint, she can only shrug indifferently.
Fortunately for her, she's got a getaway coming up with her friends Chío (Pano Roditis) and Apé (Patricio Becerril), wherein they'll be visiting the Exhaustion Arroyo. It's there that, with the feedback of her friends, and several 'shrooms, Taki ponders the poison of Capitalism, the fragility of the ecosystem, and where she fits in the equation. Also, she may be in contact with a water spirit (Delgado), but that could just be the 'shrooms talkin'.
By design, the play lacks subtlety. The costumes by Sonia Yvette, including the KN95s, are eye-popping primaries that are a welcome relief from the drab palettes I've seen in recent shows. (I actually wrote "¡Colores!" in my notes.) The set design by Ashley Méndez has hilarious little touches—the wall thermometer at Dante's features a "sweaty face" emoji next to the words "Hot AF"— and an almost hypnotic floor painting representing the bottom of the arroyo, with green padding on the walls to connote the comfort of being out in nature.
Similarly, the characterizations of everyone not Taki or her friends is played to cartoonish extremes. Hence, the aforementioned "La Karen" and a Regional Manager (Roditis) who tells Taki that if she stays the corporate course, she too can one day make a non-living wage of $45,000/yr as she verbally abuses her underlings behind the counter. It also includes such dialogue as a 'shroom-trippin' Taki, Chío, and Apé wondering what a human-free Earth would look like by openly asking "What's a 'homo' without the 'sapien'?"
On the one hand, being hit over the head with messaging won't be to everyone's liking; I myself found my tolerance tested over the 90-or-so minutes of the play. On the other hand—and I say this as a 42-year-old bisexual Black man—Taki and her friends are Gen-Zers who don't have the benefit of earlier generations who put off world-saving solutions to a non-specific date of "one day."
One can't wait for "one day" when climate change has made disaster movie extreme weather a regular occurrence. "One day" is too late for racial equality when cops have license to shoot PoC with little (if any) repercussion. And "one day" is far too late for queer rights when state after state is openly criminalizing queerness, as well as reproductive rights. Clumsy though Astorga's messaging may be delivered at times, it's still clear. It doesn't hurt that it's delivered by an able quartet co-directed by Astorga and R. Réal Vargas Alanis.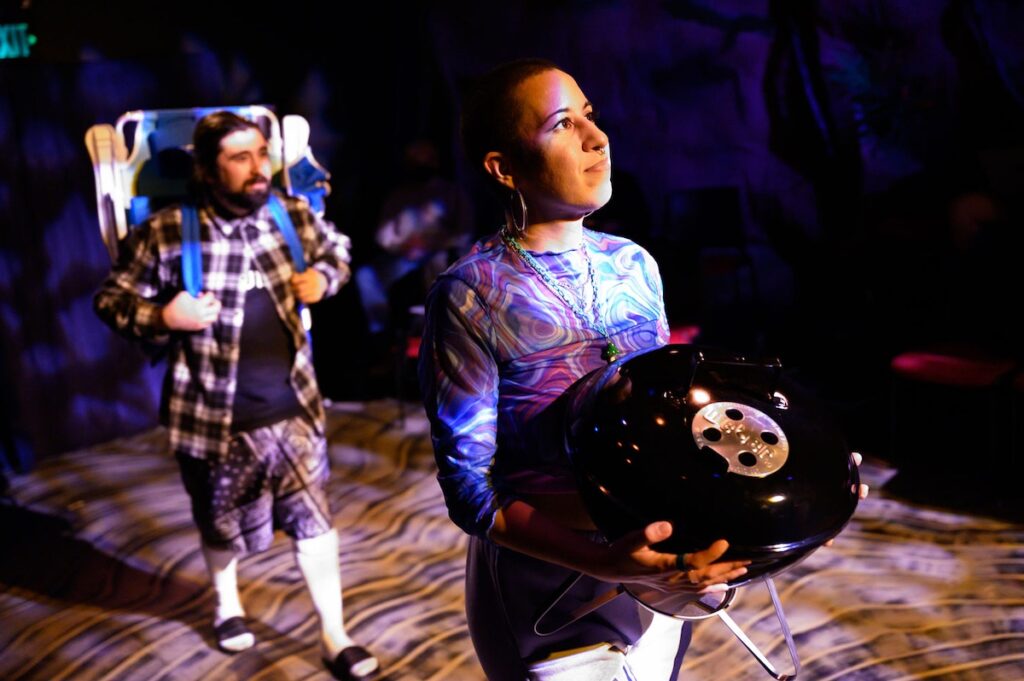 With the entire cast wearing KN95s throughout the show, it should come as no surprise that audience members did the same, when not actively drinking. The entrance to EXIT on Taylor includes boxes of free surgical masks next to the hand sanitizer station. There are also pro-masking signs inside the theatre proper, but I honestly couldn't tell if they were placed there by Cutting Ball staff or by set designer Méndez? Either way, I was glad to see them. CO² readings on my Aranet4 went up to 1856ppm, which I've oddly come to expect in older buildings.
Official materials for the play include a disclaimer that it features "White fragility, Gun Violence, Physical Violence, Murder, Theft, Ecocide, Profanity, Drug use, Reality Distortion, Systemic exploitation, BDSM, betrayal, religion, and existentialism." All that I was ready for. Trying to remember Spanish proved the most difficult part, but it isn't crucial to being absorbed in the story. Exhaustion Arroyo is a Gen-Z Latinx tale of inheriting a world that's burning around you. It isn't perfect, it isn't subtle. But that's what happens when you don't have the luxury of time.
EXHAUSTION ARROYO world premiere runs through May 21 at EXIT on Taylor, SF. Tickets and further info here.