At first glance, one might think Killing My Lobster chose the venue for their latest show, Mythed Opportunity (through May 6 at the Little Boxes Theatre, SF) as a possible reference to the mythical theme of the show. It certainly is an odyssey.
Since the dissolution of their normal homes at PianoFight's SF and Oakland locations, the troupe now begins what AD Nicole Odell calls their "touring year." Locating Little Boxes requires trekking through the city's many Outer Mission warehouses to get to 1661 Tennessee Street. Upon arrival, one hops off the elevator at the second floor and travels through the labyrinthine corridor to find the theatre itself. (Rather than Ariadne's sparkly thread, the KML folks provide us with masking-taped arrows to lead the way.) Thankfully, there was no carnivorous minotaur waiting at the end, but there was a spot for photo ops with a plush Cerberus doll. Plus, everyone not actively drinking had to be masked, which probably pleased Asclepius.
Outside of proper religion with its strict dogma, mythology remains fascinating for what it says about humanity. The myths were created in an attempt to explain the inexplicable, yet they still have value in a scientific world for both historical context and the necessity of metaphor in understanding life around us. They just shouldn't be taken literally or written into secular law.
Of course, myths are often defined by the oddball creatures that inhabit them, so its apropos that this show's opening song is a riff on the US theme to Pokémon. What's more, the song "Global Myths (Gotta Learn 'em All)" lays the groundwork for the show's attempt to try and shed light on the deities, creatures, and stories that aren't part of the overwhelmingly Eurocentric canons most of us absorbed through cultural osmosis. It also has the onstage quintet boasting they "give good oral… history."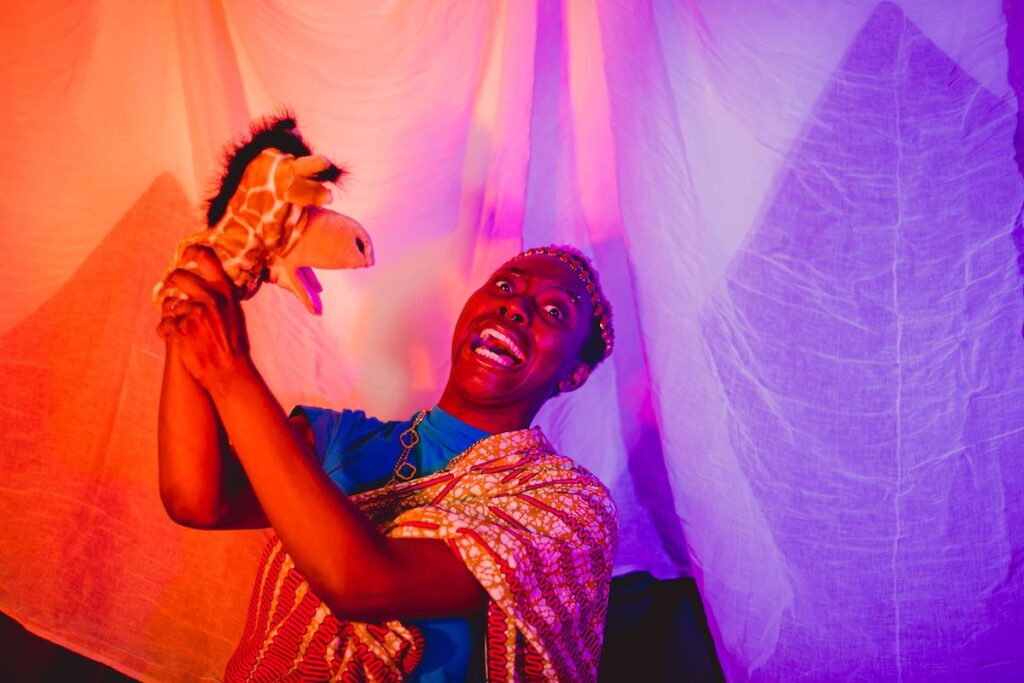 Through 21 sketches over the course of an hour, the show (from head writer Ela Banerjee and director Nikki Meñez of Queer Cat Productions) pokes fun at the micro and macro forms of abstract belief; from staring into the mouth of Krishna and seeing all the wonders of the universe to finding that most elusive of objects, the clitoris. There's condemnation of the way women are either villainized or minimized in mythos, and there's equal condemnation of that fantasy icon of white feminism, the Girl Boss. There's even a quick piece about a mythical land of "bears and bondage," but our two weary travellers conclude that "The Castro" can't be a real place, can it?
Banerjee and her collaborators are at their strongest when truly taking to task the established conventions of mythos, and slaughtering sacred cows of contemporary convention. (One particularly daring sketch involves treating abortion as the "demonic" act that Republicans always imagine it to be.) But a sketch featuring Mulan and a very obviously-queer Li Shang doesn't seem to fit the overall theme beyond Mulan being a folkloric character. In fact, the show seems so eager to cover so much mythological ground, European and non-, that it occasionally feels like it's bitten off more than it can proverbially chew. It's an intriguing idea to see an Ohlone goddess hanging with Zeus and Hera at an SF mixer, but it feels a bit more like throwing things at the wall to see what sticks.
More successful are focused pieces like the appearance of "KML's newest sponsor," Tom Cruise—poster-boy of a tax-dodging space cult—speaking on behalf the overpriced, anti-Commie performance troupe Shen Yun. Perhaps the funniest sketch of the night, one that caught me off-guard, is one in which mythological parents show up for Career Day at a school, only for poor Johnny Appleseed to be heckled mercilessly and viciously by Jesus' daughter. (Yes, that is a sentence I just wrote for something I witnessed personally.)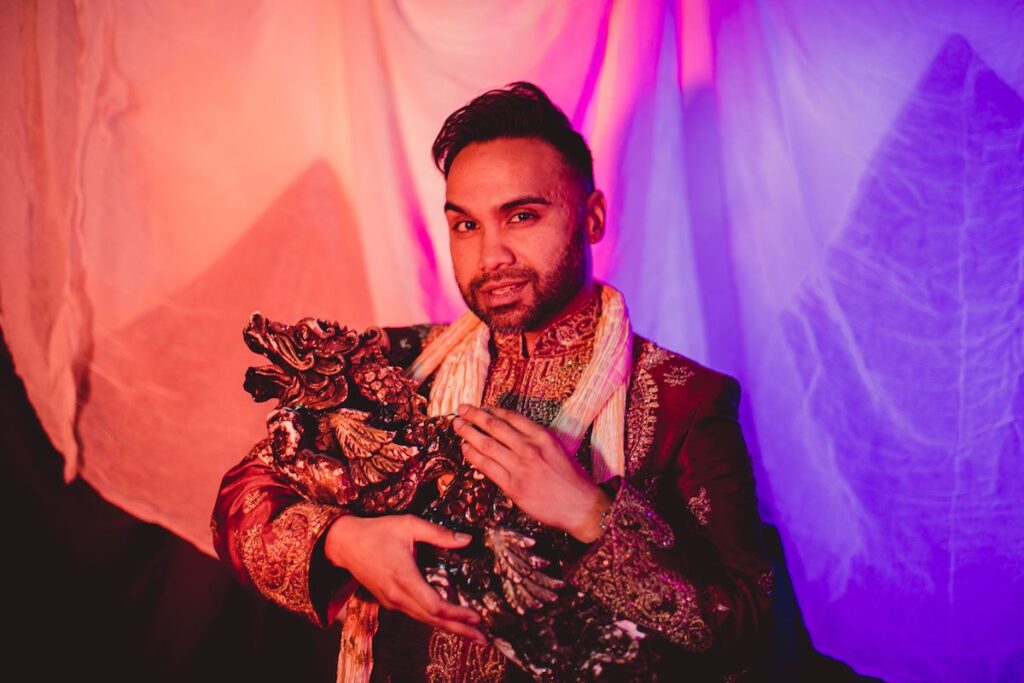 In the hands of cast of KML veterans (including Lisa Hu, Imran G, and the returning Gabby Momah) and newbies (Emanuel Morales and Pam Drummer-Williams) it's a pleasure to watch a pair of would-be lovers (Momah and Hu) resurrect through the ages only to have their first date put off by minor incidents in Ancient Egypt, Ghana, and the Incan Dynasty—all set to Vanessa Carlton's "A Thousand Miles".
As mentioned, KML has mercifully decided to stick with their masking policy for their new (temporary) venue. I don't know the HVAC status of the building holding Little Boxes, but one hopes it was updated along with the rest of the building's interior. For what it's worth, CO² readings on my Aranet4 peaked at 1566ppm over the course of the hourlong show.
The show benefits from the diversity of its collaborators by name-checking icons and beliefs that might not be widely familiar in the West. But the eagerness to get so much in at the same time makes it all mash together. Still, KML's usual combo of funny scripts and eager casts make the show one worth seeking out – even through the labyrinthine corridors leading to Little Boxes Theatre.
MYTHED OPPORTUNITY runs through May 6 at the Little Boxes Theatre, SF. Tickets and further info here.