"Oh, word?" That's the reaction I got from the majority of the SF Giants hat-wearing, Strokes t-shirt-clad San Jose dudes when I told them the news. Namely, that Automatic, the LA-based trio of women who opened for Julian Casablanca's new band The Voids, June 14-17 at Great American Music Hall, is on the Stones Throw label.
See, Stones Throw boss and founder Christopher George Manak, better known by his stage name Peanut Butter Wolf, was born in San Jose. These guys from the same area came to The City on a Friday night to see another band, but got caught up, hypnotized, and converted by the post-punk, cold-wave density Automatic has been putting on unsuspecting folk for a couple of years now.
Every time I see these women open for a band—usually some dudes—they attract new followers who didn't even realize they were thirsty for a new sound, until they met Automatic. These finger gun-firing cats, who were dancing around like children who have just discovered a brand-new sandbox to play in? Oh they got it.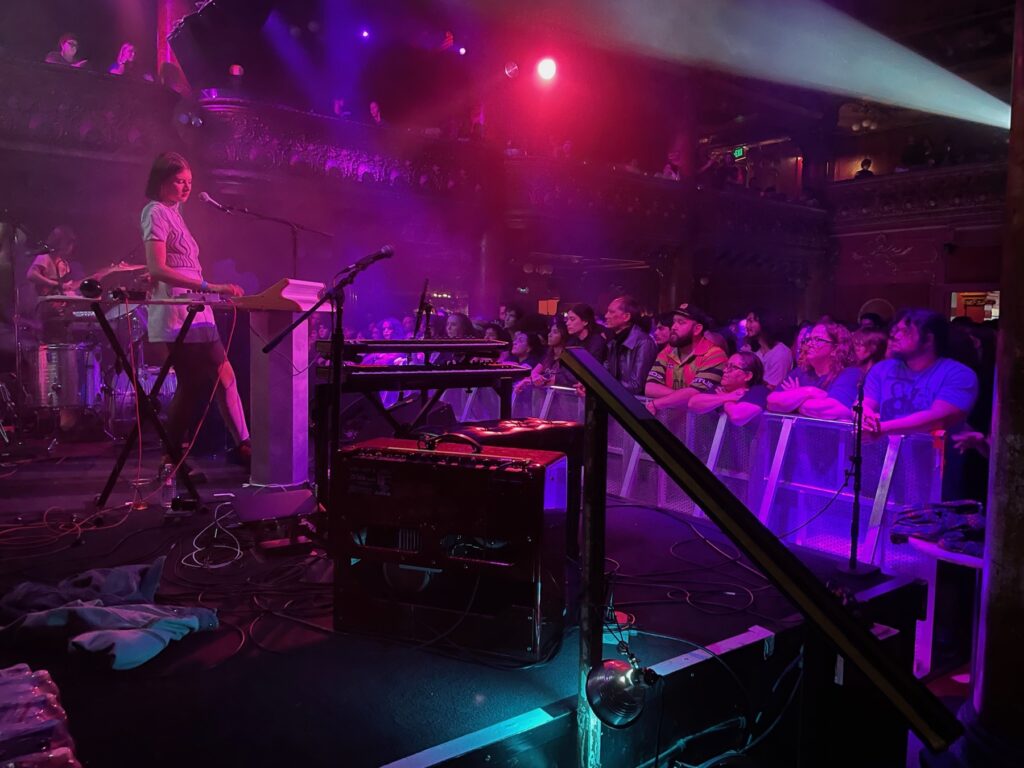 This was the second night in a row at The Great American Music Hall, SF's grand ole barn, that I saw paying patrons enter the venue, hoping to seize on a moment from their past—and get blindsided by the future.
The fact that Izzy Glaudini, Lola Dompé, and Halle Saxon-Gaines signed with Stones Throw has significantly impacted hip-hop over the last 20 years. Madlib, MF Doom, Georgia Anne Muldrow—such a roster speaks to the fact that Peanut Butter Wolf is no fool.
Automatic, who got their name from a deep crate single by the pioneering LA new wave band The Go-Go's, is resurrecting the whole Le Tigre, K-Records, Italians Do It Better thing—without quite sounding like any of them.
"Being female artists, any opportunity to just not be associated with men is good," bassist Halle Saxon told The Austin Chronicle earlier this year of her band's "no love songs" rule. "Not [that] I think they should all just go away or anything, but so often our identities are tied to them, and our relationship to them. And so to not even have love or relationships as a topic … I find it empowering. We've got other stuff going on in our minds."
Last year's Excess talked up post-punk's rebrand into New Wave, which I like to tie to the moment when Reagan entered the White House. The record meditates on the contradictions of late-stage capitalism, privilege, and climate change denial. Written and recorded during the pandemic, it's a record built for now. Like, right now.
Its sound ponders "what if Ian Curtis from Joy Division had lived?" This is a push-pull riddle that likely has no real answer. But if there is one, it resides in Automatic's live performance. Folks don't even know the name of the band they jamming to, but they can't resist that mechanical doom.
Not bad for a band that refused to have a guitar player.
Glaudini adjusts her magical time-trip frequencies on that trusted Moog Subsequent 25, Lola Dompé—sorry to bring up the male connection, but she's the daughter of Kevin Haskins of Bauhaus and Love and Rockets, the consummate time-keeper behind the drums— and Halle Saxon-Gaines cuts (just plunders) those bass notes. This well-oiled unit, built for acceleration, turns the people waiting for Casablanca into "who is that?" head-nodders.
The throng of ladies in the audience? They were having it.
All of it. Belting out choruses sing-shouted by the Glaudini versus Dompé vocal interplay found in the earworms, slinging dranks back. One fab maiden, dressed in a leopard print bodysuit, fanny pack in the front for speed and comfort, was getting it in. Dropping it low, picking it back up. Making and doing the most.
A living testament on how this trio has tightened its ship, Automatic's set pulled its tracks from Excess and 2019's "Signal" EP.
Last September, Automatic performed at The Chapel, opening for The Osees and displaying quality under duress. But now, with newly announced July tour dates for Australia, this band has erupted. A rocketship of motorik flow, lording over a sea of fans-to-be. Area 51 sound alerts and sci-fi film frequencies ran rampant through their 40-plus-minute set at GAMH, tricked out with eerie Lon Chaney voodoo on "Too Much Money" and "Strange Conversation," and strung with she's-alive Frankenstein vibes on "New Begining" and "NRG."
Sorcery, Jack.