Director Mary Harron says she laughs whenever anyone complains about crime in today's New York City. Before she turned to filmmaking, she began a career as a journalist in the 1970s in the city when violence was rampant, neighborhoods were crumbling, and the place was literally bankrupt. None of that bothered her. It was an exciting place and time to be young.
"I love that sort of no man's land feel," she says during a recent visit to San Francisco with her screenwriter husband John Walsh, where the SFFILM Festival feted her with a spotlight tribute and a screening of her latest work, Dalíland. 
"I remember it as being really like an open city, like just anything can happen, very free for all. It was, in a way, more open, more tolerant. It was just post-glam rock, so there was a lot of sexual experimentation. It was a more fun, playful time."
New York of that period is the setting for much of Dalíland in which the lives of the legendary Spanish surrealist Salvador Dalí (Ben Kingsley) and his wife Gala (Barbara Sukowa) are seen through the eyes of James (Christopher Briney), a gallery worker tasked with assisting the eccentric artist as he prepares for a show. The young man soon finds himself included in parties that might include guests like trans model Amanda Lear (Andreja Pejic) and a glamorous—if Budweiser-swilling—Alice Cooper (Mark McKenna). He also bears witness to the Dalís' turbulent relationship.
Dalíland is a movie that very nearly didn't get made. Harron was originally sent a different screenplay. Her first instinct was to turn it down, since she did not want to repeat herself and she had already made a New York art world film of more or less the same period with her 1996 first feature, I Shot Andy Warhol. She was also not enamored with the story or take on the artist. 
A second script sent to her also failed to convince her. But before closing the door on the opportunity, she asked Walsh to read the second submission for his opinion. He saw the possibilities in the Dalís' tale absent from those first two screenplays and offered Harron his ideas. With Walsh on board as screenwriter, Harron committed to making the film.
"The first two scripts had focused on art forgery. That's not interesting, and they hardly dealt at all with Gala," Harron says.
"This film was going to be about a marriage," she adds. "Also, in many ways, I remember this from what John wrote in his notes, Dalí seems like an outlier to the human condition. He is so weird, and like a lot of artists, unfathomable but his terror of death, actually both their terrors of aging and old age and dying, makes them so human and so accessible. We all face this. That was way to make someone who is kind of unknowable understandable, to make something universal."
Opposite Kingsley and Sukowa is a young cast, many just starting their careers. Not only was Briney making his big screen debut in his first professional acting job, but he'd also never been to Europe, where part of Dalíland was filmed. McKenna, best know for John Carney's 2016 musical Sing Street, makes only his third feature appearance in Dalíland. Zachary Nachbar-Seckel, who plays Gala's lover, Broadway Jesus Christ Superstar actor Jeff Fenholt, was still in drama school when he was cast. Ezra Miller was the one among the youthful cast with a substantial resume, and he was tasked with playing the young Dalí in flashbacks.
"He conveys, as Ben Kingsley does, a sense of enormous powerful creative force," Harron says of the actor more known lately for off-screen troubles than his work. "They both have a primal kind of energy that really matched. You couldn't have Ben Kingsley and then someone who didn't match up."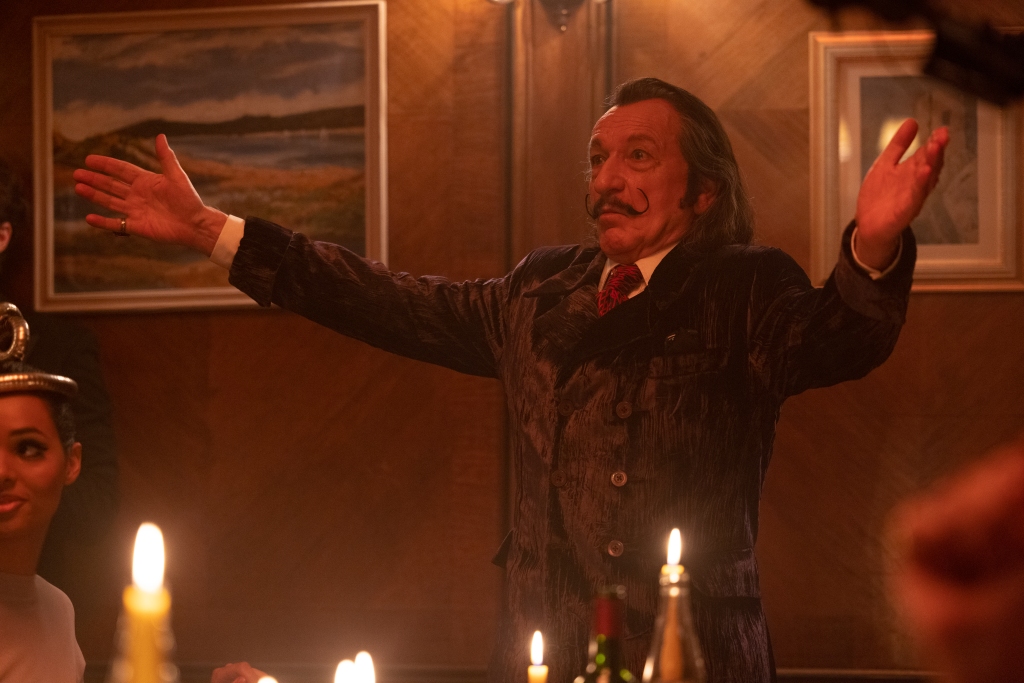 Originally, Harron cast Lesley Manville as Gala, but when COVID created scheduling delays, the English actor had to bow out. Harron's thoughts turned to the work of the German auteur Rainer Werner Fassbinder and the women who flourished in his melodramas. Sukowa starred as the titular cabaret singer in the director's 1981 film Lola and had the gravitas Harron sought to play the imperious, tempestuous but ultimately vulnerable Gala.
"Gala is the most despised of all the great artist's muses. You have to look hard to find someone with a good word to say about her," Harron says, adding, "It's funny because Picasso had sex with people when he was in his 70s or 80s and nobody batted an eye. But Gala was considered so grotesque and tapping into something beyond the pale.
"But in some ways, she was a victim of abuse, because she did everything for Dalí. She packed his suitcases. She cut his toenails. She brought his coffee. She did everything. At the same time, she terrorized everyone around them. So, she felt like this tragic muse."
Adds Walsh, "Especially in this era of everybody being so careful about what they say and this kind of orthodoxy about language, there's something amazing about Gala's kind of feral honesty. You knew exactly where you stood. She was all about herself but she was just blunt and brutally about herself. There was something kind of fantastic about that. I don't know that I'm gonna hang out with her and have dinner but I admire her for that."
Harron has long made work about outsiders in society: Andy Warhol and his would-be assassin Valerie Solanas in I Shot Andy Warhol, the well-heeled yuppie murderer Patrick Bateman in her adaptation of Bret Easton Ellis' bestseller American Psycho, a legendary '50s pinup in The Notorious Bettie Page, Manson Family women in Charlie Says. Walsh sees another kind of organizing theme in his wife's oeuvre.
"My perspective of Mary's work is there is always something about the difference between the public persona and private life and the disparity between those two things," Walsh says. "What is really known about Bettie Page and what life was she living? What do we know about Dalí? About Gala and their marriage? That's a great feature for work. It's almost like the hidden histories of individuals."
"When I was starting out, I felt like there are stories to tell that have not been told," adds Harron. "That was a tremendous excitement and an incentive for a filmmaker. This story that has never been told and no one knows. And so that's in a lot of what I've done… I would never want to do the Salvador Dalí, genius. I never wanted to do the standard story of someone when they're at their most brilliant. I'm more interested in failure or people who are in some ways against society. Outsiders. I just find them more interesting and my sympathies just go there."
DALÍLAND opens Fri/9 at Bay Area theaters.