Lots of tenants get evicted in San Francisco, many of them for no fault of their own. Some are tossed out because speculators want to make money turning apartments into what are essentially condos, using the Ellis Act. Some lose their homes because a landlord claims to want to move in, or move a relative in; many of these turn out to be fraudulent ways to replace rent-controlled tenants with people who can pay higher rent.
Then you have the frustrating situation where a tenant who is not a pauper, is paying the rent and following all the rules, gets displaced because someone richer wants the space.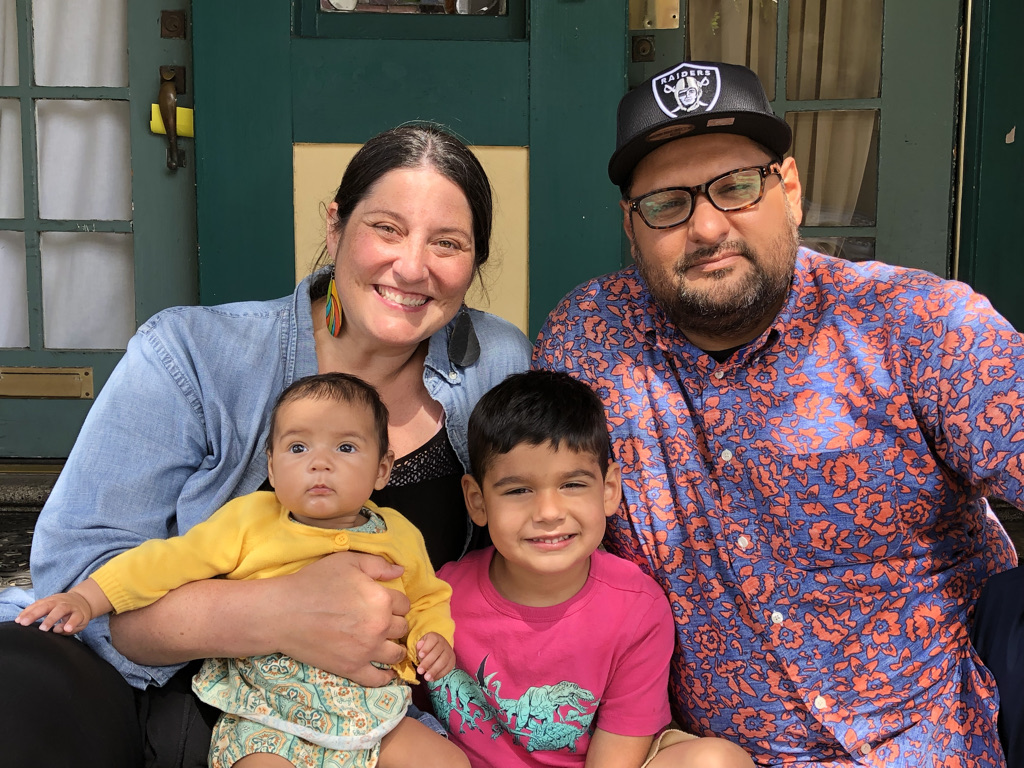 That's the case of 2444 Lake Street—a story that raises a larger issue about the amount a landlord who just bought a building should pay tenants in a no-fault eviction, and whether the tenants' income should be a factor in that decision.
Anthony Hernandez and Michelle Zimmerman live with their two kids in the lower unit of a duplex on Lake and 26th. She has a job in "workplace experience" for a fintech company; he's also a finance and operations guy who works with social-equity cannabis entrepreneurs, although he has been furloughed from his job, so they are living on one income.
The apartment they rent is big enough that they have a spare room, which they use for an au pair, which sounds pretty luxurious until you realize how much it costs for child care in this city. It can actually be cheaper, if you have the space, to give someone free room and board and a stipend to live in your house and take care of the kids than it is to pay for two kids in private pre-school; that can run more than $20,000 a year for each kid.
Zimmerman has been living in the unit for 17 years now. They pay about $4,000 a month rent.
They told me that their five-year-old just got accepted into kindergarten at a public school in the neighborhood. That, if you have never been through the SFUSD process, is a pretty big deal, to have a school nearby.
Then Dr. Emily Perdoncin, a cardiologist at Kaiser, and her husband, Dennis Smith, bought the place in 2022, and moved to evict them so Perdoncin's mother, who is 68, can take over the lower unit. According to what legal filings, the mom "is recovering from breast cancer and has additional medical issues including a pancreatic tumor and needs ongoing treatment and surveillance." 
The upper unit has three bedrooms, according to the Assessor's Office, but the mom wants her own space. The lower unit has four bedrooms.
The mom, Julie Kazmirioff, a retired dentist, owns three houses, two in Delaware and one in Bayville, New York, according to legal filings in the case. Perdoncin and her husband also own two rental properties in New York, one in the Bronx and one in Northport.
The combined value of all of those properties in well into the millions. Kazmirioff listed the Bayville property for sale this year at $649,000, a Zillow search shows, but it has been taken off the market.
When Perdoncin got a job at Kaiser in San Francisco, she moved here and in part used a Kaiser loan to buy the Lake Avenue property, records in the San Francisco Assessor's Office show.
The couple paid $2.2 million for the property, according to assessor records. They borrowed $1.5 million from US Bank and got a second $220,000 loan from the Permanente Medical Group, the records show.
One of the reasons that's interesting to me is that Kaiser makes a huge deal of supporting affordable housing and talks about how stable housing is critically important in public health.
I asked Kaiser's PR department whether there are any rules about using a company loan to buy property where there's a tenant you intent to evict; they didn't respond. Perdoncin told me she knew of no such rules.
Perdoncin, who is represented by Zacks and Friedman, one of the most notorious eviction law firms in the city, told me that she wants to have her mother close by as she fights the debilitating disease.
Zimmerman also has a debilitating disease for which there is no cure, and she requires constant treatment.
Perdoncin told me that when she bought the place, she knew there were tenants, and she was looking for a place that would have room for her mother—meaning the tenants were going to have to go. She said that the tenants had enough income to find another apartment.
"They aren't poor people," she said. "They have an au pair."
True, they probably won't be homeless—but they will pay a much, much higher rent, since they've had rent control for 17 years, and probably can't stay in the same part of town where their kid is going to school.
I asked Perdoncin why she decided to buy a place where there were existing tenants; she clearly has the resources to buy a single-family house with an ADU for her mother.
She told me she tried. "We put in a lot of bids, but never found a place," she said. Now her mom will wind up in a four-bedroom unit, by herself.
I am not a real-estate expert, but I found multiple listings for houses with in-law units in the $2.2 million range. It's also pretty easy to get a permit to build an ADU on an existing housing in San Francisco these days.
My point is that people with this level of resources have options, and finding a place that doesn't involve evicting a tenant is one of them.
She told me that she feels bad about the eviction, but "I have to think of my family first."
She said that the only way they could afford the Lake Avenue building was that "my mother cashed in her life savings." It appears between them they still own five houses.
From Perdoncin:
I do want to mention that my family is not a mega multi-unit landlord trying to displace long-term or below market tenants simply to raise the rent and get more money at their expense. I love my job. I love our new city, and I value housing for all.  This is why we were being so generous with our buyout efforts with the tenants.  However, I want my mother, who has her own set of active health issues, to move here with us full time. I want her to be comfortable, have her own space to live, and be nearby so we can be together as a family and so I can help keep a close eye on her own active medical issues and needs.
Zimmerman and Hernandez offered to move out for $250,000, and have now said they will take $215,000 Perdoncin told me that offer was "extortion."
Perdoncin's lawyer, Mark Chernev, told me that "my client is not doing anything illegal, unlawful, or even immoral. Emily simply wants to have her sick mom close by."
I'm not here to argue legalities; that's for the court to decide. But I can say that existing law is not what I think it should be.
In 2014, then-Sup David Campos authored a law that raised the city's mandatory relocation fees to an old federal standard: In a no-fault eviction, the landlord had to pay the tenants the difference between their current rent and the rent on a similar unit in the same area for four years.
A right-wing property rights group sued, and a federal judge struck down the law.
Since the Zimmerman family will have to pay at least $2,000 a month more for a similar place in the same neighborhood, maybe more, the Campos law would have mandated around $100,000 in relocation fees.
That doesn't account for the increased property value the owners will realize by getting rid of a long-term tenant. Dave Crow, a leading tenant lawyer, says the value of a buyout should be based on the extra money the tenant has to pay adjusted by the capitalization rate on the building.
By that standard, $250,000 is relatively low.
Perdoncin and her husband at first offered $30,000, then raised the offer to $70,000. That, in my opinion, is nowhere near what a relocation fee for a family of four should be.
From my perspective, when you buy a property in San Francisco that has an existing long-term tenant who is paying well below current market rent, you should accept that the price of evicting that tenant with a fair relocation fee is going to be around $250,000. That should be baked into the purchase price.
According to assessor records, the previous owner made $400,000 flipping the place after just two years. Maybe the law should require some of that money to go to the tenants.
Remember, the evictors are also taking a rental unit off the market.
The Campos law was not means-tested; a tenant didn't have to prove they were low-income to get the relocation money. It was just part of the price of doing an eviction.
If we looked at eviction the way we look at tort law, the evictor would be required to make the tenants whole—that is, to give them the same life they had before they were forced out. Which seems fair.
In fact, I think the law should require real-estate agents to tell prospective buyers that eviction and relocation is expensive, and to be prepared to pay a hefty amount of cash in addition to the sticker price of the house.
The law already requires what they used to call a "termite inspection;" that is, before you can close on a house, someone has to inspect the property for damage. In theory, the seller has to pay to repair that damage, although these days, since it's a seller's market, many buyers simply waive that and take the house as is.
But you can't waive that fact that a family already lives there.
The owner-move-in notice requires them to move in August, but they aren't planning to leave. Sydney Chase, the couple's lawyer at the Tenderloin Housing Clinic, told me the next step for the landlords would be to file an unlawful detainer action—an eviction lawsuit. That's going to cost a lot of money; Zacks and Friedman isn't cheap. Just the legal fees and the delay—an eviction case can take months or more—might be enough incentive to offer the tenants a reasonable buyout.
Chernev wouldn't confirm that a UD filing is in the works.
From Dr. Perdoncin:
Although I appreciate Anthony and Michelle may be disappointed that they have to move, there is no doubt that these two successful, smart, and family-focused individuals will easily find another home to buy or rent. 
Actually, Zimmerman said, on their current single income, they don't qualify for any similar rentals in the area. They've tried.
Again: They aren't going to wind up on the streets. But they will pay a substantial financial penalty because someone with more money wants their home of 17 years.
There are so, so many crucial housing issues in San Francisco, and so, so many people with no housing at all. But this idea that housing should be allocated entirely on the basis of who has more money is at the root of many of those problems.
And that's the real story here.