A relatively modest administrative change to a city law involving controls on toxic waste in construction came before the Health Commission tonight—and turned into a discussion of the ongoing, serious, health issues for residents of Bayview Hunters Point.
The matter at issue was Article 31 of the Health Code, which mandates some health and safety rules for companies that move soil during the cleanup and redevelopment of the Hunters Point Shipyard.
It's fairly complex, and the department wants to make the language and the rules more simple and transparent. That's the idea, anyway.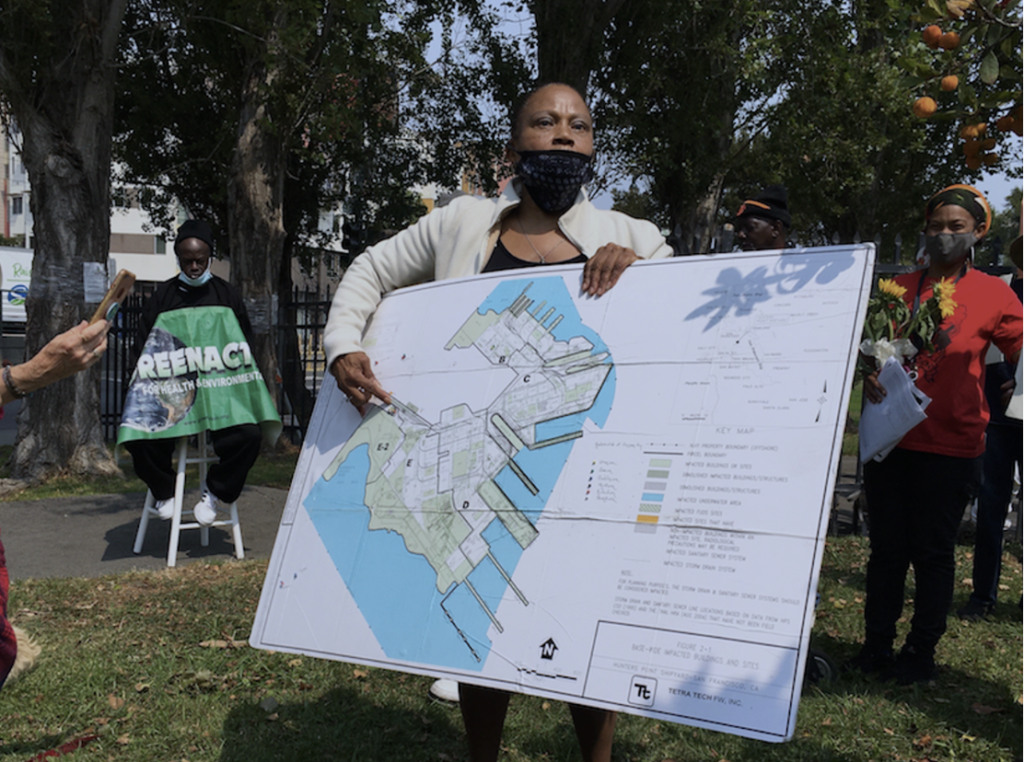 Dr. Ahimsa Sumchai shows a map of cancer clusters in Hunters Point. Photo by Tom Molanphy
But people who showed up and called in to speak weren't as interested in the administrative changes as in the sickness and neglect that has marked the entire process of turning the highly contaminated shipyard into what the city insists can be safe space for housing.
Article 31 requires testing of soils and dust, and sets rules for mitigation measures when contractors stir up what may be dangerous stuff as they work to develop the site.
Speakers said that's nowhere near enough: The rules ought to mandate testing of human beings.
Tonia Randell, who works with the Maria Harrison Community Foundation, noted that "there is nothing about testing residents to see if the dust is affecting their health."
Randell noted that "I have a high level or arsenic and manganese in my body." She's not the only one; studies show significant toxic chemicals in the bodies of people who live near the shipyard.
Arieann Harrison, who also works with the Marie Harrison Community Foundation, said that "we have people coming up with uranium exposure. You need to test human beings and put in some form of repair for what's already been done."
Dr. Ahimsa Sumchai, who has done extensive monitoring work at the shipyard, talked about cancer clusters, including radiogenic breast cancer, which is normally rare, in young people. "The cancer clusters include a ten-year-old," she said. "People are exposed to ionizing radiation."
Dr. Teresa Palmer, a geriatric medicine specialist, urged the commission not to vote on the measure until the department can provide more information about "building on poisoned land."
But the panel voted to approve the changes and asked the department to report back in three months.