Besides Abba and Celine Dion, the great Eurovision Song Contest has introduced some wonderful talent over its 67 years. Even, or especially, if the music is sometimes fabulously overdramatic or hilariously wacky, it's always a terrific show. The friendly competition—which pits singers from European countries (plus Israel and Australia, for some reason) against each other in a marathon contest to see whose representative song is voted the best—is like a sparklier version of soccer/football: Rather than fighting things out on the battlefield, nations can indulge in some cathartic rivalry through a little razzle-dazzle and a lot of physical exertion.
But what happens when war intrudes on the proceedings? In 2022, after it invaded Ukraine, Russia was banned from Eurovision, and the Ukraine entry won. (It was a fine song, too.) In 2023, because the contest could not be held in the winning country, as was traditional, it was hosted by the runner-up's home city of Liverpool. And one of the contests most memorable performers—fantastic drag entity Verka Serduchka, who represented Ukraine in 2007—was there to sing her eternal hit entry "Dancing Lasha Tumbai," only now the lyrics were officially changed to "Dancing Russia Goodbye."
Throughout the invasion, Verka has been a light for her country, performing in a Kyiv underground Metro station/bomb shelter, receiving an Award of Merit from Ukrainian President Zelenskyy, and keeping spirits up during the devastation as "the people's anti-depressant."
Now, Verka Serduchka and her band are touring for the first time since the invasion, and she's coming to the Warfield, Sat/16, 8pm to raise money for the Help Heroes of Ukraine charity. The tour is called "Ukraine Will Win," and the show is going to be wild. I got to squeeze in a few questions with Verka (aka comedian Andriy Mykailovych Danylko) as she is busy bringing breathless joy to the world.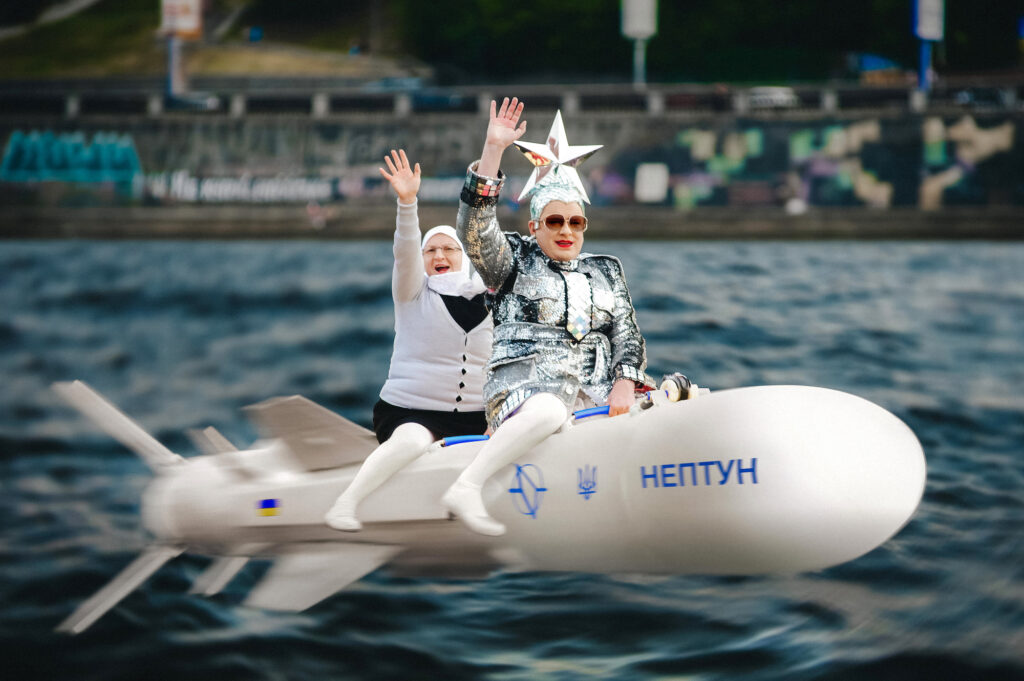 48 HILLS We are so happy to be able to see you in San Francisco. How does it feel to be touring for the first time since the invasion started?
VERKA SERDUCHKA It's very difficult. I understand that people outside Ukraine are kind of tired of the topic of the war. So our goal is to remind them about it again while entertaining. We remind that we need help, we need weapons and funds. I talk about this in a satirical manner for the entire concert. For our people, who were forced to leave the country and now live all over the world, we are trying to bring back at least some kind of piece of the "old time." We want to remind them about Ukraine, of their home, and that in the end, everything will be fine.
48 HILLS Tell us about what we can expect from a full Verka show. I'm already taking my vitamins so I can keep up with the energy.
VERKA SERDUCHKA It's difficult to define the genre: it combines everything—music, humor, stand-up. Serduchka's humor is a reaction to what is happening around her. But without tears, no matter how bad it is. Make fun and insult the enemy, and encourage our people—that is our style. Serduchka is declared an enemy in Russia and has been banned from entering Russia for 50 years.
48 HILLS Does the tour mean that there will be new much from you soon?
VERKA SERDUCHKA Yes, we are preparing new material and after the American tour, we are taking a break to record new songs. These will be songs about the eternal theme—love.
VERKA SERDUCHKA AND BAND "UKRAINE WILL WIN" TOUR Sat/16, 8pm, all ages, The Warfield, SF. More info here.