The San Francisco teacher's union announced today that 97 percent of its members have authorized a strike against the school district.
At a press conference on the steps of the district headquarters, United Educators of San Francisco President Cassondra Curiel said support for a strike is overwhleming.
"Last night we held a strike vote at Balboa High School. Over 3,000 union members including teachers, paraeducators, and substitutes showed up and 97 percent voted in favor to authorize a strike," Curiel said. "An overwhelming number of our members are making their voice heard, the current offer on the table is not something we can settle for."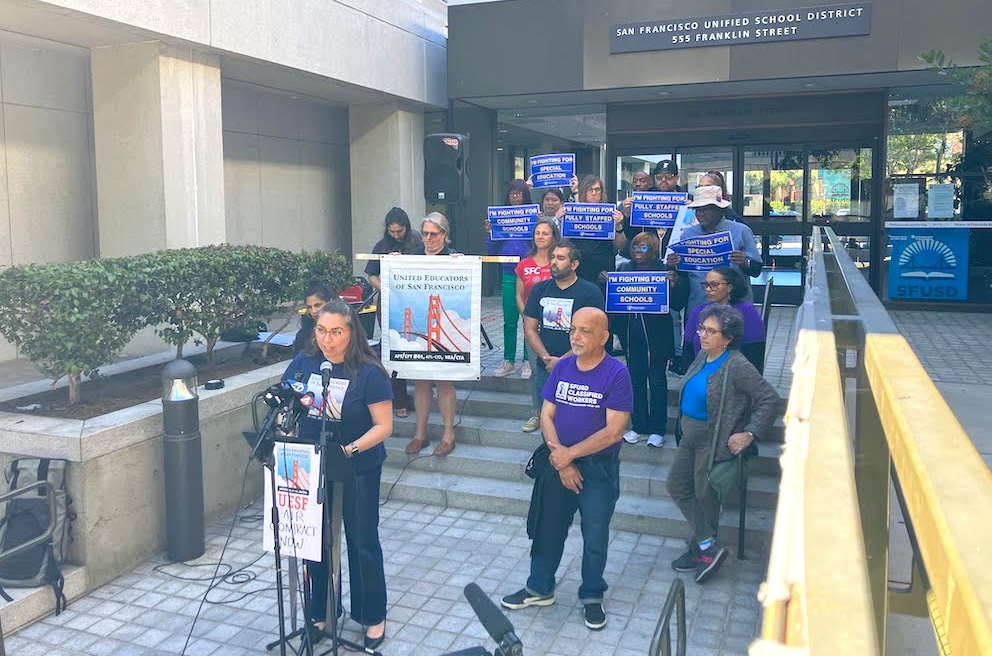 The union also signed up 100 new members to the organization.
In addition, 99.5 percent of the local Service Employees International Union Local 1021 voted for authorizing a strike. Local 1021 organization represents janitorial, clerical, food service staff.
So "90 percent of the adults that students come into contact with at an SFUSD school are in bargaining with the district right now," Curiel states.
The union is asking for livable compensation, improvements to working conditions, prep time, reasonable limits on meeting times, and accurate and timely paychecks. United Educators of San Francisco has been negotiating these issues with the district since March, and Curiel said union members don't think their grievances are being taken seriously.
Maya Piccagli, a parent at San Francisco Community School shared her and her children's experiences. "This year we have no middle school math teacher, so the counselor has taken on that job, in effect leaving the counselor's spot open," Piccagli said. "So many schools are performing staffing gymnastics, asking teachers to wear several hats. Our students deserve permanent educators in every classroom, educators who are confident they will receive their full paycheck every month."
"Each year our educators are being asked to do more with less. We watch educators who would rather leave for other districts, other cities because they cannot survive on the salary and benefits that they receive at SFUSD."
If a strike takes place, it would be the first in the SF school district since 1979. On October 16th, UESF's bargaining team will craft a counter proposal. This meeting will determine whether the union will keep negotiating or continue towards authorizing a strike.