The Board of Education heard Tuesday night a plan that would allow Superintendent Matt Wayne to develop proposals to fix financial issues in the district, including possible school closures—and a majority of the board was not ready to move in that direction.
In fact, most board members made clear that they want to address other pressing issues before even beginning to talk of merging or shutting down schools.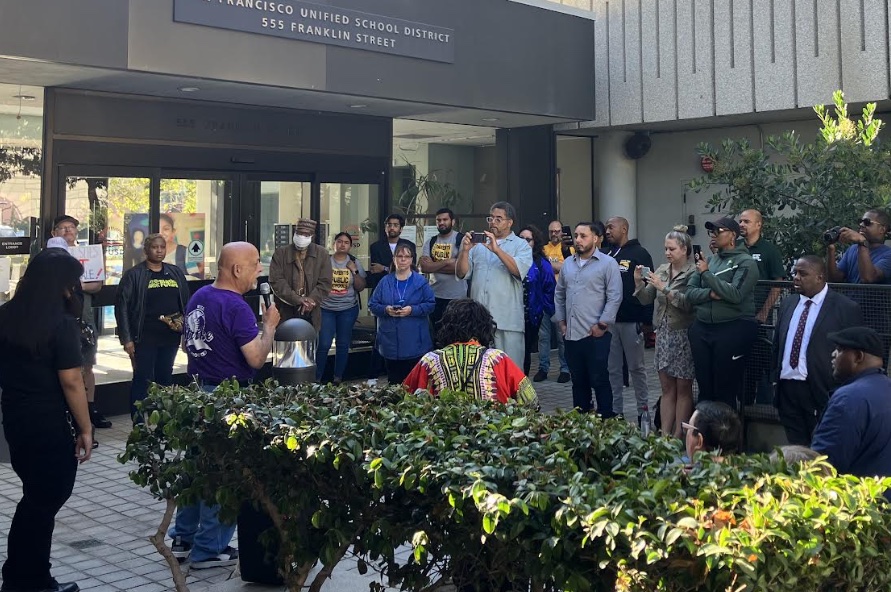 A rally outside the board meeting called on the district not to close schools
The Superintendent's Office described the enrollment decrease over the past few years. According to meeting documents, the number of students has dropped by 4,000 from the 2012-2013 school year to the present, and the schools are estimated to lose another 4,600 in the next 10 years.
If the superintendent decides the solution to this issue is closing down schools, he would likely target the ones with the lowest enrollment, which are in Bayview-Hunters Point.
In a rally before the meeting, community leader Bivett Brackett explained how "Matt Wayne was very successful in closing schools in Hayward in 2021. We can only define and judge people by the fruit of their work.
"Public school closures actually lead to a perception of instability and a loss of faith in the education system which actually make enrollment decline magnified three times," Brackett continued. "This is a fact, we have seen this in Chicago public schools, we've seen this in Detroit, New Orleans, New York, everywhere that we've had mass closures, enrollment declines got worse, they did not get better."
During the meeting, all board members talked about deep-rooted issues within the school district that needed to be addressed, including the working conditions of the teachers and staff, the effect of racism in the community on the school system, and the mistrust the public has with the school board.
They also acknowledged that past plans the school board has had to address these issues have not been fully implemented.
"We want to make change and listen to folks who are the most impacted or we do it to check the compliance boxes, and both have been true," said Commissioner Alida Fisher. "Another challenge that we have is using the pretty words to write resolutions and make policies, but not ever following through with the budget and the resources that are needed to drive the systemic change that we want to drive. And so I'm really hopeful that this process, if we do it with fidelity, will actually get us there."
The board members spoke of school closures as an option of last resort.
Board member Mark Sanchez told us what he sees as next steps.
"I can't speak for the whole board but I feel like we are most likely going to have a District Advisory Committee, even though there is a lot of distrust around it. But I also feel like there's not an appetite for the board to close schools or merge schools. We haven't implemented our own policies around zones for schools, which if implemented would probably bolster the enrollment" for schools that would otherwise be up for closure.
"We have other avenues to generate revenue," he said.
Sanchez said that the DAC could help identify existing empty properties that could be sold or leased. "We do have properties that are underutilized or not utilized at all. We own Harrison Street School which we lease out to the city."
This building can't be used as a school because it's not up to code, and could potentially be sold at market price.
"In terms of school closures, I am against that."