"It's been a real blessing to be able to focus on my personal healing," Angel Heart said. "As a grandmother this is the first time in my life that I've been able to focus on the trauma and heal from the violence of poverty, and for that I'm so very grateful."
Heart was talking about her experience with Homefulness in Oakland, which members describe as "a Poor and Indigenous–people led solution to homelessness." Homefulness is a "sweat equity, permanent co-housing, education, arts, micro-business and social change project for landless/houseless and formerly houseless families and individuals."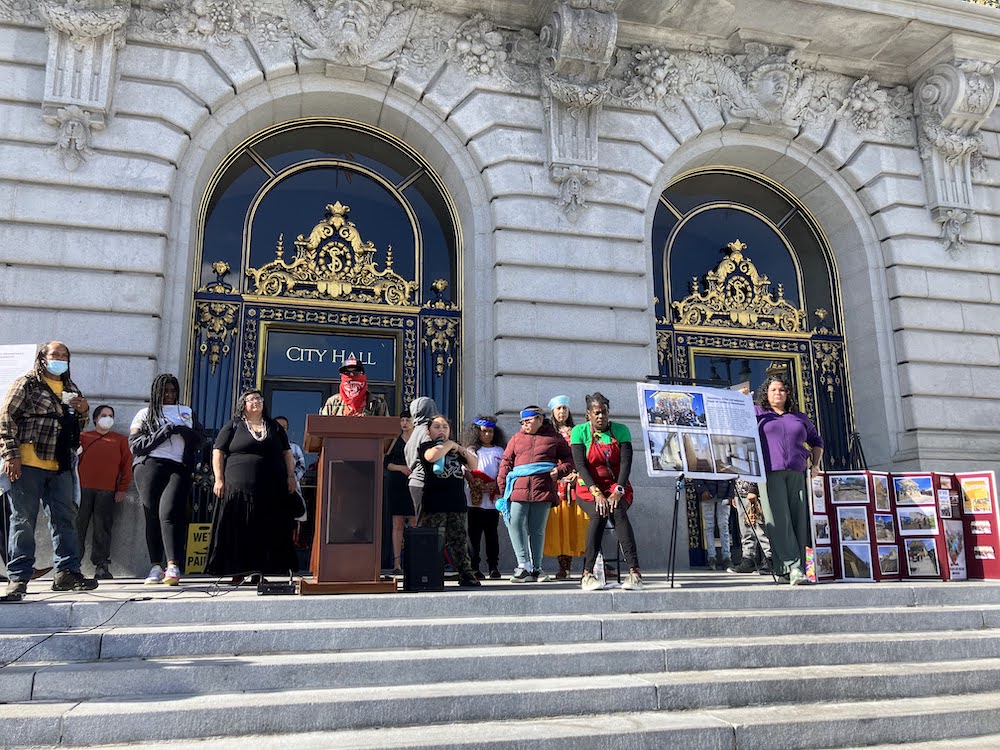 A group of houseless people raised the money to take over a piece of land in Oakland. The current Homefulness model was built over a decade ago with support from volunteer architects and community donations, and currently houses 15 permanent residents of all generations.
On Tuesday November 7, some of them appeared on the steps of City Hall with a proposal: San Francisco should allow the Homefulness model to take over some of the abandoned office buildings downtown to create more places for the unhoused to live.
Led by Tiny Gray-Garcia, a longtime activist, writer, and co-founder of POOR Magazine (and 48hills contributor), the creators and current inhabitants of Homefulness explained why this rent-free h ousing model should be replicated in San Francisco.
Co-founder of Homefulness and the Self Help Hunger Program "Auntie" Frances Moore declared that "with Homefulness its evident there's power in the people. I'm asking San Francisco to take a good look, this is the template you need to be following. With APEC coming through… you're going to sweep them all away, where are they going?"
"I want to shout out to my fellow warriors, who are sitting behind that tent, who are sitting under that doorway, who are right over there at the corner, because we have lost everything and now our bodies are mainly seen as trash to be swept up," said Gray-Garcia. "So let's deconstruct the word 'sweeping'. That equates human beings with trash. That is oftentimes the 'solution.'"
The press conference began with a prayer to honor the ancestors and the land. Children from Homefulness participated and shared their experiences living in the community. Among the speakers was District 5 Supervisor Dean Preston, who reserved the City Hall steps for the press conference.
"We are always told that these kinds of ideas are impossible, or we can't afford them," Preston stated. "But if you propose building 1,000 new luxury condominiums that only millionaires can afford, there is somehow room for that always. There are 50,000 units of residential housing that are sitting vacant. There is a choice being made not to use that housing for the people who need it, and instead to hoard it for real estate investors."
"Fortunately, Preston said, "we worked with Faith in Action Bay Area and the Democratic Socialists of America to pass a residential vacancy tax… and use that money to acquire vacant property for projects exactly like Homefulness. Now we have thousands upon thousands of [vacant] office units. And the only proposals that come in, have a hearing, get legislation, ask for tax relief, subsidies, is for market rate luxury housing for the wealthy. You are putting something else on the table with Homefulness."
Gray-Garcia said the group is asking Mayor London Breed to "transfer one of the abandoned buildings in the city for a healing model of housing, community, and art rather than sweeping and incarcerating houseless San Franciscans."
The money that funded Homefulness came from people with privilege who attended Peopleskool (the liberation education project ran by POOR Magazine). Gray-Garcia said she wants to invite "other San Francisco stakeholders and folks with race and owning class privilege to radically share so that Houseless peoples can build our own self-determined solutions."
The Homefulness project can be supported through POOR Press, which includes the Homefulness Handbook that explains Homefulness and its importance.