A forum looks at electoral strategy for progressives in San Francisco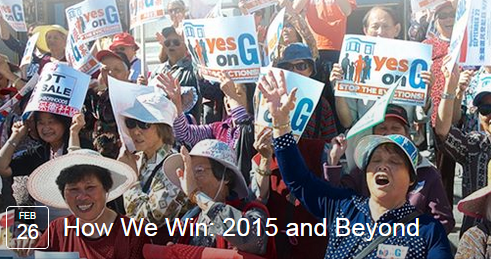 By Tim Redmond
FEBRUARY 26, 2015 — The left has to start winning more elections, or there won't be any of us left in this town. That, of course, is part of the strategy of some downtown types; the Committee on JOBS has said outright that driving the renters and the lower-income people out of San Francisco and replacing them with more conservative homeowners would change the politics of the city.
That's not crazy paranoia; that's part of what's happening here.
And while we talk about policy and resistance, we also need to talk about strategy – what works, how we learn from past mistakes, and how we can organize better. That's why Urban IDEA is holding a forum tonight on "How we win: Strategies for 2015 and beyond." We'll hear about voting patterns, voting by mail, community-based electoral strategies and the way to reach voters all over the city.
It's free, it's at the Bayanihan Community Center, 1010 Mission, and it starts at 6pm. See you there.