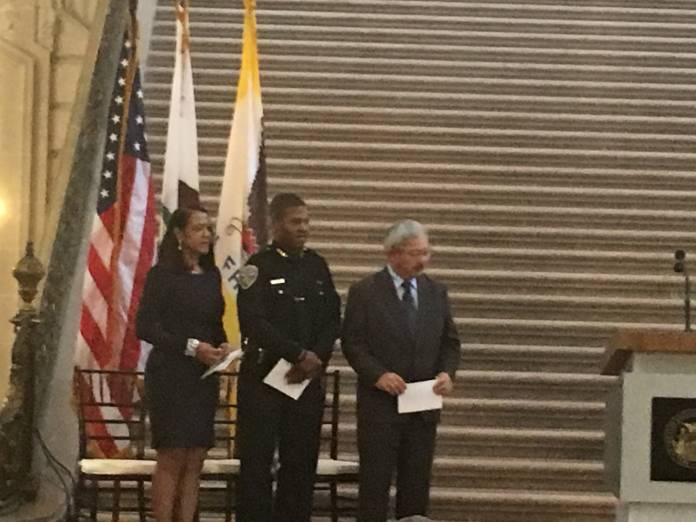 Chief William Scott was sworn in as San Francisco's police chief today at City Hall. Scott, 52, previously worked as Deputy Chief for the Los Angeles Police Department. He will be the third outside hire for chief in SFPD's 167-year history despite strong opposition from the Police Officer's Association.
The Police Officer's Association had pushed hard for interim-Chief Toney Chaplin who took charge since Chief Suhr was prompted to resign in May. Mayor Ed Lee selected Scott after a nation-wide search and reportedly 60 candidates who applied for the job. 
Chief Scott is taking charge at a time when community members have rallied for strong leadership and reform within the police department. The SFPD has been riddled with criticism including a damning federal review. U.S. Department of Justice's community-policing division made 272 reforms recommendations that need to be implemented. 
Scott plans to live in San Francisco where he's already started doing the rounds and meeting station houses and colleagues in law enforcement. 
The Chief has no time to lose as he takes office and would have to deal with the plethora of issues facing the police department: Implementing reforms despite strong opposition from the Police Officer's Union, building trust and relationship within the department with officers who may be skeptical of an outsider and improving SFPD's long-fraught relationship with the community.