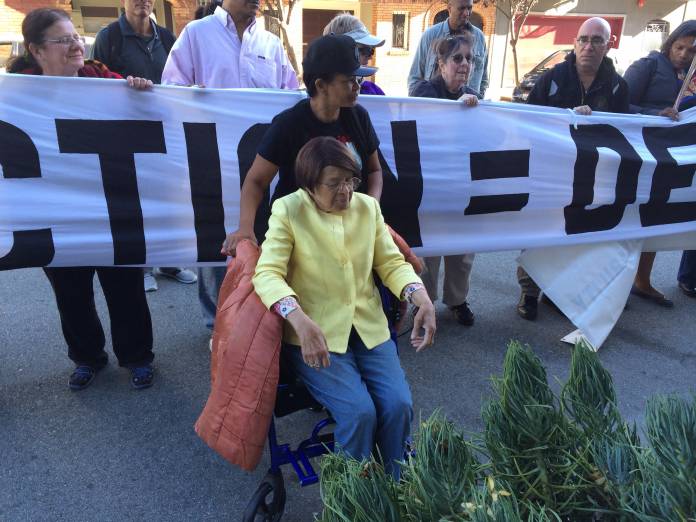 Iris Canada, a centenarian who was evicted from her apartment at 670 Page St. last month, has died. Canada was hospitalized shortly after the eviction and couldn't recover from a stroke she suffered over the weekend.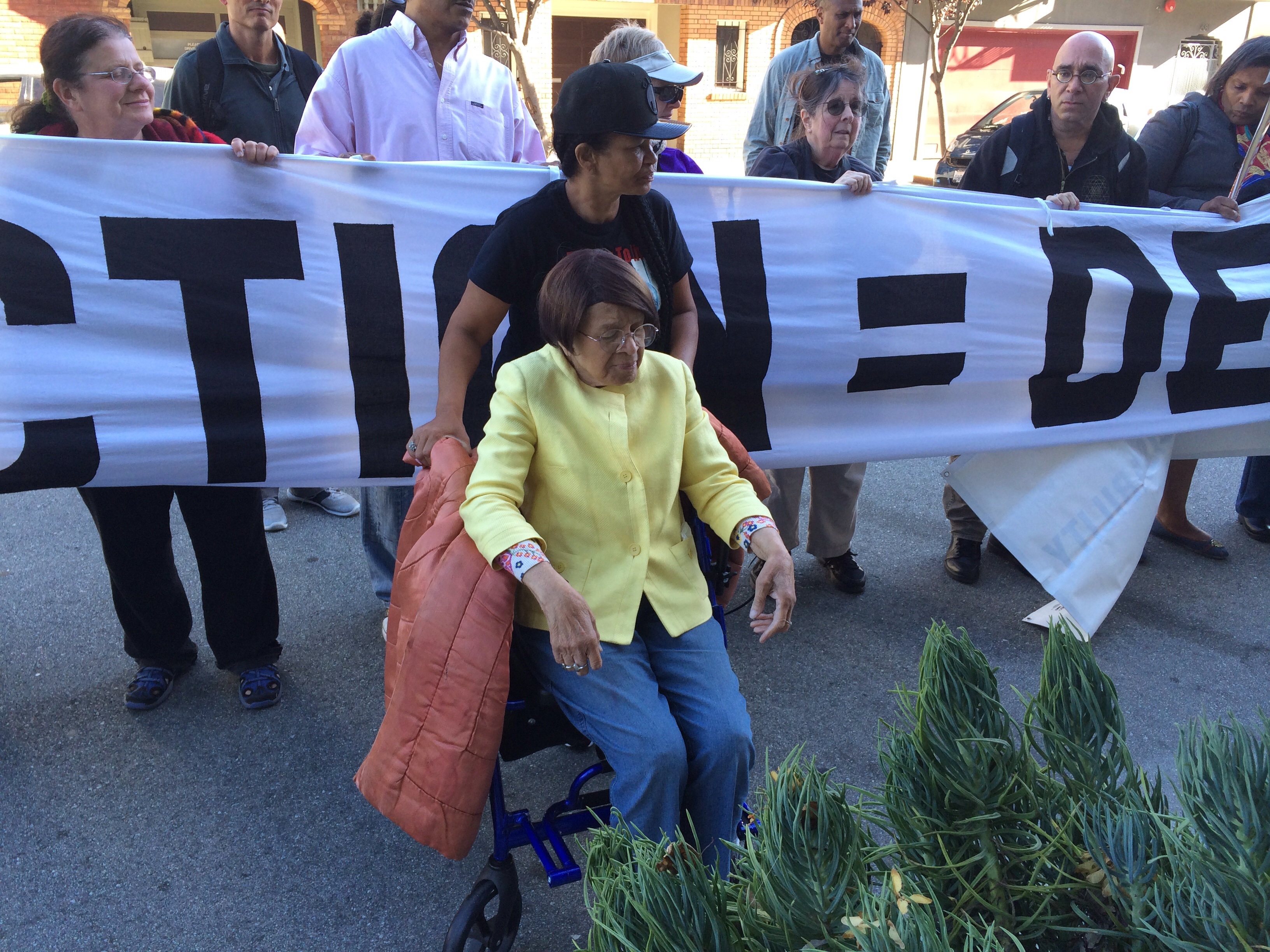 Canada was a resident of Page St. since the 1940s (accounts vary) and secured a life-time lease at $700 a month in 2005 after the building was bought by Peter Owens, Stephen Owens and Carolyn Radisch.
Your actions matter! Donate $10 to support MEDA SF – who provide affordable housing in San Francisco

The Owens want to convert the six-story tenancy-in-common to condominiums, which requires consent from all building residents. Canada, through her attorney, refused to sign conversion papers arguing that it would result in Canada losing her life-time lease. The disagreement sparked an ugly legal battle mobilizing housing rights activists in San Francisco.
Owens argued that Canada no longer lived at her apartment and that it was in shoddy condition. Canada spent a lot of time with her niece or at the hospital, and the Owens family argued that meant Page Street was not her primary residence. Canada's niece insisted that she be given an opportunity to buy the property, an offer the Owens felt was implausible. Canada's attorney also didn't accept reassurances from the Owens that they'd be willing to let her have a fulltime caretaker or meet other times if she came on board with the condominium conversion.
The court ruled in favor of Owens. 
Canada's story highlights the complexities of the housing crisis plaguing San Francisco. Housing activists argued that Canada not be evicted from her residence at her age while opponents argued she wasn't living at her residence in the first place.
Canada appeared in a wheel chair at a few press conferences but mostly stayed at home or in the hospital owing to her age and ill health. Family and activists warned about the toll the legal battle was taking on her. Despite court orders, Sheriff Vicki Hennessy at first decided to hold off formalizing the eviction given Canada's health — but on February 10th locks to her apartment were changed. 
 While accusations hurled from either side, Canada's health deteriorated and fears of housing activists came true over the weekend: "This is what we said, this what we kept saying again and again but no one listened. We said she will die if she's evicted that she won't be able to overcome this shock. We've seen it time and time again," Tommi Aviolli Mecca of the Housing Rights Committee told 48 Hills.
Mecca has been on the forefront of Canada's fight: "We are San Francisco we are suppose to be compassionate and humane but this is what we did to a senior in our city. She could have been my own grandmother." 
Housing rights activists and community members have organized a vigil to remember Canada at her former residence 670 Page Street on Wednesday. Mecca says they want to give people a place to remember her: "We wanted to give people some time to grieve so we can all come together and remember her."