There has been much talk of late about teacher housing, and that's all good: If teachers can't live in San Francisco, we have a serious problem. And it appears that we do.
Sups. London Breed and Ahsha Safai recently tried to pit the teachers against lower-income people, which the Teachers' Union rejected. And now Heather Knight has a column on a recent hearing, where a long line of teachers noted that they can't stay and have a career in a city where housing costs far, far outstrip what even senior teachers with advanced degrees earn.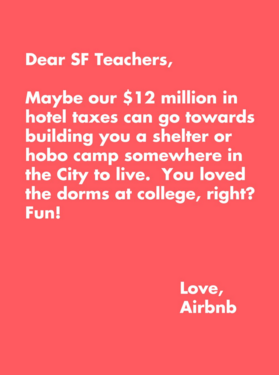 So I am going to stop for a moment and ask a couple of questions about city policy – questions that didn't come up at the hearing.
What good has the Twitter tax break done for teachers?
What good have the Google buses and the city's deal to let them make it easier for high-paid tech workers to live here and commute to Silicon Valley done for teachers?
What has Airbnb done for teachers (except drive up housing costs)?
What has the administration of Mayor Ed Lee done for teachers?
It's not all about the supply, folks. It's about the demand – and the city, under Mayor Lee, has done everything it can to drive up the demand for housing. I would say that, overall, people in the middle-income people, like teachers, do worse during these sort of speculative booms. And we are never going to be able to build our way out of it.
Mayor Lee and the supes who went along with him made a decision coming out of the Great Recession. They decided that creating jobs for new arrivals was more important than protecting existing residents. They decided that a tech boom would be good for San Francisco.
Now — now, all these years later — they are figuring out that teachers (and so many other people who make the city run every day) are priced out by the boom they created. Makes my head hurt.
Next: Since I am being cranky here … I went to a Warriors game this week. Oracle Arena is a great place to watch basketball. The crowd in our upper-level seats was decidedly working class, people who have filled the arena for years, through good times and bad. Why do they need a fancy new billion-dollar home in San Francisco – a place where a lot of the current fans will never be able to afford a game?
Oh, and there's nothing more fun than walking across the bridge from BART before and after the game, with folks selling illicit team gear for cheap, vending hot dogs like the ones you get on Mission Street, and hawking cold cans of Bud out of a cooler for $5. You think that's going to happen in fully gentrified Mission Bay?
I watched the hearing that Sup. Malia Cohen called to look at how the federal budget cuts are going to impact the city, and was a little disturbed that the chair of the Budget and Finance Committee first said that she didn't want to be "shadowboxing" with threats we don't know will happen then talked about "decisions to keep our city working" without any mention of new revenue sources. It was as if the only answer to Trump is to follow his lead and cut government spending.
Ben Rosenfield, the controller, pointed out that the city gets about $2 billion a year in federal money, but a lot of that probably isn't at risk: It's hard to see how Trump could block the city from administering Medicaid or food stamps. But there's $200 million a year that's easily on the chopping block, and 94 percent of it is for health and human services.
Then there's the Housing Authority, which is funded in large part with $176 million in federal money. And the city has appropriated another $800 million for transit projects "and we are waiting for the money to arrive" from Washington, Rosenfield said.
Add in the other local organizations that get federal money – a lot of arts groups rely on NEA money – and you've got a city with a big problem.
"We likely have severe budget cuts coming," Rosenfield said. "We don't want to talk about eliminating programs, but we can't ignore the possibility of [funding] loss."
It takes a while to figure out the best way to replace that money with new revenue. At last Sup. Aaron Peskin is starting the discussion by asking the state to allow us to enact a local income tax. But if there's any talk in the Mayor's Office of anything that would backfill a few hundred million dollars (in a progressive way, not with sales taxes) I haven't heard it.
Remember: The feds have historically given generous matches to cities for affordable housing. It appears much of that will go away. So we need to protect our existing programs, spend more on affordable housing, spend more to protect vulnerable residents who lose their safety net under Trump … and we aren't talking now about a plan to raise at least $300 million next year?
Seriously?