ONSTAGE After the 2007 shooting at Virginia Tech, playwright Julia Cho (Aubergine,
The Language Archive) was looking for something that would help her understand the murderous rampage which killed 32 people and injured 16—at the time the deadliest shooting by a single gunman in US history. None of her research, or the discourse of the time, helped her make sense of what had happened.
"It felt like conversation devolved into extreme opposite viewpoints and the language was reductive," Cho said. "It was hijacked by the loudest and most extreme points of view. I wanted a more nuanced approach that could own the complexity of what was happening. I was hungry for that."
In Cho's latest play at Berkeley Repertory Theatre, Office Hour (through March 25), a teacher tries to get through to a sullen student whose behavior and dress—sunglasses indoors, violent pornographic writing—has people worried. Knowing where to begin the play was hard for Cho, who taught in grad school, until she read a teacher's op-ed about a troubling student. Looking at that specific relationship, between a teacher and a student, gave Cho a way in.
Cho didn't want to write about mass shootings—but she felt she needed to.
"The older I get, the more it takes to get me across the threshold of writing," she said. "I felt like I had a sort of responsibility to write about the things that are troubling me. Not that the play answers any of them, but it does raise questions."
While writing Office Hour, Cho read teachers' blogs online as well as the report the governor of Virginia commissioned on the shooting She also read One of Us: The Story of a Massacre in Norway—and Its Aftermath by Åsne Seierstad, the book about the horrible killing of 69 people at a youth camp in 2011. Cho said it was difficult emotionally to immerse herself in the world of school shootings, but she knows it doesn't come close to the actual experience.
"I was reading in safety of own home," she said. "But I owned that feeling of not being safe in public places which came from the events themselves. Basically, I decided I won't hold the illusion of safety anymore."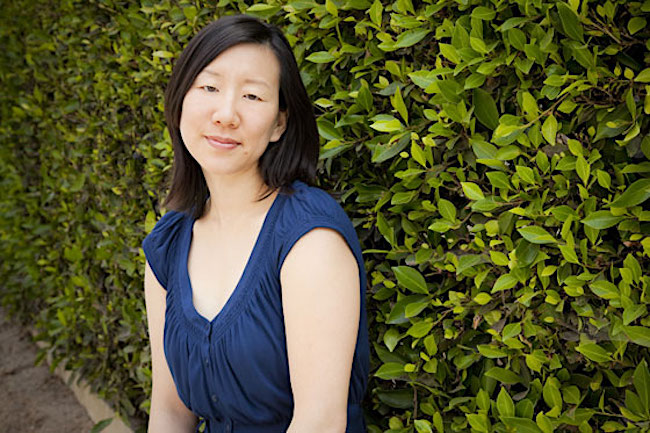 The play, a co-production with Long Wharf Theatre, has been performed at other venues including South Coast Repertory and New York's Public Theater. Cho says sometimes she has had people who have been present at a shooting come up to her to talk and those are the responses that mean the most.
This current run of the play at Berkeley Rep comes soon after the February 14 shooting at Marjory Stoneman Douglas High School in Parkland, Florida where 17 people were killed with an AR-15. The student survivors have been speaking out on social media as well as traditional media- appearing on a CNN town hall, "The Ellen Show," and other news and talk shows, demanding change. Major companies, including banks, rental car companies, and airlines have cut ties with the National Rifle Association. Others are feeling pressure, too. 
Cho says the aftermath of this shooting feels different to her, and it has changed how people are responding to the play.
"I think what's interesting is now complacency isn't settling in, and people are coming in with it more on the surface, and the audience is a bit more willing to be engaged," she said. "It feels like we're on the cusp of some change, and for me it's changed my experience of the play and makes it more bearable to watch. Before we were so far from any dialogue or acknowledgement, and now it feels like there's hope."
OFFICE HOUR
Through March 25
Berkeley Repertory Theatre, Berkeley
Tickets and more info here.