PARTY RADAR Festival season is coming hard upon us, even if that means May—pre-sale tickets are already available for the magickal, mystickal, musick-loaded, 19th annual How Weird Street Faire, happening May 6 (and yes, it's no longer free: $20 at the door, $15 presale to keep it all going). And if you are queer and woodsy you will definitely want to dance for a full, wiggy weekend at the Gays Hate Techno Spring Gathering, May 3-6.
Welp, as if that weekend weren't packed enough, along comes a local installment of one of the best and most adventurous "big name" electronic music festivals, MUTEK. The 18-year-old Montreal phenomenon usually serves, for techno jet-setters, as a perfect experimental and ambient comedown from the massive Detroit Movement Festival every May/June. Now the brand is expanding to the West Coast with recently announced MUTEK San Francisco, May 3-6. (Mutek has already expanded to Mexico City, still crying I couldn't be there, and Japan.) 
Now, you know me, I would usually go off about franchises coming in to take over the local scene, especially with such direct competition. But MUTEK.SF has gone out of its way to ground its programming in local players—in the first wave lineup announcement, I count almost a dozen, mixed in with international favorites like Derrick May, Tim Hecker, and Telefon Tel Aviv. So far a little light on women and queer folk; let's see what's coming. Early Bird Passport tickets are on sale now.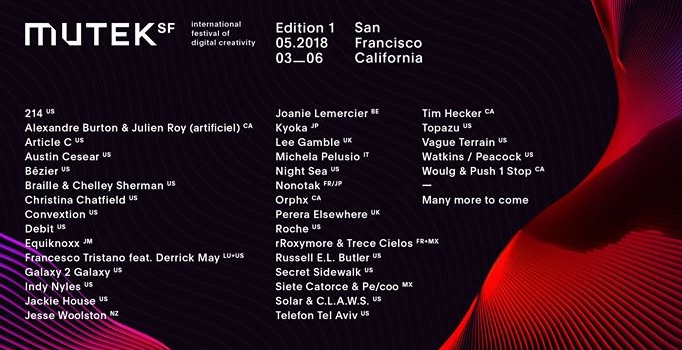 About electronic music festivals: We already have the great San Francisco Electronic Music Festival, usually in September, which is as experimental and full of the unexpected as Mutek was in its thrilling infancy. Last year, the As You Like It crew put on the Unabridged festival, which spanned both sides of the bay. RIP to the great Love Parade, which started out as a franchise here in, oh, 2004? And then went through a few LoveFest iterations with diminishing returns before petering out in 2009. Oh hey, and anyone remember the Summer Music Conference?
But mostly our dance festivals have been street fairs like How Weird (which has single-handedly kept our classic drum 'n bass, funky techno, and Lower Haight rare groove scenes in mind) and Folsom Street Fair, which for a golden moment was a powerhouse of live acts and DJs, although it seems to have backed off of that with new management. And then of course there's Burning Man, which long ago became a music festival.
MUTEK.SF will fill the current night-time gap of "danceable and interesting" agglomerations, bringing together names and NAMES, for a weekend that already looks pretty major. 
PARTIES OF NOTE
THU/8 INTERNATIONAL WOMEN'S DAY IN THE BAY A benefit for migrant famworkers featuring a stellar lineup: ALIA, Arula, Dj Dakini, FELA KUTCHii, femmelectric, Lily Ackerman, Rachel Torro, rayreck, Symonne, and DJ Umami. 9pm-2am, $10. 1015, SF. More info here. 
THU/8 PUFF It's a marijuana drag party for queers and others who work and love the cannabis field – plus a raffle with amazing prizes. Tons of performers! 7pm-9pm, $5-$10. The Stud, SF. More info here.   
THU/8 DIRECT TO EARTH: INNER ORBIT Three excellent players at this great techno party, including Cory Simpson (Seattle), Experimental Housewife (SF, killing it), and Valentin Ginies (Berlin). 9pm-2am, free. F8, SF. More info here. 
FRI/9 DEEPBASS Deep (duh), hypnotic techno that will tickle the tympanum of anyone into classic Berlin sounds from this Barcelonan. 9pm-4am, $12-$15. F8, SF. More info here. 
FRI/9 KASSEM MOSSE & TIN MAN The As You Like It and Parameter parties join forces to bring in two of my faves:German Kassem Mosse makes deep-thinking, deep-moving techno, while the Finnish Tin Man kills it in the acid zone. Both are doing live sets woo-weeee. 9:30pm-4am, $15-$20. Public Works, SF. More info here. 
FRI/9 VIVVY'S GRAND OPENING: PAGEANT PAGEANT Huzzah! The weirdest drag night ever is hosting a pageant featuring like 8000 queens. Looks, smarts, and talent, people! 10pm-4am, $10. the Stud, SF. More info here. 
SAT/10 MARCH TO REMEMBER AND RECLAIM QUEER SPACES We just lost the Gangway (although there's a plan to bring it back!) Join drag goddess Juanita More, Mark Leno, and the GLBT Historical Society on this walkabout through formerly super-queer Polk Gulch, "laying black wreaths at the sites of former queer spaces in the historic LGBT district." 4pm-6pm, meet at the site of the Gangway, SF. More info here. 
SAT/10 A GUY CALLED GERALD The early British techno master who created the times "Voodoo Ray" and Black Secret Technology gets his acid house on at the Midway all night. Yazzzzzzid! 10pm-3:30am, $17. The Midway, SF. More info here. 
SAT/10 DJ JAZZY JEFF "What happens when three of the best DJs in the Bay Area joins one of the world's most magnificent in one room with four turntables and two mixers? Prepare to find out as master decknician DJ Jazzy Jeff (West Philadelphia born and raised) joins Goldie Award-winning Miles Medina, Red Bull 3style champ J Espinosa and bangerz specialist DJ Cuts." 9pm-3am, $20-$25. Great Northern, SF. More info here.  
SAT/10 NON STOP BHANGRA One of our best and most diverse monthly parties brings in bhangra biggie Jassi Sidhu from the UK to dazzle. All the whirling colors! 9pm-2am, $20. Public Works, SF. More info here. 
SAT/10 STUDIO 5'4″ This is a hot dance party for short gay guys and the people who adore them. With DJ Suppositori Spelling. 10pm-2am, $5. Lone Star Saloon, SF. More info here. 
SAT/10 DANNY TENAGLIA Househeads everywhere explode! One of the giants of the progressive scene, doing this for like 40 years now, comes in from NYC. 10pm-4am, $15-$25. Halcyon, SF. More info here. 
SAT/10 PURIM CARNALVAL 5778 It's the Jewish festival of Purim, so of course the Stud is throwing a live queer klezmer bash, with Ghost Note Ensemble and a bunch of witches. 10pm-4am, $10-$20 (NOTAFLOF), The Stud, SF. More info here.
SAT/10 MODULAR: JAN BLOMQVIST Berlin-based technoist, famed for his Burning Man sunrise sets, takes over the wonderful Gray Area theater for a live spectacular, presented by the Modular party. 9pm-3am, $25. Gray Area, SF. More info here.  
SAT/10 POUND PUPPY Arf! It's bone time at this scruffy gay pup party. With DJs Jenniluv form LA and Dicap from NYC. 10pm-2am, $10. The Eagle, SF. More info here.  
SUN/11 DRAG SIDE OF THE MOON I am so down for this: "4 Queens take acid and trip through a psychedelic classic played front-to-back! Watch these queens perform to Pink Floyd's Dark Side Of The Moon in its entirety, as they embark on a surreal journey through the depths of the human mind." Gaymazing. 7pm-9pm, $10. The Stud, SF. 
MON/12 DEATH GUILD 25TH ANNIVERSARY Holy sepulchers, bat girl! Our longest-running weekly party is turning, ulp, 25, and it's ready to rise from the glamorous grave. Supercool dark rave and industrial goth classics always draw a unique crowd. This one has a death-drop of a lineup as well. Congrats, Death Guildians! 9pm-3am, $5-$10. DNA Lounge, SF. More info here.