ONSTAGE It's real cute, the good kind of cute. Head Over Heels (through May 6 at the Curran Theatre), the "posh meets punk" Elizabethan pastoral pastiche Go-Go's jukebox musical—say that three times fast—debuted at Curran Theatre on Wednesday, for a small run before its transfer to Broadway.
Falling somewhere between Mamma Mia and American Idiot—which Heels director Michael Mayer also directed on Broadway, along with pubescent eruption Spring Awakening—the show motors along on lusty nostalgia, knowing winks, and some clever stage business and energetic dance moves. (Choreography and musical staging is by Spencer Liff, whose pompadour-coif at the premiere was about two feet tall, and, if it was an homage to John Sex, one of the best '80s throwback effects of the night).
And, of course, those Go-Go's songs, which Head over Heels will gladly re-implant into your brain for another eternity. The hits (along with some deeper cuts and singer Belinda Carlisle's solo material—though sadly not her most philosophical jam "Circles in the Sand")  are interspersed somewhat awkwardly throughout the tale, but they certainly rouse the crowd.
So what if the parts don't quite fit together, or that there's really no need for it to exist? This is all frothy fun, with some lovely moments of dialogue (much in iambic pentameter), unflagging energy from a swell cast, and a gender-fluid storyline, featuring Peppermint as Pythio the Oracle of Delphi, who is the first transgender woman to originate a Broadway role.
The tale itself, sparked by Sir Philip Sydney's epic 16th-century Arcadia with a dash of Shakespeare's As You Like It, concerns the amorous adventures of the royal family of Arcadia. Daughter Pamela (Bonnie Milligan, channeling a hysterical fag hag) despairs of too many suitors, relying on her attractive handmaiden Mopsa (Taylor Imam Jones) for full support. Younger daughter Philoclea (Alexandra Socha) pines for hunky shepherd Musidorus (a fabulous Andrew Durand, shouldering most of the dramatic load here). King Basilius (Jeremy Kushner) and Queen Gynecia (Rachel York, playing it perfectly tart) are drifting apart, relationship-wise, and could use a good, bawdy jolt.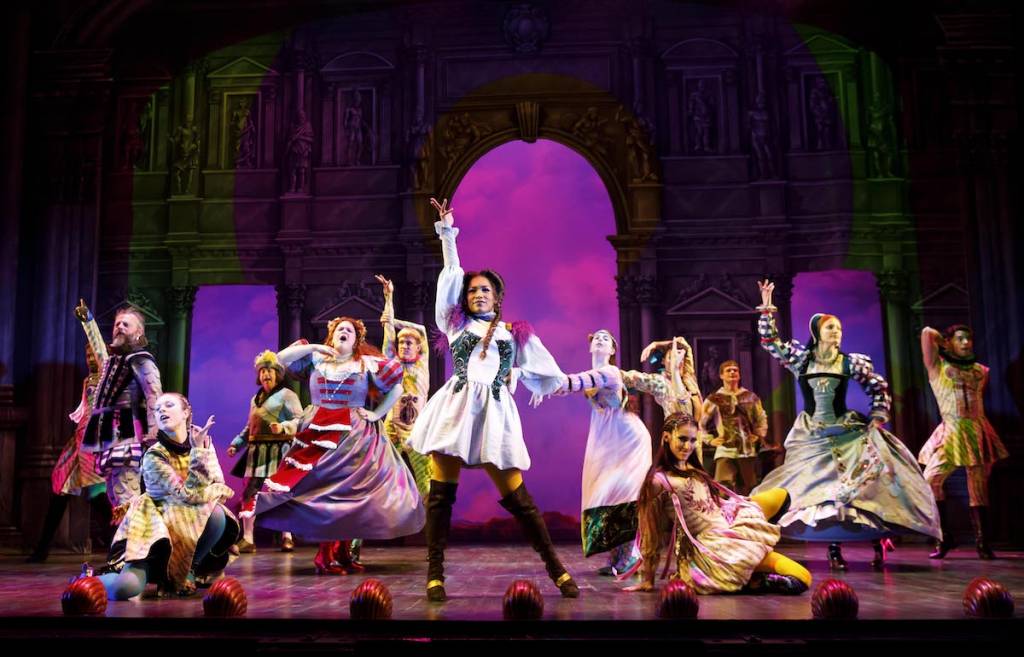 Luckily, Pythio is here to provide some amorous upheaval, dropping a kingdom-shattering prophecy in the form of four riddles that drive the plot. Soon Arcadia's court is fleeing to Bohemia to escape the oracle's soothsaying implications. As Pythio, the charismatic Peppermint gives you divine sass with a dash of Hedwig. (Mayer also directed the national tour of Hedwig and the Angry Inch.) And if the play falls right into the trap of making the transgender black character a mystical signpost, at least Pythio gets her own personal storyline, though it comes very late in the play.
That's not the only cliche by far in this narrative. But characterization, and even plot, isn't really the point here. It's charm. And original writer Jeff Whitty (who left the production earlier in the musical's long gestation journey) and adapter James MacGruder have wonderful fun both parodying and fulfilling what audiences expect from 16th-century dramatic verse. (One of the best running jokes of the evening is that shepherd Musidorus speaks in "Eclogue.") A heavy dose of classic gay sensibility and humor also add to the bubbly dialogue, as well as some good old-fashioned sexual snafus, obvious disguises, and cross-gender costumery.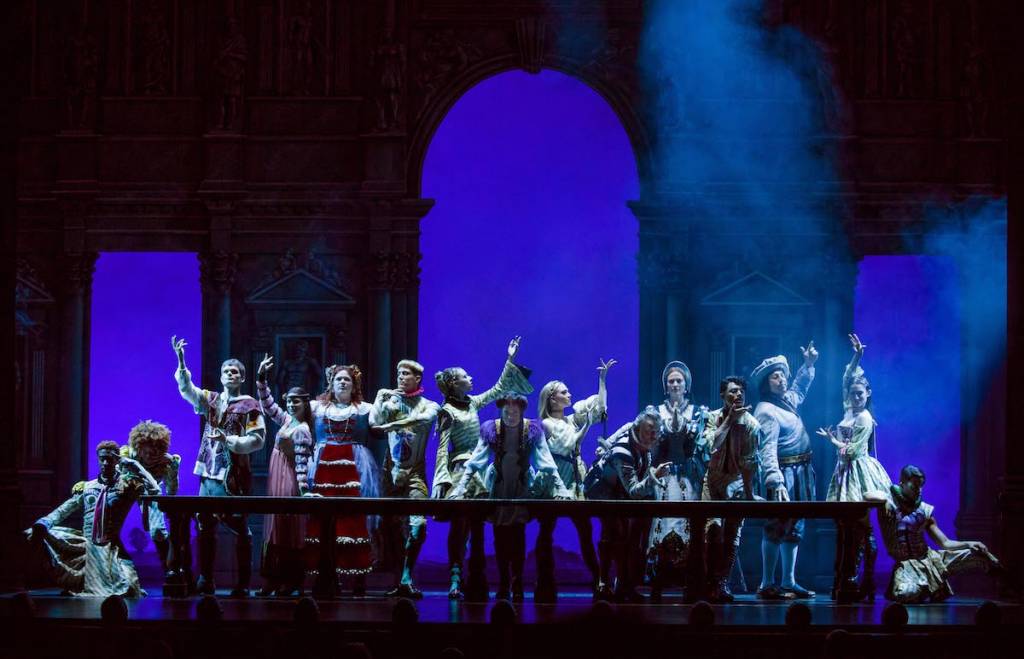 But where in the hallowed halls of Arcadia do the Go-Go's fit in? Injecting punk tropes into royal court intrigue has a well-worn postmodern pedigree that stretches from Derek Jarman to Sofia Coppola. (Johnny Rotten could have been singing about Elizabeth I in "God Save the Queen," as the sun finally set on the murderous empire she built). The '80s pop charts were hardly punk, although they were "punky," sometimes even allowing a well-tended Billy Idol sneer or two through. And with their class-signaling shoulder pads, voluminous pleats, sky-high hairstyles, and ruffled collars, the '80s certainly have their own connection, at least sartorially, to ye olde Working Girl queens. (Costumes by Arianne Phillips and sets by Julian Crouch call up memories of Le Château as much as the poofier corners of BBC Shakespeare adaptations.)  
The Go-Go's are definitely an '80s aesthetic, improbably born of the '70s SoCal surf-punk scene to conquer the pop charts with unflagging energy and musical dexterity. Your affection for their songs' interpolation into the drama will depend on your depth of reverence for the group itself. The Go-Go's are feminist musical inspirations, and club kid Jane Wiedlin, their rhythm guitarist, is a local treasure. But for those who grew up during their inescapable grip on Top Ten radio, encountering these songs was sometimes less a life-affirming experience than being bludgeoned by exuberance. Subtle wonder "Our Lips Are Sealed," written with Fun Boy Three, managed to cross over the line into timeless art (and spawned two of the greatest 12-inch versions of the decade), but the rest can now feel like a surprisingly hip cheerleader shouting at you on the street.  
They're still solid, unshakable tunes—and thankfully a silly attempt to tie "We Got the Beat" to Arcadia's underlying spiritual motivations stays undeveloped. ("Vacation" and "Mad About You" don't escape such a literal fate, though it's not so bad). But to be honest, any '80s pop group's songs could fit into Head Over Heels. I imagined more poetic yet more riskier commercial proposition New Order, but who am I to deny this light-spirited Elizabethan tumble's irresistible, singalong affability? Go-Go's, I turn to thee.    
HEAD OVER HEELS
Through May 6
Curran Theatre, SF. 
Tickets and more info here.