The mayor's race got even tighter with today's results, and now Mark Leno is only ahead by 114 votes in the ranked-choice tally.
He remains ahead largely because of the strong Jane Kim vote; Kim picked up about 5,000 more votes in this round of counting, more than Leno, who picked up about 4,800. Breed picked up about 6,500.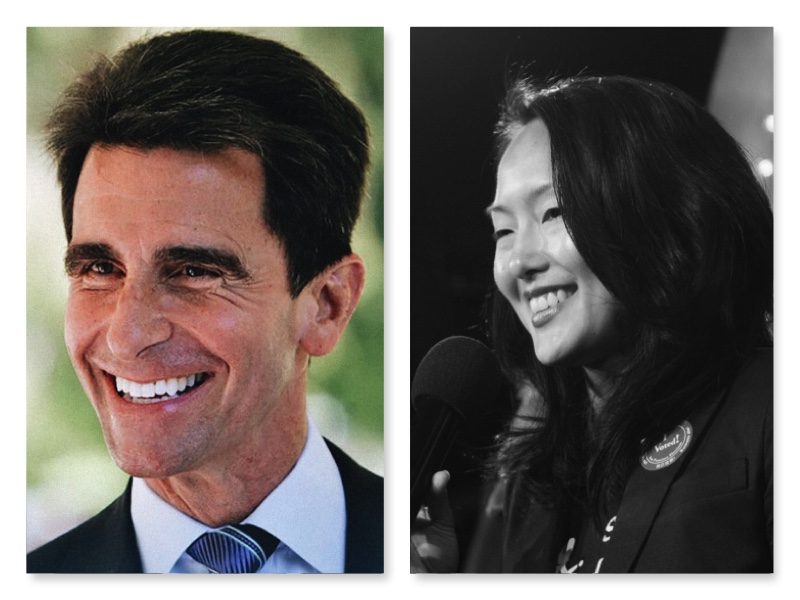 The vast majority of Kim's second-place votes are still going to Leno.
From the Department of Elections:
Today's report includes 19,000 votes that were tallied since yesterday's report.  The additional votes are from approximately 6,000 ballots that the post office delivered to the Department on Election Day.  Also, votes from approximately 13,000 ballots that voters dropped off at polling places are included in today's report.

The Department continues to review approximately 64,900 ballots for processing.  This total includes approximately 51,000 vote-by-mail ballots and an estimated 14,000 provisional ballots. 
Overall, so far, the late VBM ballots have broken somewhere between the early VBMs – which had Breed in the lead – and the Election Day vote, which left Leno ahead by more than 1,200 votes.
I got some interesting data from Corey Cook, former USF political science professor who now runs a program in Boise. He's been following the race from there, and sent me the following (based on yesterday's numbers, but you get the point):

Total Pct

 

Breed First

35.8%

Leno First

25.7%

Kim First

22.7%

Alioto First

7.5%

Has Breed

62.1%

Has Leno

65.6%

Has Kim

57.1%

Has Alioto

32.1%

Pct of Candidate's First Place Votes

Leno votes to Kim

24,087

57.3%

Leno votes to Breed

13,917

33.1%

Breed votes to Leno

23,169

39.6%

Breed votes to Kim

16,046

27.4%

Kim votes to Leno

27,518

74.2%

Kim votes to Breed

8,381

22.6%

Slates with All Three 

BreedLenoKim

4.7%

LenoKimBreed

4.6%

BreedKimLeno

4.0%

KimLenoBreed

3.8%

LenoBreedKim

3.2%

KimBreedLeno

2.1%
 While the Chron continues to attack RCV and say that Leno could be elected with only 25 percent of the vote, look at the actual ballots and you see a very different pattern.
Leno is actually on top in terms of the number of people who listed him as one of their three choices – he's got 65 percent. Breed is on 62 percent of the ballots, and Kim on 57 percent.
Help us save local journalism!
Every tax-deductible donation helps us grow to cover the issues that mean the most to our community. Become a 48 Hills Hero and support the only daily progressive news source in the Bay Area.
Very, very few voters put all three names on their ballot.
You can also see that far more Kim voters put Leno Number Two than Leno voters did for Kim. Which means that if the numbers change and Kim winds up in second place, Breed will win easily.
Here's a map from Jim Stearns that shows where the remaining VBM votes are. The darker areas are places where there are more VBM votes. You will note that a lot of them are in the center of the city, which tends to be more progressive.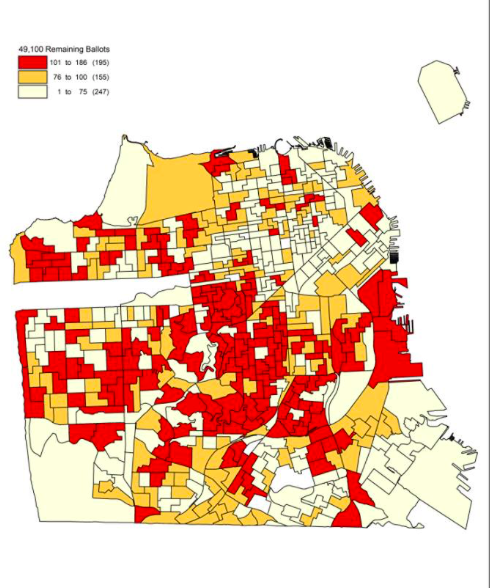 If anyone can read these numbers and predict who the next mayor will be, you are smarter than me.