London Breed is now in the lead in the mayor's race, by 498 votes.
The Department of Elections counted 23,000 more votes since yesterday, the biggest daily tally since Election Day, and the pattern we've seen has continued:  Breed is getting more first-place votes than Leno, by a fair amount (she picked up about 8,000, Leno about 5,000; Kim, however, got 6,000 more votes, and her second-places continue to lean heavily to Leno).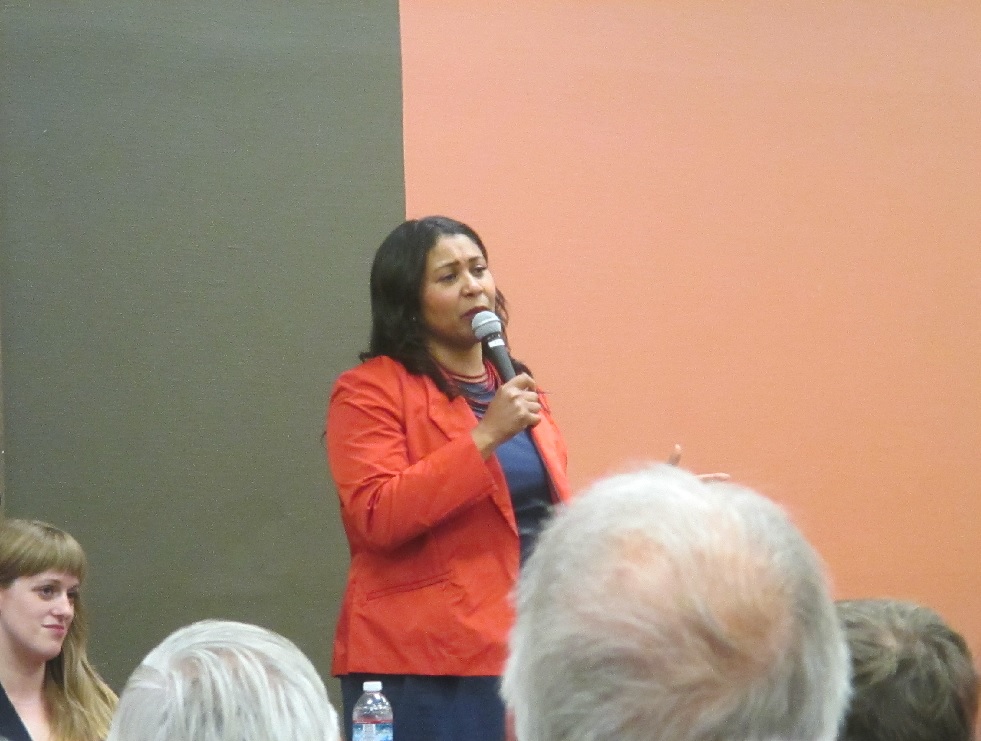 From DOE:
The Department continues to review approximately 42,000 ballots for processing.  This total includes approximately 28,000 vote-by-mail ballots and an estimated 14,000 provisional ballots. 

The Department received 16,000 vote-by-mail ballots from the post office on Election Day and after including nearly 3,000 of these ballots in today's report, all of these envelopes have been open and the cards have been processed.  However, any cards that require manual review from this group of cards would still require another processing stage. 

Last night before midnight the United States Postal Service allowed Department personnel access to the main postal facility on Evans Street to obtain late-arriving vote-by-mail ballots.  The Department obtained 150 vote-by-mail ballots, 40 of which were postmarked on or before Election Day and can be processed.

Voters delivered approximately 44,000 ballots to polling places on Election Day and approximately 5,700 of those ballots remain to be processed.

Voters also cast nearly 14,000 provisional ballots on Election Day and these ballots will not be processed until next week.  

Additionally, the remaining unprocessed ballots consist of approximately 3,000 vote-by-mail ballots that voters delivered to City Hall Drop-Off Stations on Election Day as well as approximately 3,000 ballots cast at the City Hall Voting Center.
Mission Local says that the provisionals "are expected to slant heavily to Leno and Kim." I think that depends in part of how many of them are people who registered to vote on Election Day – which I think will be mostly Kim and Breed supporters.
Jim Stearns, who worked on the Leno campaign, posted a map on Facebook showing that many of the votes counted today came from the west side of town: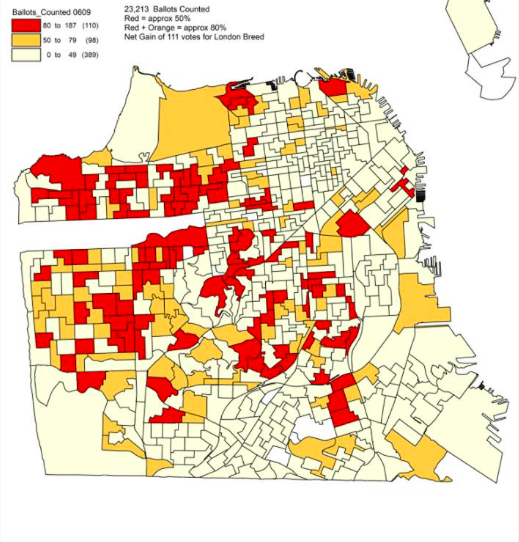 On the other hand, the majority of the remaining VBM ballots are from areas where Breed has done well: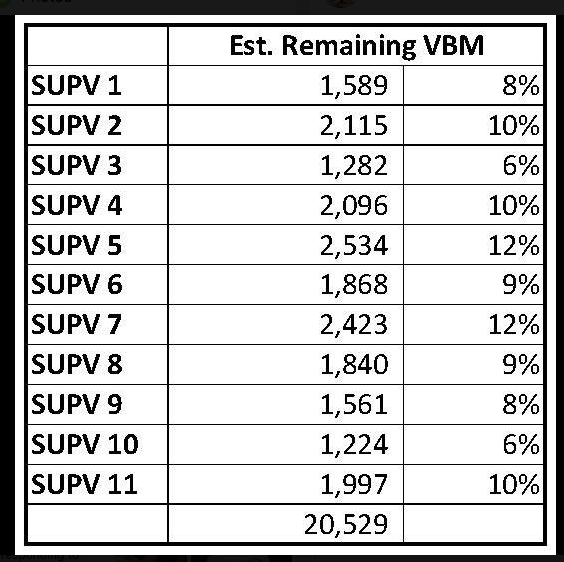 This is by no means over. But if the pattern that we have seen in the past couple of days continues, then Breed will be in a strong position when the provisional ballots are counted at the end.
By the way: If you are wondering why this takes so long, it's because so many people vote by mail -– and drop those ballots off or send them in right around Election Day. Those all have to be hand-processed.
You want quicker results? Send in your ballot early, or vote at your precinct.