ART LOOKS The work of 20th century surrealist Belgian painter Rene Magritte's,with its iconic green apples and men in bowler hats, invites the viewers question reality. Perhaps his most famous work, from 1928-29, is a painting of a pipe, with the words, "This is not a pipe" over it.
But you'll find something beyond his more well-known philosophical conundrums at the San Francisco Museum of Modern Art with Rene Magritte: The Fifth Season (through October 28).
This exhibit—exclusively shown at SFMOMA—focuses on Magritte's later work. There are plenty of apples and bowler hats, yes. But there is also a vase of flowers colored with the sugary pastels of Renoir, a giraffe inside a wine glass, and a group of pigs eating themselves. 
When Germany occupied Belgium in the '40s, Magritte rethought his whole way of painting and started what was called his "sunlit surrealism" period, using the atmosphere and tones of Impressionism. 
He had good reason to question surrealism, says Caitlin Haskell, who curated the show for the SFMOMA before being whisked away by the Art Institute of Chicago to be curator of International Modern Art there. 
"The objectives of surrealism were basically causing confusing and disorientation," Haskell said. "It sort of felt like the Nazis had already done that, and life was confusing and bewildering enough."
Haskell has been thinking about this show for years. It started with a piece in SFMOMA's collection, Personal Values, which shows outsized day to day objects—a bar of soap, a comb, a shaving brush and a match in a room with wall of cloudy sky. Haskell says this painting is an example of how Magritte using clarity to develop mystery.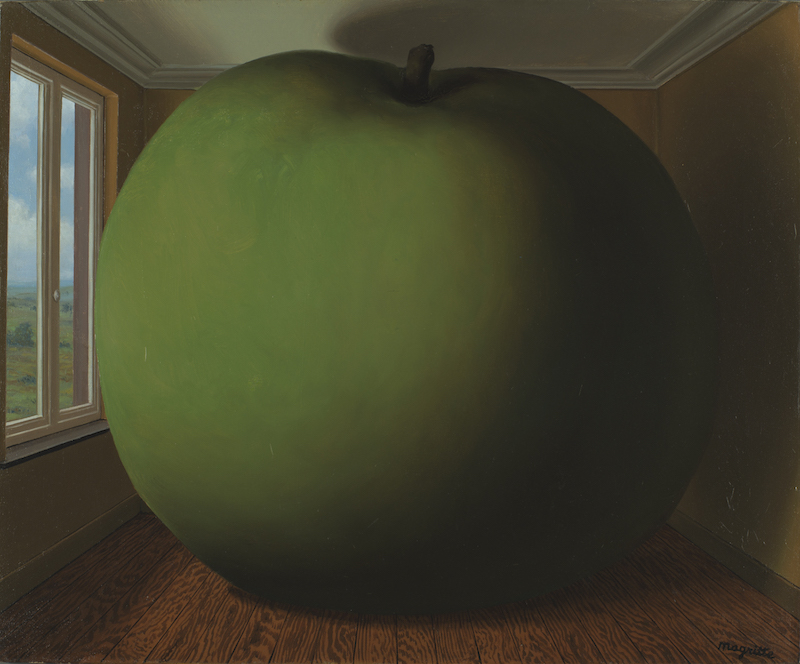 The show contains nine galleries of the artist's work, with 20 works that have never been seen in the United States. It starts with his sunlit surrealism period and his vache paintings, which use bright colors and loose brushwork similar to Fauvism and Expressionism. The exhibit also contains his "hypertrophy" paintings, where the scale of familiar objects in altered, such as in Personal Values. In The Listening Room and The Tomb of the Wresters a green apple and a red rose, respectively, fill the whole room.
Magritte's bowler-hatted men that he is so associated with also make an appearance, standing under a sliver of moon, made out of a cloudy sky or of tree leaves. In The Son of Man, one stands with a suit and tie and hat, a green apple obscuring his face.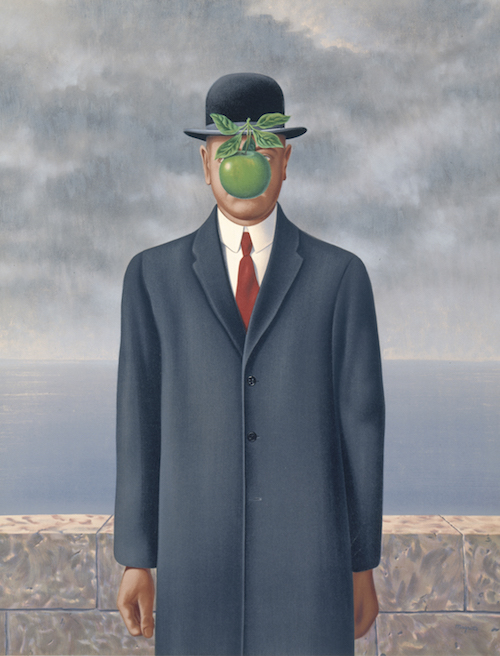 The Fifth Season means to immerse the viewer in Magritte's work, and that is most evident in two rooms, The Enchanted Domain and The Dominion of Light. The first contains Magritte's largest work, a 360-degree panorama, which he did for a circular room in the Grand Casino in Belgium, which include two apples wearing masks, a lion with a garland of flowers, and a half-person, half-fish sitting on a rock in front of a ship.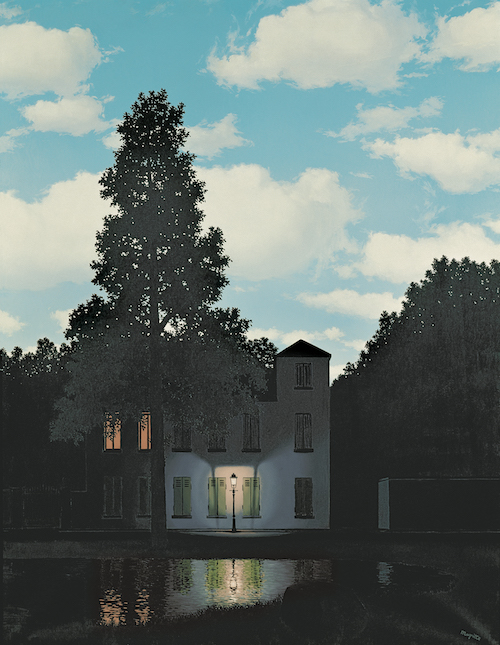 Magritte made more than a dozen variations of his Dominion of Light paintings between 1949 and 1964. At first glance, they look like twilight scenes, but then you realize they are night landscapes with a sunny sky of the daytime. Since the artist died, no more then two have been exhibited together, but six of them hang in this room, so viewers can experience them as a series. 
The final gallery contains gigantic floating boulders, the shape of a bird containing sky, and nests with eggs. That Magritte. He used humor. He used unsettling images. He presented alternative universes to make us think about what's real and to wake us up a little to our surroundings and our world. 
RENE MAGRITTE: THE FIFTH SEASON runs through October 28 at SFMOMA.
More info here.