I remember her most on the Eagle patio, where she singlehandedly rescued a generation (or two) of leatherfolk from succumbing to the afternoon-long beer busts in full sun.
First the word would go out: "The Tamale Lady's here!" Then in she would trundle, pulling her red wheeled-cooler behind her, undaunted by the fanny-flashing chaps and extended makeout sessions roiling all around her. We'd flock to her, downing the pollo, verduras, or whatever she had on offer, waving our little forks excitedly  and wiping the sauce off our fingers, smiling back at her as she fished for change. "Honey, you look like you need another one," she'd say, poking me in the ribs while I giggled like a Pillsbury doughboy who hadn't really eaten in three days.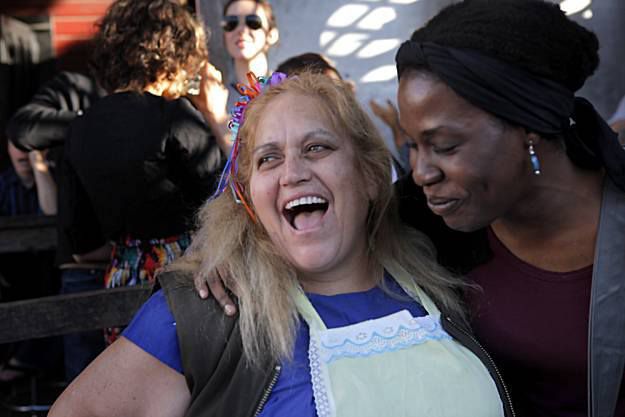 One specific memory, probably my favorite of all San Francisco memories. After she'd fed us, she would hang out, cajoling, smiling, resting: Once under an early full moon, the cigar-smoked air turning lavender, a strapping leatherman swept her up in his arms and they danced a slow tango to Grace Jones' 'La Vie en Rose.' Probably no more perfectly sweet moment to be had in this city's resilient subbaculture.   
Virginia Ramos, aka the Tamale Lady, has passed away at the age of 65, and memories like the above have been pouring out online in honor of the San Francisco icon. Before gourmet food trucks, before even bacon hot dog carts, treading through SoMa, Mission, and Market bars like Lucky 13, El Rio, Virgil's, and Zeitgeist, Ramos dished out sustenance and zingers, plus a whole lot of hugs to thousands of nightlife denizens. 
Recently the city had rallied to her side after she was banned from selling her home-cooked goods on the street, raising money to secure a brick and mortar spot she could officially be licensed. it seemed she was on the brink of finally opening it, after red-tape delays—when she passed. (And this week, Jerry Brown signed a bill that would make it easier for home kitchens to be licensed.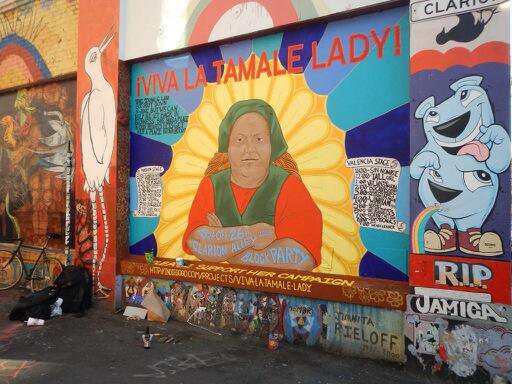 The Tamale Lady was a true friend indeed, a symbol of the crazy-good diversity of the San Francisco nightlife scene, a uniter of so many different, yet hungry, scenes, many of which have vanished as well. We'll miss her dearly. Thoughts go out to her family. Viva la Tamale Lady.