For the second time in as many months, presidential hopeful and South Bend, Indiana Mayor Pete Buttigieg made an appearance in San Francisco.
But unlike his last stop through the city, when he spoke at Manny's cafe in the Mission, this trip came after a breakout CNN appearance that significantly boosted his profile and campaign donations.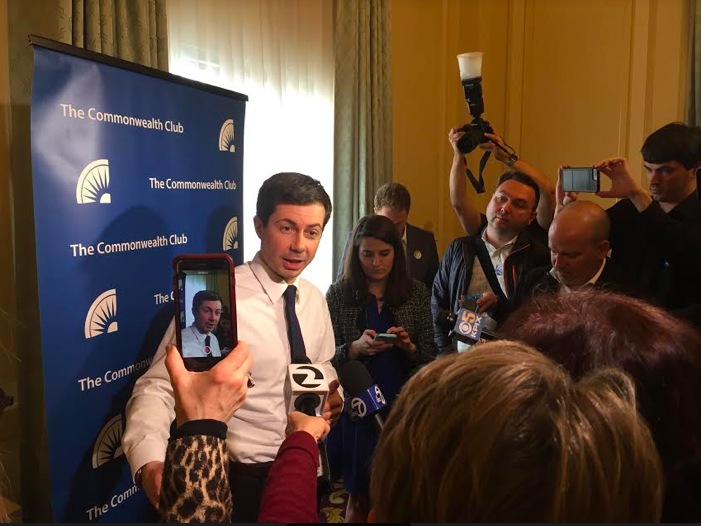 "I'm a little surprised by the pace of it, if only because it happened so suddenly after the CNN Town Hall event," he told reporters before taking the stage at a Commonwealth Club event Thursday evening. "What I had to say that night what was no different than what I say everywhere I go. It just goes to show that it makes a difference when you get in front of a lot more people."
Despite the uptick in momentum, Buttigieg admitted his campaign website was still just a "splash page" with no policy statements. Visitors can read a brief bio, see a list of upcoming events, buy t-shirts, and – of course – donate. But that's it. He said a new site is under construction.
"Although it shouldn't be hard to figure out where I stand on most policy issues simply by searching the commentary that I've done in public," he said.
The event sold out weeks ago, with would-be attendees posting to the Facebook page hoping for space tickets. "Pretty please?" one wrote. Someone else offered $100.
In contrast to last month's appearance at Manny's, Thursday's audience was dressed as you might expect for a Commonwealth Club event: Lots of suits, blazers, crisp dress shirts, sweaters. Premium ticket buyers were treated to wine and hors d'oeuvres.
One attendee, Aashrey Kapoor, said he was initially drawn by the curiosity of a mayor running for president, but came to view him as the most insightful candidate in the race. He didn't expect to hear anything new but wanted to see how well Buttigieg interacted with a large crowd.
"I think I've heard all of his general talking points, I know what he's going to say," Kapoor said before the event. "I don't necessarily agree on all of his positions. I just like the guy."
At 37-years-old, Buttigieg would be the youngest person to hold the office. Kennedy was 43 when elected, and Theodore Roosevelt was six weeks shy of his 43rd birthday when he assumed office after William McKinley's assassination. More recently, Al Gore was 39 when he ran for president the first time in 1988.
Buttigieg would also be the first openly gay president. He came out, even to his family, just four years ago as he was running for re-election as mayor. He won with 80 percent of the vote.
"I'm proud of my husband and our marriage. It might just be the most normal thing in my life," he told reporters. "He'll be on the road with us quite a bit – both because I love to be around him, and because he's a real asset in introducing ourselves around the country."
Buttigieg declined to speculate on how well he might fare in the California primary against Bay Area local Kamala Harris. "I don't think I'm running against any individual person, especially when there's something like 20 of us," he said. "I think somebody like me is really competing against the house."
"I admire a lot of the other people in this process," he added."Each of us has a different message, and you simply have to take it out there and see what the response is."
Buttigieg said he didn't pretend to have invented any of his policy ideas, but viewed his role more as helping them gain purchase.
As president, Buttigieg said his top priority would be democratic reform to address dark money, voting rights, redistricting, and even the electoral college, which he said "needs to go."
"Every policy issue – of which I believe the most urgent is climate – every one of those will not get solved properly as long as our democracy is this twisted," he said.
In response to audience questions about the homeless crisis in San Francisco, Buttigieg said he supported adding $11 billion to existing programs he said are known to work, such as permanent supportive housing.
"It's a big number, but it's also not, in the grand scheme of things," he said.
Perhaps the most radical proposal he discussed were changes to the Supreme Court to make the body less political by increasing the number of justices from nine to 15. Ten of those would be selected through the current political process. Those ten would then need to reach unanimous consensus on who to put in the remaining five seats.
"It will get you more of your Kennedys, your Souters, your justices who think for themselves," he said.
But he isn't locked into the idea as the only way forward.
"There may be another approach I haven't thought of," he said. "But the point is we have to open this discussion."