[Editor's Note: This review has some spoilers, but hey—it's a 40-year-old play.]
ONSTAGE The first act of revered musical Falsettos—the touring 2016 Broadway revival stops at Golden Gate Theatre through April 14—is a fascinating study in nostalgia. The cast is stunning. The production is nifty. The music is driving. The characters are terrible.
It's 1979, somewhere in Manhattan. (This part of the play, "March of the Falsettos" debuted Off-Broadway in 1981). After the rousing, if a bit dusty, opening number "Four Jews in a Room Bitching," we're plunked down into the company of five people riding out one heck of a tizzy.
Marvin (Max von Essen) has left his wife, Trina (a wonderful Eden Espinosa) to be with Whizzer (Nick Adams), a younger, preppy hustler type. Trina and their intelligently depressive young son, Jason (Thatcher Jacobs, miraculous, alternating performances with Jonah Mussolino) are not taking this gay turn well at all. Jason obsessively plays chess and sings "My Father's a Homo." Trina blames herself. Marvin—who selfishly yearns to forge a unique family structure where everyone loves him no matter what—suggests Trina see his therapist, the lecherous, hacky Mendel (Nick Blaemire).
Mendel falls in love with Trina after a session, and uses his intimate knowledge of her gained from Marvin to seduce her. Mendel then befriends her son Jason after becoming his therapist, too, and the three form their own family unit, stoking Marvin's jealous rage. Marvin's relationship with Whizzer is already physically and emotionally abusive, they break up and now Marvin turns on Trina. He hits her in front of everyone. But suddenly, whiplash-like, everything seems fine, and Marvin and Jason share a syrupy bonding moment straight out of '80s sitcom Love, Sidney.
Confused? That's because it's hardly believable. Who does this? Who does any of this? Probably not people you want to spend a lot of time around. The avalanche of married "straight" men coming out in the wake of Stonewall is a great theme, yet nothing close to politics, or even liberation, is hinted at here. An ingenious foam construction-block set, manipulated throughout by the actors in tight-knit choreography, and the momentum of the musical score helped pull me through. But wow, I had a lot of questions. Not least: Why do gay people love this play so much?
Some clues. Composer William Finn may have Stephen Sondheim's Company sitting heavily on his shoulder, but his wordplay and phrasing is top-notch. Showstopper "I'm Breaking Down," in which Trina regrets her life trying to be a perfect housewife, is so soaring you feel the metaphorical rafters shake. And of course, in 1981 this was all pretty novel stuff, though Off-Broadway was hardly prudish at the time. (The play's one big pitch at Off-Broadway avant-gardism is the head-scratching "March of the Falsettos" number, which here weirdly outfits the male cast as breakdancing neon Oompa-Loompas and attempts to plumb the neuroses of white upperclass men.)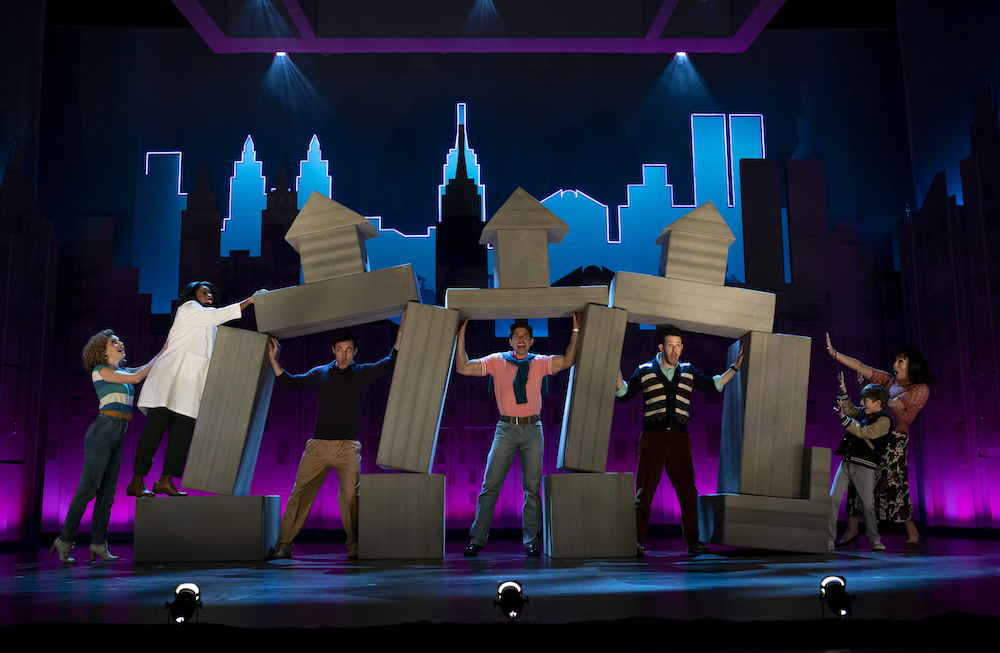 Yet a thick veneer of amber coats the enterprise, despite the glimmering performances. I couldn't help feeling I was trapped with these yuppies and their boring problems. Then, blammo, the second act hits and things perk right up.
This part, called "Falsettoland," debuted nine years after the first part, and it's broader, cannier, and much more enjoyable. Here, Finn and Director James Lapine, who collaborated on both acts, seem miles more confident in their story: the fourth wall gets broken, the live band is acknowledged, and the music ramps up. The fuzzy therapist Mendel is transformed into a fun family man. The grating relationship between Marvin and Whizzer gets a tender, and actually sexual, second chance. Set pieces like a baseball game (immortally known as "Watching Jason Play Baseball") and a squash match (shades of another gay yuppie classic, Terrence McNally's "Love! Valour! Compassion!") showcase the actors' chops.
Best, the lovable lesbians next-door are introduced, bringing much-needed levity and good will. Dr. Charlotte (Bryonha Marie Parham) and her caterer girlfriend Cordelia (Audrey Cardwell) sweep in dancing and the audience cheers. Suddenly we like everyone onstage, and they like each other. The action revolves around planning Jason's bar mitzvah, and in the details the play shows us the sunny possibilities of an enlarged, alternative family, the kind Marvin originally tried to force.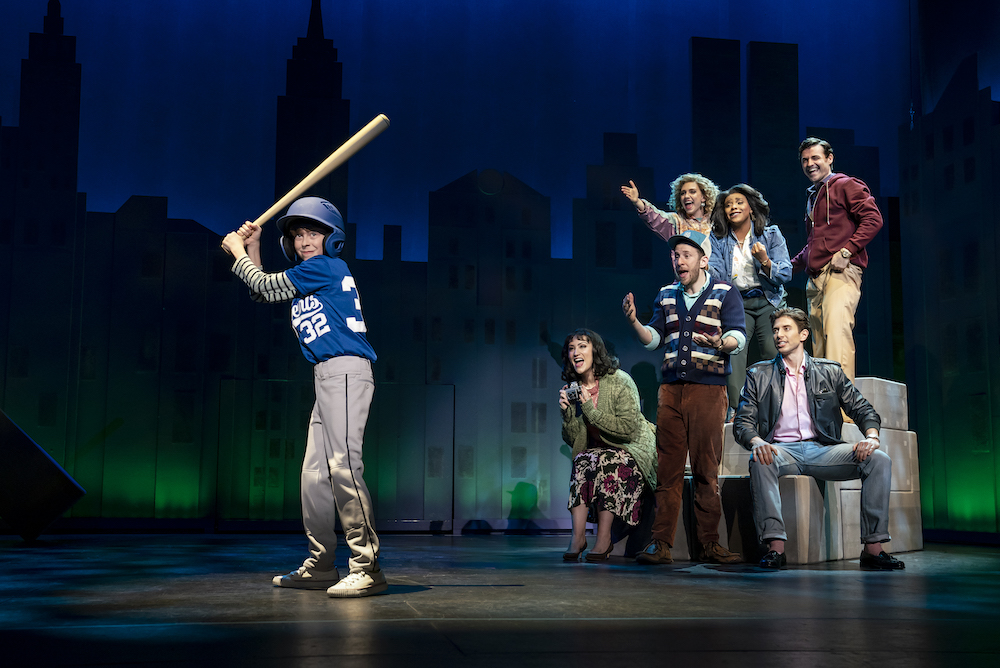 But you don't think a gay love story from the '80s won't end in tears, do you? Alas, all too swiftly and predictably, Whizzer starts getting mysteriously ill. Before you know it he's on his death bed in Dr. Charlotte's hospital—she sings "Something Bad is Happening," running down the early rumors about what was then called GRIDS, and a shiver runs through the proceedings. Whizzer tries desperately to hold on through Jason's bar mitzvah, but he doesn't make it. The final moments of the play are a touching act of spiritual confluence and reconciliation.
Look, I wept, as did everyone around me. But afterwards I was pissed. Whizzer's death seemed like a bit of emotional manipulation straight out of a soap opera, no matter how expertly delivered. The tragedy wasn't earned. For anyone who lived through the epidemic's long height, you could probably have Peter Theil die onstage of AIDS and you'd trigger tears. Throw a Kaposi's Sarcoma lesion up on a Rick and Morty character's face and I'll break down. Falsettos debuted on Broadway in 1992—Angels in America by Tony Kushner was already in production and managed to make even a dying Roy Cohn sympathetic. Larry Kramer's The Normal Heart, set during the same time period as Falsettos, ran at New York's Public Theater forever in 1985 and made AIDS a shriek against the whole unjust, uncaring system.
And maybe there's the rub. Falsettos gives us AIDS in a comfortable vacuum. Absolutely no politics touches this play—let alone gay culture in general: Imagine a New York gay couple in 1982 playing squash instead of going out dancing, or not even making one single Bette Davis reference. And does Whizzer's death mean doom for many of the other characters, too? The play stops short of bringing anything like that up at all.
The lack of any agenda or connection to outside events might seem refreshing in these politics-drenched times. In fact, I suspect that's why white liberal audiences loved this revival enough to shower it with Tonys. (The opening night crowd was certainly a demographic.) Maybe it's a chance to re-enact a mourning ritual without those pesky nagging voices urging action and self-examination. AIDS is still happening. In any case, without at least a brush of relevance or urgency, Falsettos ultimately just squeaks by.
FALSETTOS
Through April 14
Golden Gate Theatre, SF.
Tickets and more info here.