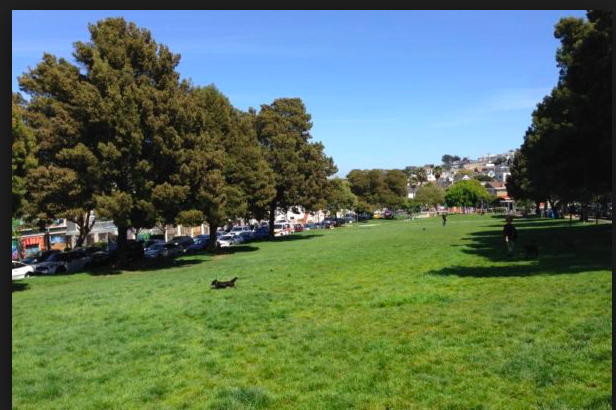 The number of San Francisco people living in cars, vans or other vehicles has increased by a whopping 45 percent in the last two years. That's the major takeaway in the depressing new report about the big leap in the city's homeless population.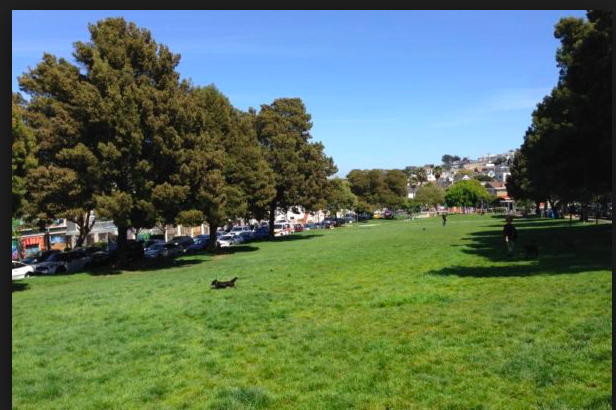 Last week, this homeless-on-wheels human drama struck my own life. I was strolling with my dog Brando in Precita Park, where I can let him romp off leash when the park is mostly unoccupied. Suddenly I heard some angry shouting along the street that borders the north side of the park. A shaggy, gray-haired, bearded gentleman, who looked like a veteran of San Francisco's legendary past, was angrily yelling at a younger man who stood a dozen feet in front of him, implacably filming the irate elder on his smart phone.
"Why are you filming me? What right do you have to do that, you little fucker?" Actually, the smart-phone dude was filming not just the fuming older man, but also his colorfully-painted van, whose exterior was blossoming with psychedelic flowers. It was clear that the gray-haired man was living in his hippie van, which was parked alongside the park. And as I quickly surmised, the smart-phone videographer lived somewhere nearby and objected to the older man's temporary residence in the neighborhood. It seemed he was filming the van and its occupant in order to report him to the authorities.
I've lived in the neighborhood with my family for more than 25 years, and I have a good feeling for the park area and its regulars, but I didn't recognize Mr. Smart Phone.
Meanwhile the gray-haired man was still venting. "I'm not doing anything wrong, I'm not bothering anybody — this is my city!" he yelled at his video stalker. "Your daddy and mommy probably bought you your house, or you bought it with your IPO money."
Mr. Smart Phone didn't flinch. He merely climbed up on the park grass from the street and kept filming his target from a different angle. He was strangely impassive throughout the loud encounter, as if he were coding at his computer. He wore glasses and fashionably informal slacks and shirt, and he looked to be in his 40s. But at one point, as the confrontation seemed to reach a climax, Mr. Smart Phone made a threat — in a taut voice — to go back to his house and arm himself with something.
It was at this explosive point that I intervened in the drama. I tend to do that sort of thing; I'm the impulsive type and I want street justice to be served. Standing at my office window in the old SF Examiner building at Fifth and Mission, I once saw someone stab a man in the stomach on the corner below. And without thinking, I ran down the stairs and chased the assailant into a nearby parking structure, and pointed him out to the police. Call me a good citizen, or a fucking idiot…maybe a little of both.
Anyway, I inserted myself into the park standoff. "What's going on?" I asked. "What's the problem?"
Mr. Smart Phone sized me up — an elderly, decently-tailored gentleman with a walking cane — and thought I would immediately be on his side. He walked towards me and started to complain about how the gray-haired man and his hippie van were parked overnight on the street.
"Okay," I said, "but why are you surveilling him?" It was a loaded question for Mr. Smart Phone. He knew "surveillance" was still not totally cool in San Francisco. As he was continuing towards me, his jaw hardened and his eyes grew cold. He said nothing. So I asked him another question, even though I knew it would be even more provocative. Like I said — I'm an idiot. We live in times when even the most everyday altercations can turn deadly. But I couldn't keep my mouth shut.
"I'm curious — I've lived in this neighborhood for a long time and I don't recognize you," I said. "How long have YOU lived here?" Since he was applying residency standards to the man in the hippie van, I thought it was a legitimate question. But Mr. Smart Phone didn't. "Fuck you!" he exploded, just a few feet from my face. Here I was trying to calm things down and they were quickly spiraling out of control.
Just then a neighbor whom I'll call Maria, whose fluffy little dog often plays with Brando, came to the rescue. "Why are you bothering people with your phone?" she bravely asked the menacing man. "We don't like that sort of thing in our neighborhood." And with that show of neighborhood solidarity — that clear expression that Mr. Smart Phone was violating our more tolerant community standards — he sheepishly backed down and walked away.
The hippie van-owner then hurried over to Maria and me and thanked us profusely for our intervention. "This gives me hope about out city," he said. "You can't treat people the way this dude was treating me — like I don't belong here, like I don't have a right to exist. I've lived in San Francisco for 35 years. I was a social worker, but I lost my home. I'm only going to park here for a couple more days, then I'm leaving the city."
As we kept talking, he figured out who I was and that I had authored Season of the Witch— a book he said he loved. He ran to his van to retrieve a copy of his own recently published memoirs, which he kindly gave me. What had been an ugly incident in the park — one that exposed the current clash of values in San Francisco — had suddenly turned into a literary love-in.
"Can I hug you two?" asked my fellow author. And he, Maria and I all had a nice group hug in the park.
He then returned to his brightly decorated van — a vehicle, ironically, that could be used by one of the many San Francisco tour bus lines that charge steep prices to carry nostalgic tourists up and down the city's majestic hills in hippie vans.
The afternoon drama ended on a somber note. Before Maria and I parted company, she told me an unsettling story. The 30-something woman immigrated years ago from Latin America to the Mission, the city's traditionally Latino district. Yet even here, she is sometimes treated as an outsider. 
"I know how that man in the van feels. The other day I was walking my little dog and she peed against a tree on the sidewalk. A woman came out of her house and began screaming at me, even though the tree was on public property."
Maria began to explain to the woman that this is what dogs do, in a voice that still carries the accent of her birthplace.
"Go back to where you came from!" yelled the furious woman at Maria.
We all came from somewhere else, except the indigenous peoples whose land we stole. That's what I would like to tell that woman. 
And here's what I'd like to tell Mr. Smart Phone if I ever see him again (although I should probably keep my mouth shut). Anyone who's lived in San Francisco for many years and has given the city his or her blood, sweat and tears (of joy and sorrow) deserves to stay here, even if they're forced to sleep in their hippie vans. The city belongs to these people more than it does to you. It should be their sanctuary, a space unviolated by entitled, snooping people with smart phones.