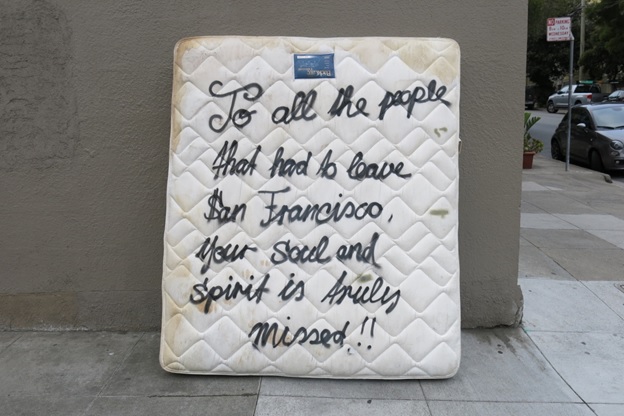 The biggest takeaway from the disturbing (but not surprising) new homeless-count numbers is not that there are more homeless people on the streets. We all know that.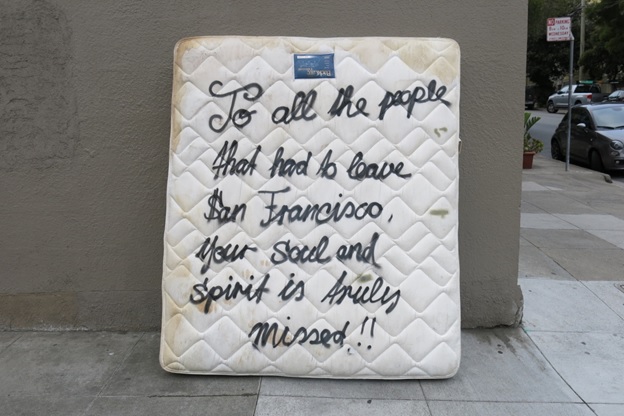 It's this:
Mayor London Breed says she is doing everything she can, and has "made progress:"
She said she has several plans in the works to step up the city's homelessness efforts, including opening 304 new shelter beds and 300 more units of permanent supportive housing this year. She's also proposing a ballot measure for a $500 million affordable housing bond, and supports rezoning efforts to allow higher-density, more affordable housing.

"There's not just one thing that's going to fix this," she said. "I know this count will discourage a lot of people, but it's important to remember where we were last year. Last year you saw a lot of big tent camps — like at 13th Street, and now we have a beautiful Navigation Center (shelter) there. We've helped 1,200 people out of homelessness since I came into office. We have made progress."
And yet, from the head of the Department of Homelessness and Supportive Housing:
Kositsky said city tracking data show that for every person who exits homelessness, three fall into it. Santa Clara and Alameda counties also are showing similar trends, and, bolstered by a Bay Area Council report issued last month calling for more regional cooperation on homeless efforts, planners across the Bay Area are trying to do that.
Actually, the Bay Area Council is doing nothing to address the root problem. Neither, so far, is Breed, or any of our state legislators.
The problem is that, without a major dedicated revenue stream, we can't build supportive housing fast enough to keep up with the evictions and displacement that the tech boom has caused.
You want root causes? The Twitter tax break, Airbnb, the Google buses – all of those policies have driven longtime residents out of their homes. Remember: 70 percent of homeless people in San Francisco used to have a home in San Francisco. But the influx of high-paid tech workers to a city that already had an affordable housing crisis – and the greed of landlords and speculators – have pushed thousands onto the streets.
Breed had a chance early in her administration to make a big difference. She could have supported Prop. C, and it would have passed with a two-thirds vote, and that money would now be dedicated to building supportive housing. But she didn't.
Now the Prop. C money is tied up in the courts while the homeless population that could have been helped — right now, today — continues to swell.
Breed's $500 million housing bond is barely going to scratch the surface of the problem: That much money might, with state and federal matching funds, build 1,500 units of affordable housing. In three years or so, when that comes on line, 1,500 people who are now homeless will get a chance at housing
And 4,500 more will have become homeless.
The Bay Area Council could actually do something about this. It's a powerful organization with a lot of big-business support. Breed could help. Sen. Scott Wiener and Assemblymembers David Chiu and Phil Ting could help. Gov. Gavin Newsom could play a huge role.
What they could do is make it clear that the state Legislature needs to do two things: Spend a significant amount of the budget surplus on affordable housing – and repeal the Ellis Act and Costa-Hawkins.
There is no housing solution that doesn't start with giving cities the ability to protect existing vulnerable residents from eviction, displacement, and homelessness. The cheapest affordable housing in San Francisco is the existing rent-controlled housing stock – and protecting those renters is central to any move to address homelessness.
As long as landlords have an incentive to evict longtime residents, and speculators can buy up apartment buildings and evict everyone to flip them as TICs, homelessness is going to be growing.
I have had many discussions of late about Wiener's SB 50 and the need for more housing density. The problem is that more housing density doesn't translate into more housing affordability – and in some cases can translate into displacement. And I always wind up with the same question:
Why does Sacramento want to put more mandates on cities to allow private-market development – and yet refuses to give cities the tools to handle the impacts and prevent the resultant displacement of existing vulnerable communities?
Here's a concept for Wiener: A lot of us are willing to accept more density (if the money for transit and infrastructure comes with it). But first we want a guarantee that there's adequate affordable housing in the mix of new construction — and that low-income and working-class people who live here now get to stay.
Either the state gives cities the right to prevent evictions and impose real rent control — that is, more housing regulation, not deregulation — and pays for real affordable housing, or the tech companies leave and go somewhere else … or homelessness will keep growing in San Francisco and the Bay Area. And no amount of navigation centers or shelter beds or modest bond acts will change that.