Nearly every day the writers made changes to the script of The Good Book, says Lance Gardner, a cast member of the play. Lisa Peterson co-wrote the production with Denis O'Hare — Peterson also directs the play currently at the Berkeley Repertory Theatre. It made rehearsing difficult, but it was also one of the most enjoyable things about his experience.
"I liked all those discoveries being made in the room," Gardner said. "It's a lot of thinking on your feet and a lot of hard work figuring it out, but it's fun to look back on."
The story, as you may have guessed from the title, is about the Bible—quite a big subject. O'Hare, a Tony Award winner, and Peterson, who's won an Obie Award, took on another big influential book several years ago with the play An Iliad, which also came to Berkley Rep.
Gardner says O'Hare was often at rehearsals, and when he left to be in a play in London, he and Peterson communicated daily.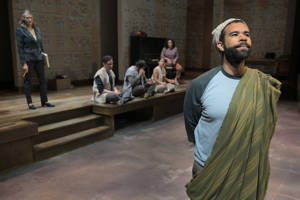 "All the script changes had to be signed off by both of them, and each had an idea of the story they wanted to tell and the way in which they wanted to tell it," Gardner said.
The play takes on the story of how the Bible was created. Gardner said he was a little worried going into rehearsals.
"It's a complex book, and I'm not a Bible scholar—I've read some of it, but nothing was fresh in my mind," he said. "But Lisa as a director knows what she wants to do and has a strong guiding hand, and I trust her."
Gardner said the script interested him because he'd never seen one like it, following one main character, Miriam, a Bible scholar and an atheist, in current time, and another one, Connor, throughout various stages of his life—from a little boy obsessed with the Bible, interviewing its characters on a recorder in his room, to a bullied teen, to an insecure college student, to a man who has made peace with his belief and identity. The other actors play a multitude of characters. Gardner, for instance, portrays King Solomon, Apostle Paul, a Bible salesman and Connor's dad, among others.
"It has an interesting structure," he said. "It was clearly written by two people who are very smart and who have really done their homework."
Gardner said a couple scenes he was in in the play stand out to him—one in which he plays Apostle Paul and one where many members of the cast are at Princeton University working on the New Revised Standard Version (NRSV) of the Bible, and debating over things such as "Man does not live by bread alone" versus "One does not live by bread alone."

To play multiple characters as he does in The Good Book takes a lot of focus, Gardner says.
"Sometimes in short scenes it's hard to settle," he said. "It's a lot a lot of fun, but you need to be very precise and really present."
Along with acting, Gardner does radio broadcasts at KALW and has a podcast about theater. Working with radio has given him a different perspective on storytelling, he says, and he hopes to bring some of those tools to the theater via documentary journalism or radio plays.
THE GOOD BOOK
Through June 9
Berkeley Rep
Tickets and more info here.