The enduring obsession with '80s music isn't difficult to explain, according to Astrid Plane.
Animotion's founding frontwoman, who, along with her band, racked up three hit singles — "Obsession," "Let Him Go," and "I Engineer" — at the apex of the New Wave era, says it comes down to musical innovation, creative style, and, of course, the launch of MTV.
"It was so innovative with the synthesizer that we were getting to make some different sounds," Plane told 48 Hills. "But we also had that edge of a whole new medium with MTV where people were able to see bands through their little mini-movies. There was a sassiness, colorfulness, and freedom that we had with the music, the bizarre clothes we got to wear, and the ability to be super creative with the look and the makeup."
Animotion, named by Plane to convey energy and motion, skyrocketed to fame with the six-piece's "Obsession" video. A tantalizing, percussion and synth-driven track about infatuation morphed into an MTV staple, thanks to acclaimed videomaker Ken Walz's kooky visual interpretation, featuring singers Pane and Bill Wadham traipsing around a Hollywood Hills mansion in a variety of movie costumes.
Eighties fans will be able to rediscover this monumental moment in music history with the Lost '80s Live show (Sun/31 at The Mountain Winery), featuring Animotion and 11 other fellow new wave acts including A Flock of Seagulls, Missing Persons, Wang Chung, Musical Youth, Real Life, The Motels, The Vapors, The Escape Club, Boys Don't Cry, Original Members of When in Rome UK, and Trans X.
I spoke to Plane about the making of the "Obsession" video, the band's breakup and makeup, and their latest album, Raise Your Expectations.
48 HILLS Animotion, which came out of your previous "retro science-fiction band" called Red Zone, was unique in that it was fronted by a man and a woman. Why did you decide to have two leads?
ASTRID PLANE [Three of us] were coming out of Red Zone, which had some really exciting elements of that wacky, zany, exciting new wave-style of music, almost a B-52s-ish vibe.
What was exciting about Red Zone was that we had a different thing going on with a male and female front person. The audience loved seeing the female-male interplay onstage, so I thought we should continue that.
In Bill [Wadhams], I found this guy that had these movie star looks and the talent of his songwriting. He had this elegance about him and I had more of the quirky wackiness and together we balanced each other in a strange way. It created this interesting oppositional chemistry.
48 HILLS "Obsession," off Animotion's self-titled debut, was the band's first Top 10 hit. Did you suspect that "Obsession" would catch fire the way it did?
ASTRID PLANE We were in the studio recording songs and someone brought in "Obsession." When I heard "Obsession," I said, "That's it. That's a hit. That is the song for us." I could see how people would like it, so we put our own stamp on it. It would burst up to the top of the charts, and we're so lucky.
48 HILLS What stands out when you think back to the making of the iconic "Obsession" video?
ASTRID PLANE I wanted to represent what I felt was an important thing to be able to share with people, that this music is for us to have fun with. But we had one day to shoot it in this amazing Hollywood mansion and a very limited budget because we were unknown at the time, so we had to call in all kinds of favors. For instance, the blue dress that you picture me in was actually a dress that I had worn to my sister's wedding the year before, and I dressed it up with tons of jewelry, an amazing belt, and that side ponytail hairdo that I'm famous for.
We also had friends who had access to a Hollywood costume supplier and so this friend of ours grabbed all these wonderful costumes like the gladiator and the samurai and the spaceman and an aviator and all those different characters. The headpiece that they got for me when I was in the Cleopatra scene, was actually worn by Elizabeth Taylor in the movie, Cleopatra. We just wanted to play and be a part of '80s-era MTV, which was so colorful and joyful.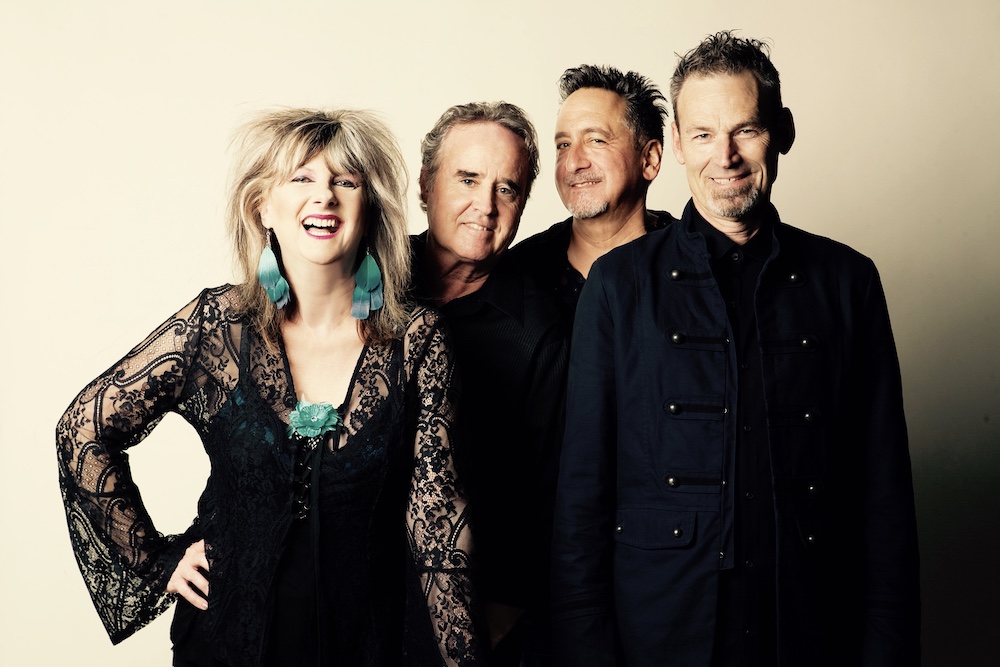 48 HILLS Within a couple of years, Animotion's original lineup would dissolve. What caused the breakup?
ASTRID PLANE There were some bad business decisions that were made and a change of management representation and all the craziness of trying to be married to five other people at the same time, especially when there are two front people with big egos.
But ultimately, it was down to all the songwriters that were trying to get involved in Animotion. Unfortunately, the record company felt like they needed to pull in every hit songwriter to make sure that we had another "Obsession." It got to the point where they wanted to put songs on our album that I didn't feel represented me at all and was not proud of. The initial adventurous, crazy, edgy stuff was all being watered down into this kind of music that I didn't want to put my name on. That was the point that I left.
48 HILLS After leaving Animotion, you married the band's founding keyboardist Paul Antonelli and had a daughter before splitting up nine years ago. What else were you doing in the period between Animotion's breakup and reformation?
ASTRID PLANE Having a child took time because I did center my life around her for the first few years of her life. But as soon as she got old enough, I decided to explore some different ways to be in front of an audience and I did local musical theatre. I was in a show called Beehive that celebrated the women of music in the '60s and I got to portray these women who broke ground before me, like Brenda Lee, Dusty Springfield, and Janis Joplin.
In between, I'd put together bands. I'm based in Central California and even have a little local band now, which is called Astrid's 80's Remix and I do a lot of covers of '80s songs. I'm also playing a baritone ukulele, and then I have an amazing guitar player and keyboardist who nails all the hooks and an amazing drummer on cajon and bass drum and percussion. We all sing and give people a heck of a time listening to these '80s favorites in a whole new way.
48 HILLS I read that Animotion reunited in 2001 for a show at the request of the 94.7 KNRK radio station in Portland. How did that play out?
ASTRID PLANE Things blew up in a very ugly way in the end where Bill and I felt that we couldn't even work together anymore. So we had not had much contact for a long time. But as it turned out, we were really lucky because we had both come to a place where we felt enough water was under the bridge where we can heal this relationship, and that's, in fact, what we did.
We went down to a restaurant, shared a beer, talked over old times, and forgave each other. But it's difficult to get along all the time, especially when you have two front people with strong egos and different ideas on how things should go. So when we had that moment to come together and pull some of the original players back together, we decided it was time. It was a very healing process and a moment of time that I was able to let go of all the hurt, pain, and regret.
48 HILLS I have to say that Animotion's renewed energy is evident on its latest album, 2017's stellar Raise Your Expectations. 
ASTRID PLANE The songs are so diverse in style and yet it all comes together. You've got the big cinematic-themed stuff that sounds like "We Don't Need Another Hero" by Tina Turner and then you've got the quirkier, silly songs like "Bad Review," about waking up in the morning and reading that bad review.
When you see us perform "Bad Review" — which we wrote about an LA Times critic who gave us a nasty review because she wasn't immediately allowed backstage after we played our first sold-out show at The Roxy Theatre on Sunset Boulevard — it's so funny, because it's just a big F.U. number. The point is, we're still here and playing packed shows.
48 HILLS How are things different for the band this time around?
ASTRID PLANE Ironically, now we've been together longer than we ever were and have done more shows than we ever did. Bill and I are so tight as friends, and even though we have different ideas about things, we're mature enough to see that our differences are what makes it great.
Also, because we're not fighting to stay on the top of the charts and on the radio, we're just in it so the fans can have a good time enjoying the music—and to enjoy it ourselves. There's not that success thing that used to be at stake. It's more about being in the moment and appreciating what we have.
LOST '80S LIVE
Sun/31, 6:30pm, $49-$175
The Mountain Winery, Saratoga
More info here.