Sometime in the mid-1970s, as local community-based organizations were starting to emerge and change the politics of San Francisco, a group of lawyers began meeting at the Jewish Community Center on California Street to offer free legal help to seniors.
It was a radically underserved community. From elder abuse to housing rights, from wills to conservatorships, health care to public benefits, seniors (particularly low-income seniors) faced a long list of legal issues. And many of them had no representation.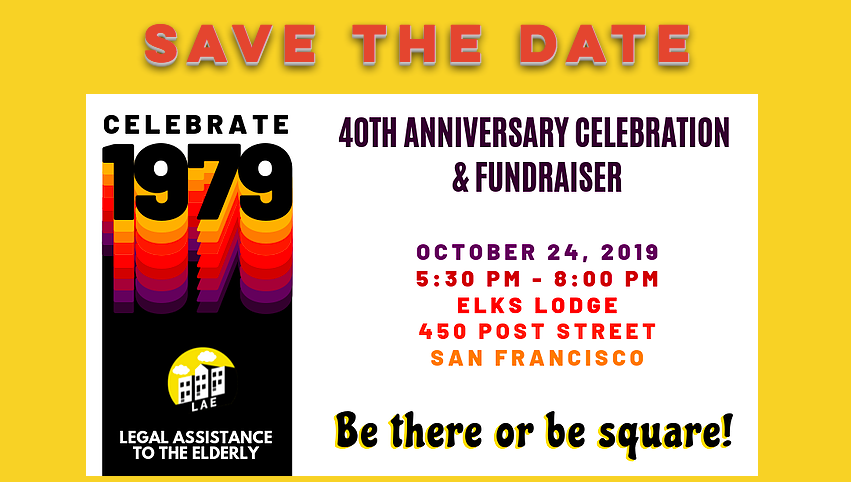 That was the beginning of what would become Legal Assistance to the Elderly, a nonprofit that today employs 11 lawyers with a broad range of expertise who represent anyone over 60 or disabled who needs help.
Full disclosure: I am on the board of this organization, and have been for several years. It has given me a chance to observe directly the incredible talent (and patience, and understanding) that the staff brings to the job – and the difference LAE makes in so many lives.
From the group's official history:
LAE is the only legal services organization in San Francisco that focuses solely on the legal needs of elders and disabled adults.  We work closely with community-based and governmental health and social service providers because legal problems faced by this vulnerable community often require a multi-disciplinary approach to achieve a lasting solution.  We take a holistic approach to the legal issues these clients face, often assisting with multiple legal issues as well as connecting clients with vital social services.  The referring issue, for instance eviction defense, may have its roots in other legal issues, such as elder abuse or an unwarranted termination of benefits. Because our attorneys work closely and collaboratively, they can tap into the expertise of our entire legal team to address the immediate issue as well as other underlying legal issues that our vulnerable clients face.
So much happened in community organizing in San Francisco in 1979. And four decades later, the legacy of that era is making it possible for people who don't have the resources or ability to defend themselves to have a fair chance in the legal world.
LAE will be celebrating its 40thanniversary Thursday/24 at the Elk's Club, 450 Post. Tickets start at $45. See you there.