When George Watsky turned 33, his roommate looked him in the eye and told him it would be the best year of his life. Then coronavirus happened. 
But aside from having to cancel his tour, his 33rd year hasn't been as bad as it could've been. The San Francisco-born rapper, who performs mononymously as Watsky, is roomed up in LA with his manager Jeff O'Neill and his girlfriend Amber Giles, who records as Mija and produces some of his beats. 
And he's just set a Guinness Book of World Records-verified world record for the longest continuous rap performance after freestyling for no less than 33 hours, 33 minutes, and 33 seconds.
It's more than seven hours longer than the previous official record, a 26-hour marathon by Pablo Alvarez of LA group Good Bison, and two hours longer than a January attempt by Philadephia rapper Frzy that wasn't officially verified by Guinness.
"I know at some point someone will break this record," says Watsky. "I wanted to give the attempt personal meaning that could never be taken away from me." The 33-hour, 33-minute, 33-second duration reflects both his age and his interest in the number three, which he calls "the number of storytelling—beginnings, middles and ends."
The videos are alternately inspiring and exhausting. Decked in Giants swag, untamed quarantine locks barely held back by a black beanie, the rapper freestyles with either enthusiasm or puppet-like limpness depending on which hour you tune into (it varies wildly). Fans who donated to Sweet Relief Musicians Fund, a charity benefitting musicians affected by COVID, got a shout-out in song; the effort raised $147,000.
Per Guinness regulations, the rapper could take one five-minute break per hour. He chose to consolidate that time into two longer breaks, which he used to eat and shower.
"We didn't want to just set the record, we wanted to do it by putting on a good show," he says. "I thought it would be a lot cooler if I really was rapping uninterrupted for as long as possible. That's what I would've wanted to see. So my goal was to go in well-prepared and relaxed, and rap without taking a break until I absolutely had to."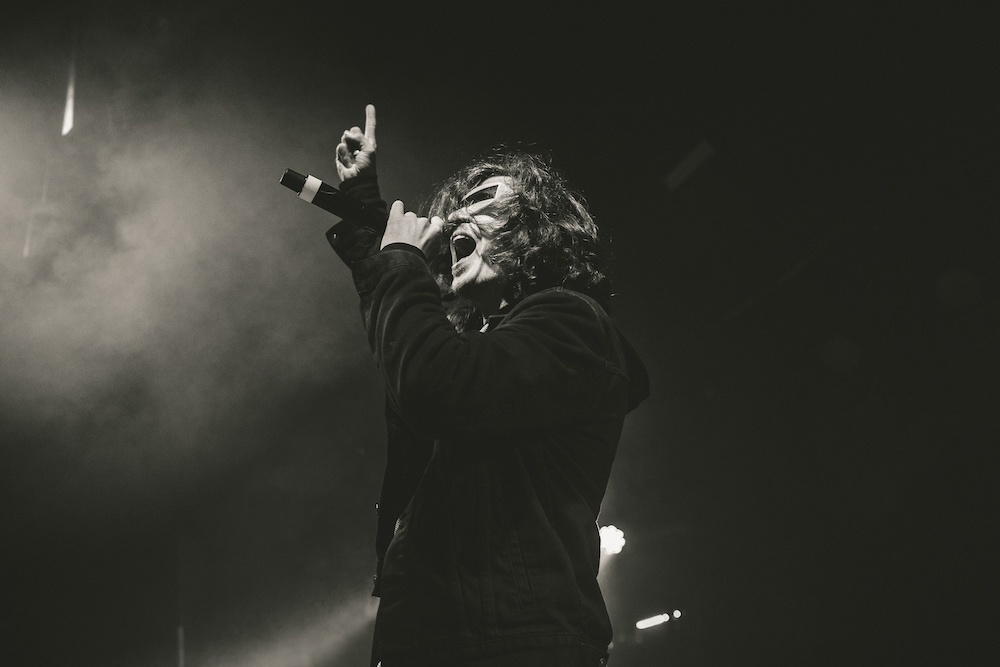 The preparation took nearly as long as the freestyle itself. "I tried to get two really good nights of sleep beforehand. On the day of the attempt I got to bed at midnight, woke up at eight, took a nice shower, stretched, had a big breakfast, and there was some… digestive preparation…"
When the rapper needed to use the restroom, he simply clipped a microphone to his shirt and kept on rapping in the can. There were a few moments during the marathon where his voice, adorned with slightly more reverb and accompanied by a faint trickle, was the only sign of him on the livestream. 
Aside from the physical demands of staying awake for such an ungodly amount of time, the marathon was risky to Watsky's health for another reason: he has epilepsy, and a seizure was a strong likelihood throughout the ordeal.  
"The most difficult hours were the ones right before the final hour," he says. "A seizure in front of the whole Internet was not the punctuation mark I wanted to put on a super-successful marathon. In some of those late moments, I thought if I went any further downhill I might have to pull the plug before my personal goal."
Yet he persevered, and he describes the final hour as the most satisfying. Some of his best rapping can be found as the clock counts down its final minutes, and joy and relief come through more strongly than fatigue. "When I caught my final wind and I knew I was home free, it was just a joyous experience."
Watsky has the benefit of working in hip-hop, perhaps the most uncomplicated genre of music to make during quarantine constraints; rather than hiring a band or booking a studio, all you really need to do to make a great song is pull up a folder of beats and drop a verse. He's staying productive, with a planned trilogy (threes again) of nine-song albums in the wings. And with literal days of raw material to work with, he'll have no shortage of inspiration.
"In 33 hours I pretty much rapped an autobiography," he says. "But I think what I will really take from this going forward is emotional energy. I really learned a lot about myself and about how to tap into joy, positive energy, draw reserves of strength from your friends and community."
Yet his most vivid memory from all of this? "Peeing with a microphone pinned to my shirt."