After this week's announcement that its August hopes were dashed, Outside Lands is coming back in 2021. Maybe. Seeing as pretty much the only thing we could've predicted in the last six months of American history is that Grimes and Elon Musk would name their baby some weird-ass shit, I'm not sure how safe it is to assume everyone is going to want to (or be legally allowed to, or be able to afford to) stand in a crowded field doing drugs with a bunch of strangers. But hey, maybe the world will be anarchic enough by then that we'll be able to bring in our own beer. 
If not, it's a good thing poppers come in small containers. This is easily the gayest Outside Lands lineup yet, with Caroline Polachek, Yves Tumor, Rico Nasty, Angel Olsen, Big Thief, and Moses Sumney coming straight from the daily Spotify mixes of Dorothy's Zoomer friends. (Charli XCX bailed, presumably to play more festivals in Minecraft.) The are-they-or-aren't-they crowd even gets a nod in the form of Tyler, the Creator, and… I guess Young Thug wore a dress once. Cardboard sign suggestion: "Why the fuck did you make an album with Chris Brown?"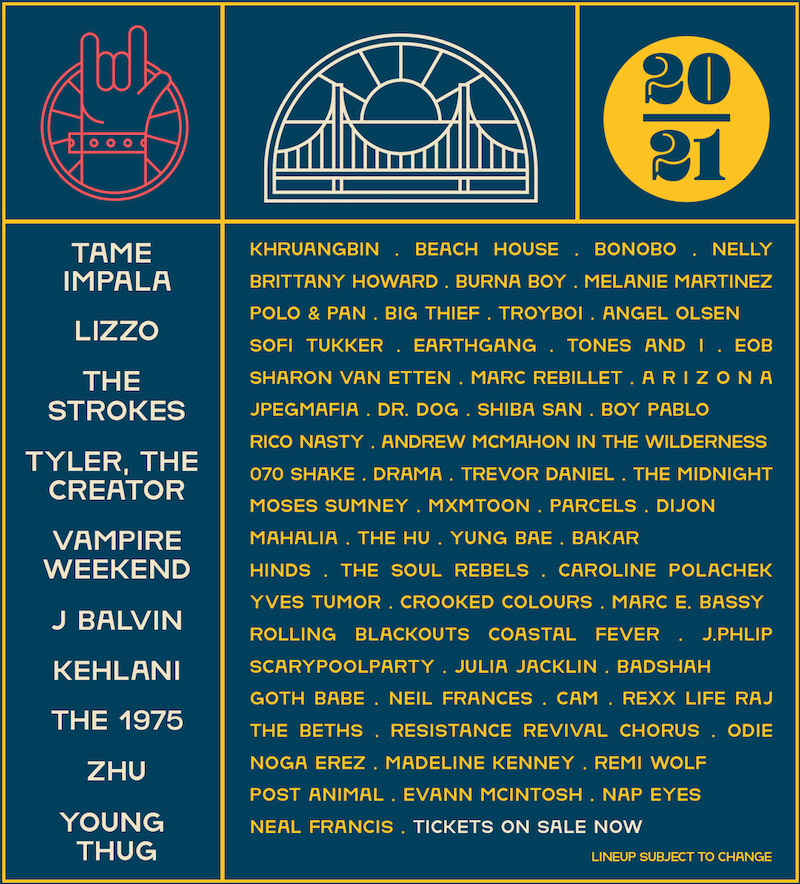 Outside Lands spent much of its early existence coasting on San Francisco's classic-rock reputation. But this is the first major lineup I've been aware of that emphasizes rock's current cutting edge, if such a thing exists. You might be familiar with globe-trotting Texas trio Khruangbin, and we'll finally get to hear how Tame Impala's Slow Rush songs sound through festival-sized speakers. But don't miss Brittany Howard, whose Jaime arguably outshines her work as belter-in-chief for Alabama Shakes. Or the towering Yves Tumor, whose Heaven for a Tortured Mind is one of the best glam-rock albums since the '70s. Or Big Thief, though don't count on them to play an encore.
The festival's mostly fixed its rap problem, and there's a healthy proportion of people of color on the bill, though only two of the headliners are women. One interesting thing: there are almost no DJs. The mercurial Zhu is the only headliner who could be remotely considered EDM, unless J Balvin counts. The pop picks (Lizzo, Kehlani, The 1975) are more interesting than the Uber-pop nothingburgers like Hozier and Twenty One Pilots that marred 2019's lineup. And maybe you remember Tones & I, whose "Dance Monkey" was one of the last things that happened before COVID. Hopefully, her Outside Lands set will be one of the first things to happen after, but if not, this is still a lineup worth standing in one of 200,000 individual sterilized boxes for.