Out of the Crate is our monthly column that takes a look into the fluid world of new vinyl releases, including reissues, compilations, and whatever else is available and interesting.
Airto — 'Seeds on the Ground' (Real Gone Music)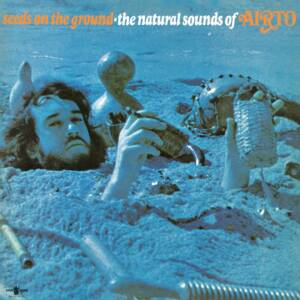 One of the most influential percussionists in jazz, Airto Moreira single-handedly enforced the idea of World music upon Miles Davis. Moreira, a paid musician in his early teens, mastered the dynamic rhythms of his native Brazil as a teen, married singer Flora Purim, joined Davis and his electric group in the US to play on the archetypal "Bitches Brew". His career as a bandleader began with '70s Natural Feelings, which, like almost all of his solo albums, featured Purim on vocals. The pair also formed the fusion group Return To Forever with Chick Corea, though they moved on after two LPs.
Airto's second album Seeds On The Ground is a richly melodic mix of folkloric elements, bossanova, innovative percussion, and studio ambiance, with emphasis on the acoustic instruments. Featuring a lineup that includes his wife, vocalist Flora Purim, composer and multi-instrumentalist Hermeto Pascoal, and bassist Ron Carter, with contributions from Dom Um Ramão (who later replaced Airto in Weather Report) and Severino De Oliveira a.k.a. Sivuca. It's a perfect companion to the Miles Davis electric live experimental phase. Listen closely for the Brazilian influence seeping into Davis's late period of work. That's how powerful Airto is.
The Shaggs — 'Shaggs' Own Thing' (Light In The Attic Records)
Frank Zappa and Kurt Cobain cited the Shaggs as a major influence. Zappa doubled down by exclaiming they were "better than the Beatles!" That enthusiastic co-sign is worth a dig. The Shaggs have a certain country-rock twang, but I can't help but feeling that theirs is a line running from The Donnas all the way back to ESG. (Seriously.) Modesty fooling us once again, sweeping us off our feet. Terry Adams of NRBQ chimes in, comparing the group's melodic lines and structures to the free jazz compositions of Ornette Coleman. Nobody can agree on the details, but everybody concurs: The Shaggs are peculiar.
Formed by Dot, Betty, and Helen in 1968 on the insistence of their father Austin Wiggin, who believed that his mother had predicted the band's rise to stardom. The band's only studio album Philosophy of the World was released in 1969 and failed to garner attention, though the band continued to exist as a locally popular live act. Disbanding in 1975 after the death of Austin, Shaggs' Own Thing is a collection of recordings the Wiggin sisters had made in the years following their debut. It's a beguiling follow-up that reveals a developed and mature sound, while still retaining all of their homespun otherness.
Loleatta Holloway — 'Cry To Me'
If your only frame of reference to Loleatta Holloway centers on her disco career, and more specifically the heavily sampled "Love Sensation" that gave Marky Mark "Good Vibrations"—and by extension a career and a life's supply of Calvin Klein drawls—then you have no idea. 1975's Cry To Me features tracks penned by some of the most talented songwriters of the time. Holloway's devastatingly sad and heartbreaking lyrics allow for banger ballads to ensue. "Cassanova" is an epic "I'm gonna hunt you down", string-laden drama for the whole family kind of mood, one that screams "sample me" and allows a clear example of what this vocalist has under that hood when supplied with the proper tools.
100 Proof (Aged in Soul) — '100 Proof' (Demon Records)
Great things often blow up before hitting their fullest potential. Such is the case for the short-lived funk/soul group 100 Proof, which was assembled and signed by Hot Wax Records crew and former Motown songwriting team Holland-Dozier-Holland [Lamont Dozier and brothers Brian and Eddie Holland.] The group went on to release several hit singles between 1969 and 1972. According to rock critic Robert Christgau: "The unidentified lead singer admires (or envies) David Ruffin, and not since early Smokey have so many proverbs and idioms—too many cooks, Johnny comes marching home, love is sweeter the second time around—squeezed onto one album." That being said, arrangements bop from peak Motown male group format-pleading lead singer with background voices supporting the charge to post-Motown psychedelia free-swinging bang. Too bad they couldn't keep it together after this dropped.
Van Halen — 'Van Halen' (Rhino Records)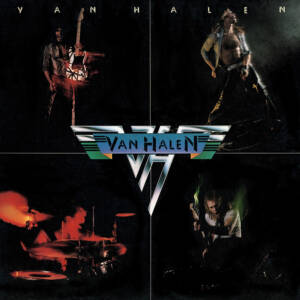 Here's the thing … I fucking love this album. Yeah I know, Black folks are not supposed to dig this shit. Guess what? I really dig this shit. I mean all the over-the-top guitar crank, David Lee Roth ham sandwich moves, problematic-as-hell Eddie Van Halen with the axe clinic he's running. "Eruption" is a tone poem that every guitar dude throughout the '80s tried to cop, but they just couldn't get it down right. I feel for anybody working Guitar Center back in the day when every longhair all-day sucker came in trying to pull this off.
The needle drop of "You Really Got Me" in the very inappropriate and wonderful "Night Shift"! You know, Ron Howard's first movie about white morticians (if they were Black they would be called pimps, just saying) running "sex work" out of a New York City morgue starring Henry Winkler, Michael Keaton, and Shelly Long (in some very revealing sleepwear) from the show "Cheers"?
Yeah, it was a different time. Add to it the famous drum roll at the top of "Jamie's Crying," which went on to become the intro to "Wild Thing" by Tone Loc. Get what I'm saying? EVERYBODY was up on some Van Halen. For all its extran-ess (let's just call it), white boy rock heaven projected-hairy chests, devil mentions, and non-hip-hop crotch grabs—VH always had these incredible two, three and four-part harmony vocals running throughout. Almost like they were winking to say, "Yeah, we know we're doing too much. But we really do care about the music too."