There I was, I had it all set. I had researched some new flowers and flavors and was about to write about smoking great strains on a budget—and then my buddy Johnny wrote to me that he was purchasing $15 eighths from one of our favorite dispensaries.
Fifteen-dollar eighths! My eyes rolled black back into my head like a great white shark as it bites down on its juicy prey before pulling it down into the depths of the ocean. Must have. I was immediately pounding away on my computer keyboard to see for myself. There they were!
A couple of hours later I had even more weed! Mine, mine, all mine!
A bubble friend dropped by a couple of days later. He came in, stopped, sniffed and looked at my table askew with cannabis containers, papers, pipes, and a bong. "Wow, you have a lot of weed," he said right off the bat. No inquiries to my health or well being, not even a "hello."
But he was right; I was well-weeded. Why? Pure research, of course. We are all stuck inside during these stressful times, and for many of us, cannabis has become a way to cope, relax, take the edge off, and entertain ourselves. So I am taking it upon myself to sample a bunch of new strains and report to you my findings.
After all, it's that time of the year when wonderful new flowers come to the market in abundance. As always, you should sign up for your favorite dispensaries' email and texting lists. This will notify you of new sales and drops, which are happening at a fast and furious pace.
Listed below are some wonderful new finds and flavors that might make your day a little more stonier and fun.
I talked to several cannabis insiders who told me the two hot new strains were offshoots of Wedding Cake and anything Apple.
I was already a fan of Lava Cake and Ice Cream Cake, what could be better than those? Maybe Jack Cake! That's right, the folks at Ember Valley have spliced together two of my favorite flavors; Wedding Cake and Jack Herer. The blend has an amazing smell of gassy and piney notes, with a hint of fruit and sweetness. It is a pleasure to smoke. This is a hybrid that edges into the sativa side. It is what I call mid-level in price (around $55 an eighth), but worth it if you love those flavors as much as I do.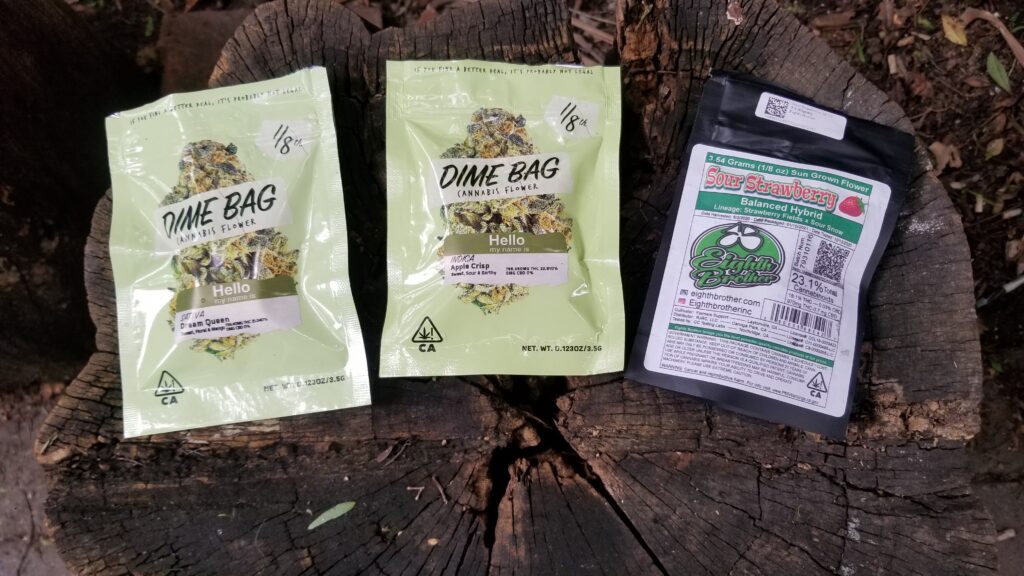 As for "Apple," there is no correlation with any specific strain and the concept of "Apple." Take for example, Apple Crisp, which I purchased at the amazing price of $25 from Dime Bag. My friend Veronica reported that these eighths were flying off the shelves, so I did some research.
Apple Crisp is an indica derived from Apple Gelato and OG Kush (Fun Fact: Gelato means it came from the Girl Scout Cookie lineage) while Apple Jack is a hybrid made from Jack Herer and White Widow. Alien Labs' current Atomic Apple? Triangle Mints and Apple Fritter. The new flavor Apple Kush? Sour Diesel and Pure Kush.
See, there is no consistent means of naming any strain. From what I can tell, it all started with the hybrid Apple Fritter, which won High Times' Strongest Strain award in 2016. Everything else is related to that original strain, or is named "Apple" because it is the current Hype Weed term.
To check any strain and where it comes from, I recommend Leafly. On that site, you can not only find what strains your current cannabis comes from, but information on its terpenes. After all, the percentage of THC is only the beginning of what makes you high, and how that high feels. Terpenes play a large role as well. Keep track of those in your favorite flavors to find commonalities with other strains. That way, you can find the nug that suits you best.
I tried another non-Apple strain from Dime Bag, the sativa Dream Queen (Blue Dream and Space Queen). It was lovely.
For the price and quality, Dime Bag is something I will definitely seek out.
My other cheap find was Eighth Brother, where I found some of my favorite flavors like Gorilla Glue and Girl Scout Cookie for only $22 an eighth! I was worried about quality, but I enjoyed all the flavors immensely. Sour Strawberry (Sour Bubble crossed with Strawberry Cough, Razz, and East Coast Sour Diesel) was my favorite. According to Leafly, the hybrid is a popular strain for concentrates due to its high resin production. See, always learning!
Risen Labs definitely scored with their Purple Wookie (Wookie with smoke strain Grandaddy Purple? Leafly had no entry on the variant and I'm not entirely sure of its genealogy.) It has a nice light buzz, which is nice for an indica. Well worth the money. I got it on sale for $15 an eighth.
As for bargain brands, you can never go wrong with Henry's Original. I've never had a bad or even so-so strain from them. I've been wake-and-baking with Amnesia Haze for the last two weeks. It is bright, euphoric, and makes my little grey cells tingle. Like any good sativa, it helps you get the job done with a whistle in your step. At only $35 an eighth, it's worth it on all levels.
My final favorite budget find is Sled Dawg from Pacific Reserve. It is a super potent meeting of two strong strains, Tahoe OG and Chem Dawg, and it does not disappoint. The smell is pungent and gassy. The flavor is most excellent! This indica-leaning hybrid is perfect for relaxing and putting your mind on autopilot. For the $35 an eighth price tag, it's a true stoney bargain.
This is but a small sampling of all the flavors out there. I saw over 145 flower strains available from one dispensary alone. Now is the time to sample, sample, sample, and find your favorite new strains. Bargains are aplenty. The pricey ones are probably pretty good too! Just know some of these new entries will disappear never to return, but just as soon as they do, the next great flower will pop up. Always has, always will.
Right now, I'm waiting on a Lava Flower delivery!! I can't wait!