PJ Gubatina Policarpio, manager of youth development at the Fine Arts Museums of San Francisco, which includes the de Young and Legion of Honor, is glad for the opportunity that the second season of the museum's "Local Voices: Teens Take on Art" podcast gave him to work virtually with teens. He says it was a pleasure to help them create with rigor and curiosity during such a fraught time.
"Their questions around the artworks are nuanced and interesting, and you can tell they're from a young person's perspective," he says. "It's important for museums to really showcase a diversity of voices and perspectives on our collection."
The experience made a difference in the teens' lives as well. Raquel Zumaeta is a freshman at Loyola in New Orleans who wants to be a forensic psychologist. Thanks to a paid Opportunities for All internship over the summer, she lent her thoughts to "Local Voices," which focuses on objects in the museum's permanent collection.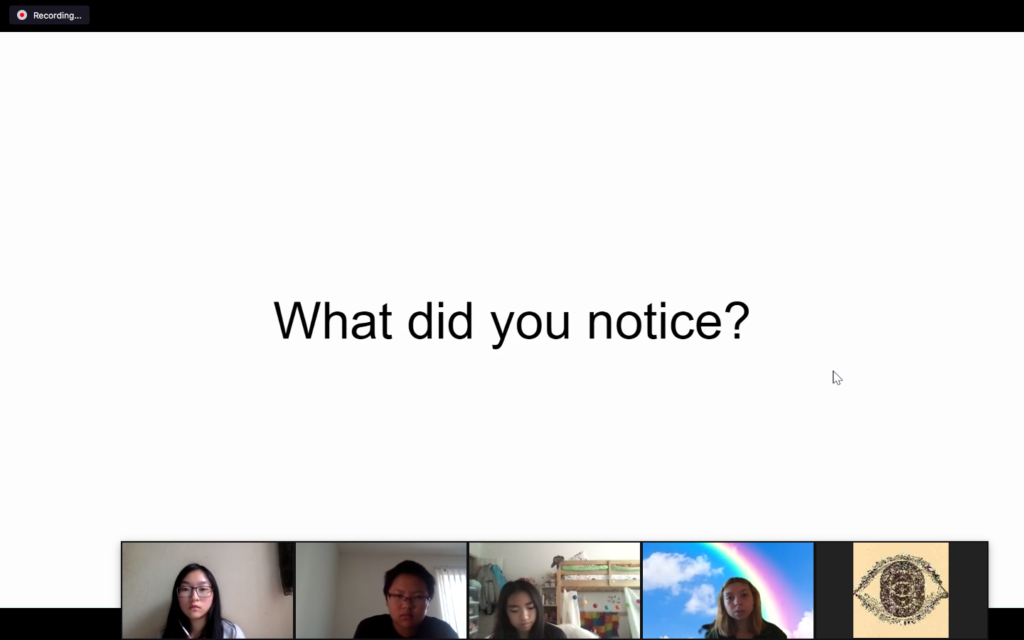 Through interviewing curators and scholars for the podcast, Zumaeta became comfortable asking knowledgeable people questions about their area of expertise.
That came in handy at Loyola, particularly in a class where she was assigned the task of creating a podcast episode about an issue affecting the Latinx community. Zumaeta and her partner chose the COVID crisis, and used the interviewing skills she'd picked up through FAMSF.
But during the internship itself, Zumaeta was glad to be doing something related to art.
"Ever since I was little, I've been doing crafts with my older sister," she says. "Art has been a part of my life—either looking at it or making it."
Help us save local journalism!
Every tax-deductible donation helps us grow to cover the issues that mean the most to our community. Become a 48 Hills Hero and support the only daily progressive news source in the Bay Area.
For the show, Zumaeta and eight other interns picked works from the museums' permanent collections and grouped them into themes like "belief," "power," and "storytelling." Students picked two works to research in-depth; interviewed experts, family, and community members for their thoughts on the pieces; and wound up with six finished episodes.
It's not the first time FAMSF has ventured into the world of podcasts. The organization has produced several including "Beyond the Paint," which focused on the Muslim fashion exhibition from a couple years back, and one about a concert played on the Legion of Honor's enormous Spreckels Organ. The first season of "Local Voices" explored the 2020 Frida Kahlo exhibit at the de Young, which unfortunately wasn't open much for public viewing.
Gubatina Policarpio says this time around the team wanted "Local Voices" to focus on the museum's permanent collection. That way people could listen to episodes, and then enjoy the pieces themselves for years to come.
He admits that some of his expectations were upended when the teenagers picked more traditional works than those that he thought they'd be drawn to, like a statue of St. Francis.
"I loved being surprised by their choices," Gubatina Policarpio says. "If you're going to spend six weeks with two artworks, you have to be personally invested. You cannot box people into what you think they would like."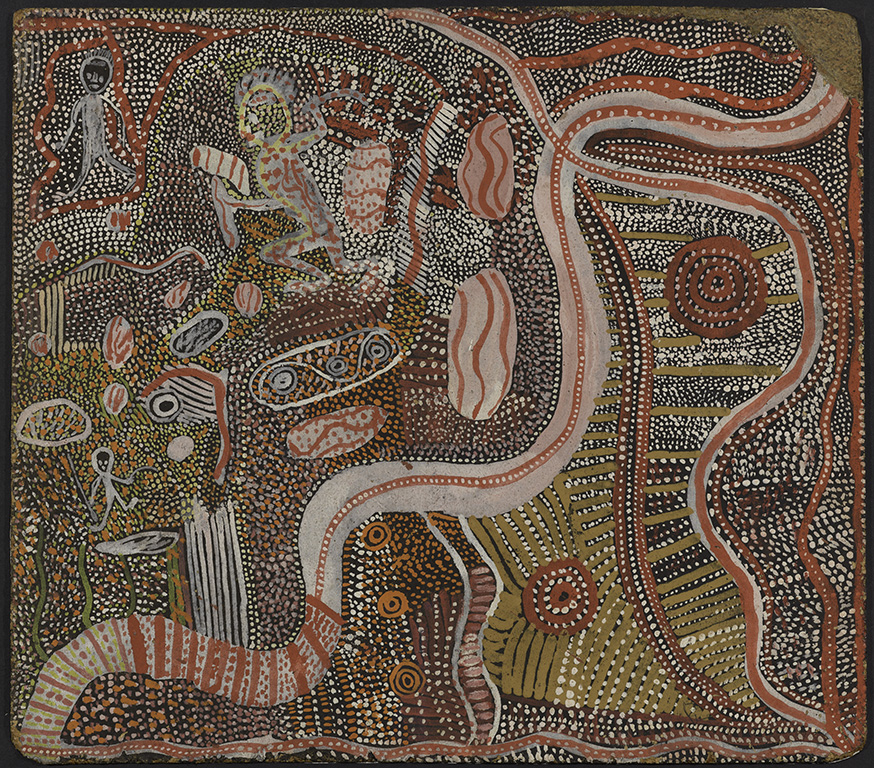 Zumaeta was in the groups who masterminded "Local Voices"' "storytelling" and "density" episodes. For the latter, she chose ​"Children's Story (Water Dreaming of Two Children)" by Aboriginal artist Johnny Warangkula Tjupurrula. The artwork was not like anything she'd learned about in school, and for the podcast, Zumaeta chose to discuss the piece with her sister Rebecca, an artist herself.
For the "storytelling" edition, Zumaeta spoke with curators about a piece called "Black Figure Amphora with Lid​." The work stood out to her because the figures on it reminded her of the Muses from the Disney movie Hercules.
Galileo High School freshman Noelle Kimotsuki worked on the same episodes as Zumaeta. She chose a Roman sarcophagus for "density," saying she was attracted to its detail.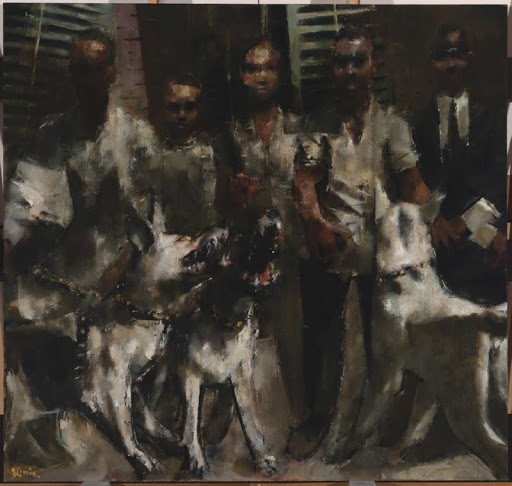 For "storytelling," she picked Jack Levine's painting ​"Birmingham '63." Here's how she describes it on the podcast:
"The painting consists of five African Americans whose facial features are mostly blurred out. This makes me think that anyone could have been in their shoes. They're standing together face against ferocious dogs that are barking and lunging at them. The moment portrayed in the art was a part of the Birmingham campaign, which was a segment of the civil rights movement. Starting on April 3rd, 1963, giant meetings, lunch counter sit-ins, marches on city hall, and a boycott of downtown merchants were put into motion."
The piece reminded Kimotsuki of the images of Black Lives Matter protests from this past summer. She said she wanted to talk with someone who could relate to the struggles of those protests, eventually choosing fellow intern De'Yani Dillard, a member of the Radical Monarchs social justice group for girls of color with whom the painting resonated. Dillard and Kimostuki discussed the importance of young people speaking up in the face of injustice.
Both Zumaeta and Kimostuki say working on the podcast deepened their relationship with art.
"There's really no wrong way to express your voice," Kimostuki says. "People have so many ways of expressing their opinion. Things are much more meaningful than they appear."