When asked to name three words to describe her work, painter Pouké Halpern chose Delicate. Muted. Lines. That is precise, indeed. Beyond those three words, subtle, poetic, and comforting also come to mind. Her newest work is decidedly more colorful yet maintains a signature spare quality that is at once meditative and familiar.
Halpern grew up in Paris, France, residing there until her mid-twenties, when she fell in love with and married an American. She has lived in the East Bay ever since. "You could say that I became an artist when I was born," she said, describing herself as a visual person who always felt compelled to express her relationship to the world in a visual way. Yet, despite growing up in a creative home—her father was an actor—she was not encouraged to pursue a life in art. It wasn't until she came to the United States that she gave herself permission to become an artist.
"I often work on an intuitive level, so it's difficult to say what motivated my artistic expression," Halpern said. "I looked around me and I saw beauty that I wanted to capture. And I experienced pain, which has also infused itself into my art." Halpern believes that all art stems from a desire to share a vision, to connect, and to simply communicate to the world who you truly are.
The genesis of her current art practice began with the painting of a single giant glass. The background was grey. The glass, a simple black outline. The white liquid inside filled the glass half-way. At mid-life, she was pondering the perennial question: Half-empty or half-full? Guided by optimism, she chose the latter. "And so it was, when I decided to finally fill the glass, fulfill my destiny as a painter," she said.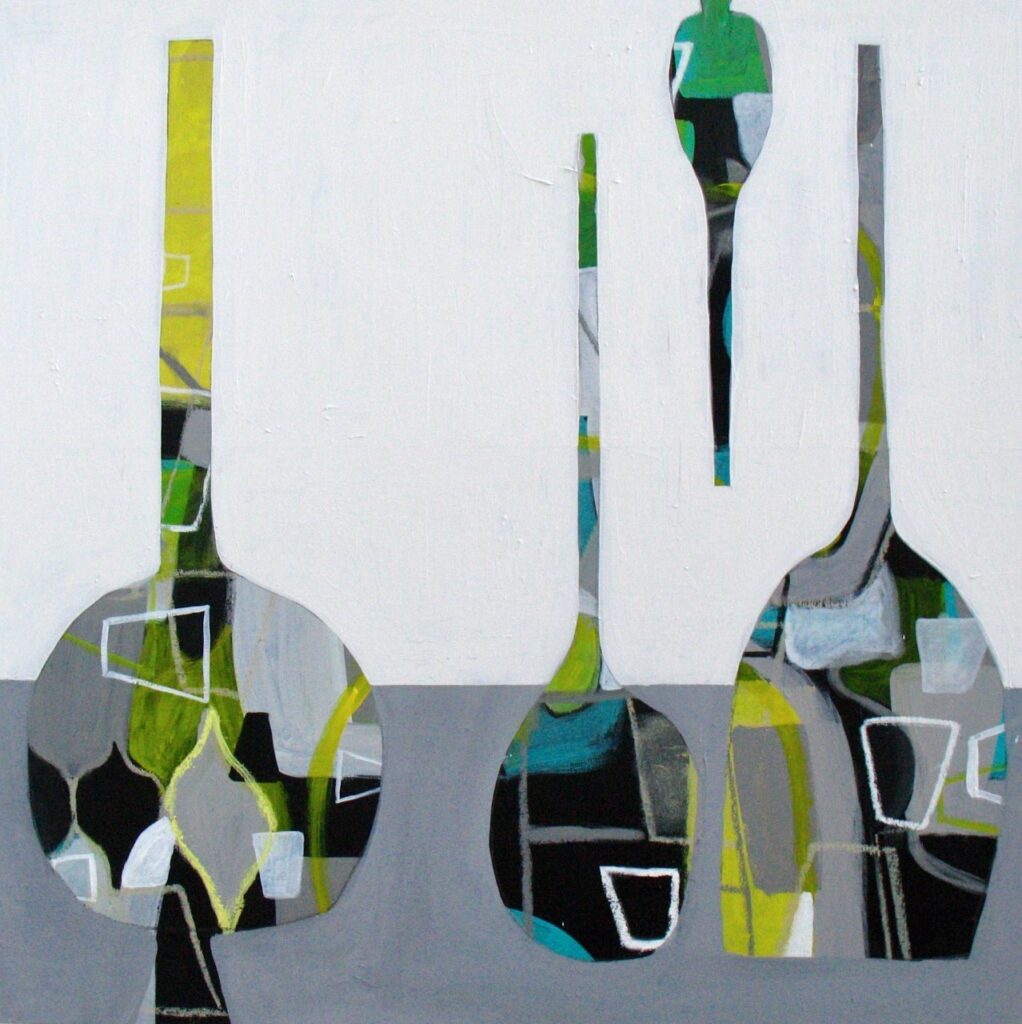 One of her biggest creative inspirations is Giorgio Morandi (1890-1964), an Italian painter and printmaker best known for his still-life renderings of simple subjects, such as bottles, vases, bowls and the like. In the same vein, creating works with acrylics and oil sticks on paper and wood panels, Halpern strives to compose paintings of everyday objects in a way that communicates a sense of calm and privacy, two moods she consistently seeks in her work.
"I am basically a domestic person. My life revolves around my home and garden. So much of my work is inspired by domestic objects—vessels of different types that contain elements that sustain us," she said. Halpern admits that she does absorb the chaos, violence, and injustice around her and allows that to filter in as well. In fact, her work is at times an active attempt to create a space of harmony out of the chaos. 
Halpern cannot live without her graphite pencils, the tools that allow her to sketch out the beginning stages of her vision. In her studio at the Sawtooth Building complex in West Berkeley, she begins the painting process by covering wood panels with riotous color, often adding hand-written text befitting of her emotion in the moment.
She finds energy in the wildness of color and the release of child-like abandon expressed in gestures, layers and hues. "But then," she said, "after the temporary joy comes the observation and understanding that it is too much! Slowly, but surely, I cover it up and sigh a breath of relief," taming what she calls the selfish exuberance in order to allow viewers to enter the painting and find their own personal resonance.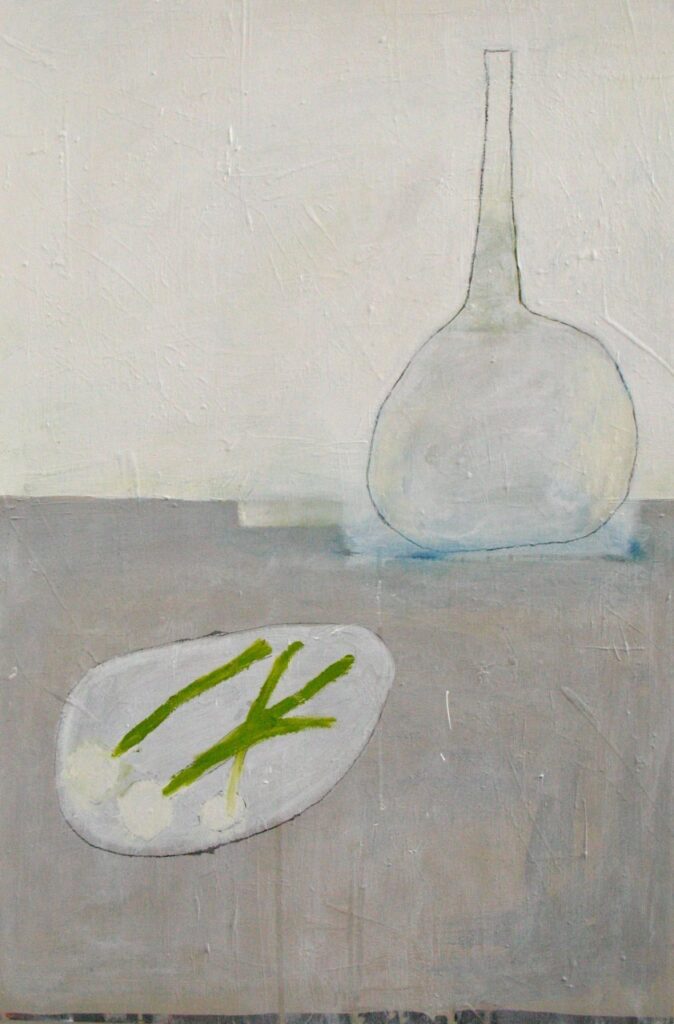 At the beginning of the pandemic, Halpern's access to materials became limited and she covered older works with new paintings. When she finally got her hands on new panels and fresh paint again, a renewed energy emerged.
"The dullness of restricted life compelled me to paint with bold colors, which I normally use quite sparingly," she said. New imagery has emerged as well. A montage of a woman with a cigarette in her mouth and mask hanging around her neck was ironically dubbed Liberté by her husband. In between prepping panels, Halpern has been uncovering her collection of painted photographs—she was once a photographer and videographer—cutting them into playful collages. 
Before becoming a full-time artist, Halpern worked as a food stylist, which allowed her to make a living and leverage her visual talent. Besides painting, she loves to cook French-inspired vegetarian meals, read novels by mostly women authors and take walks in nature.
An exhibition scheduled for September 2020 at Hang Art in San Francisco, the gallery that represents her, was cancelled due to COVID, but her painting, "Mint Tea," was included in the recent De Young Open exhibition that closed in January. For more information, visit her website at www.poukehalpern.com.