The logical explanation for the emo revival is that the kids who were into what was being sold as "emo" in the mid-'00s—Fall Out Boy, Panic! at the Disco, Paramore—started getting into the older, rougher, more intelligent roots of the genre as it lost its mainstream foothold. Emo started in the '80s as a woollier, more emotionally intense offshoot of hardcore punk, and bands reflecting these origins make up a sizable chunk of the American rock underground right now.
But Thom Stone, singer-guitarist for San Jose's Damper, skipped the transitional step.
"I fucking hated emo when I was in middle school," says Stone. "I thought it was really pitchy and annoying. I don't really get nostalgic about it in the same way that other people do."
"Showed Up Too Late For The Emo Revival" is one of Damper's two contributions to Existential, a split with Portland's Slow Disco, which comes out on May 1 and coincides with a streaming show from San Francisco's Complex studio the same date. As self-aware as its title, "Showed Up Too Late" expresses the frustration of any indie musician at missing a wave they didn't know about until it crested.
Born in Sacramento and raised in Davis, Stone started out as a rocker, bashing out standards like "Seven Nation Army" at adolescent rock-band camps and listening to Metallica and hardcore punk. Bands like Cursive and Death Cab for Cutie eventually trickled into his earphones through his sister and her friends, and though they point to the music he'd make later, they were only a small part of his musical identity during his teen years.
"I kind of toed the line," Stone says. "I did that kind of indie-emo crossover-type shit. And then at the same time, I couldn't quite give up my old metalhead friends from Davis, so I was still playing in this band called Mortal Forever. It's a tight name, right? It's pretty sick… or that's what I would've said back then."
Stone founded Damper in 2017 with Liam Hedriana, a friend from summer school. The two had jammed together for a while and played in a few fledgling bands, but it wasn't until a transformative, mushroom-altered experience at an Explosions at the Sky concert that the band began in earnest.
"I was just having a great time," Stone says. "And then [Liam] turned to me at one point and was like: Dude, we gotta start a band again. I was like: Yeah, we do."
Hedriana played with the band for two EPs, Damper and All We Have To Do, before moving to Japan. A number of bassists and drummers contributed to the band during this time, and the lineup eventually settled on Stone, bassist Bella King, and drummer Nic Kane.
King's introduction to emo came secondhand through dark rock bands like Nine Inch Nails and Sisters of Mercy ("my parents were really into that stuff"). As for Kane: "I won't lie—I bought a Fall Out Boy CD at Hot Topic in 2005."
The present lineup has yet to release anything lengthier than a double-sided single. They were supposed to record an album last year, but the owners of the Guerneville studio they'd booked left the property during fire season when it became clear that it was in danger of burning down. The studio was fine, but "they told us, Sorry, we can't really make this record right now."
Damper is currently working on a new, different album for Old Press Records. It probably won't include the tracks from the shelved album, some of which have trickled onto their Bandcamp as stand-alone singles. "Thom from Old Press was just like, 'You guys should start over, don't try to fill in the gaps in this tracklist that was over a year ago.' And I'm glad we did that."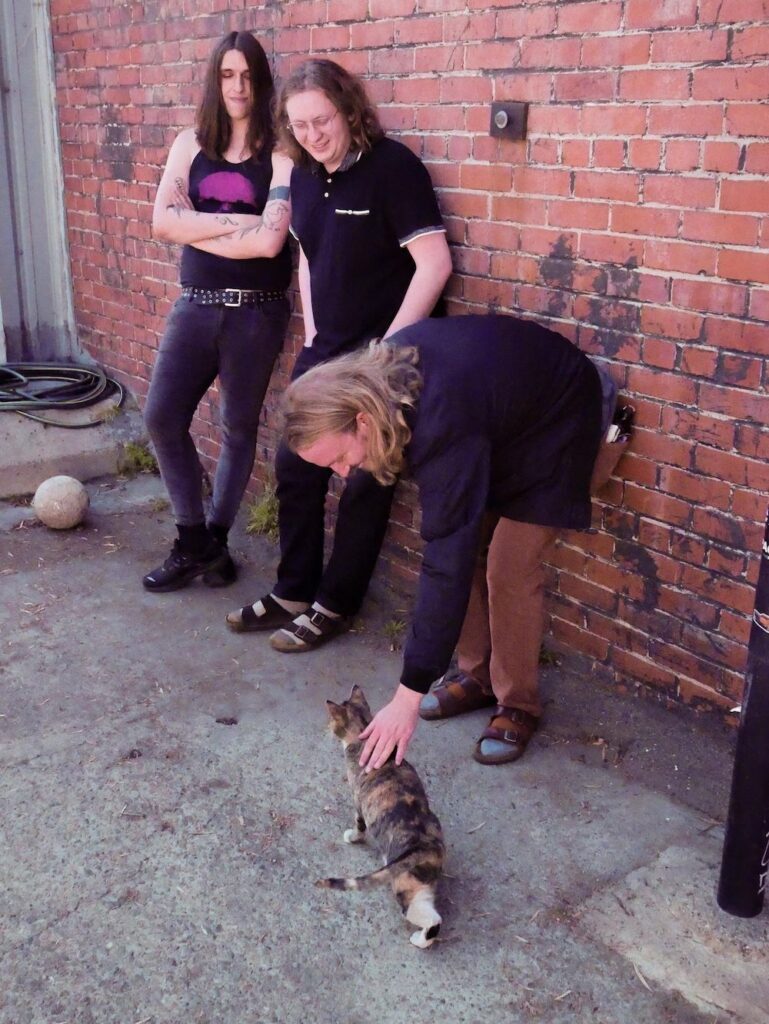 In the meantime comes the split with Slow Disco. The members of Damper met singer Sean Coates at a Portland house show in 2018 before Kane joined the band.
"That was the 4th of July show," says King. "Like 20 drunk people went around snatching American flags. I can't remember if I snatched a flag, but it was a wild, wild night."
Last winter, when each band discovered the other been sitting on a few songs with nothing to do with them, they realized it would make sense to release a split album.
"The fun thing about splits is that they're kind of a clearing house for tracks that you like a lot but don't really fit on full-length releases proper projects," says Stone. "I'm not really a fan of when bands put out the B-sides and rarities in a whole package, but if they put out a split with some other band it's cool."
But Kane has another theory about why they decided to drop a split: "It's almost a joke among bands. If two bands really like each other, you're like—split?"
Live at The Complex featuring Alvie and the Breakfast Pigs and Damper! Sat/1, 7pm, online. More info here.